Delaware River Basin Commission
---
Delaware • New Jersey • Pennsylvania
---
New York • United States of America
---
Welcome to the DRBC's Interactive Mapping Page. Its purpose is to enhance the public's access to information on projects regulated by DRBC and to provide summary information on selected studies. These maps will enable users to select project-specific, or site-specific, locations and retrieve summary information, data, and documents.
DRBC plans to expand the content served out to the public via interactive maps over time. However, please note that data-sensitivity restrictions mean that some information is only available by contacting DRBC directly through the established Public Access to Records process. Click here to learn more.
Hydrologic Conditions Across the DRB
This ArcGIS dashboard of hydrologic data (click image to view) for the Delaware River Basin is updated daily every morning. It is designed to give users an overview of various hydrologic conditions - flow at Montague, N.J. and Trenton, N.J., reservoir storage and salt front location - all in one place.
Learn more about DRBC's various hydrologic reports.

Please note that the conditions on this dashboard are only updated once daily and are not to be used for real-time observations.
Map of DRBC Docket and Permit Holders

This map (click on the image to view) shows the location of projects having a current approval from DRBC or those currently engaged in the renewal process. A single location is used for each project regardless of how many specific withdrawal or discharge locations the project may have.
Learn more about DRBC's project review program.
When you select a project, a pop-up menu will provide you with a list of key attributes and a link to a pdf file of the DRBC approval.

Please note that only projects approved since 1/1/2005 are available for display on the map. The map is currently updated to include projects approved at the December 7, 2022, DRBC Business Meeting.
Map Accompanying Lower Delaware River SPW Water Quality Assessment Report

This map (click on the image to view) accompanies DRBC's August 2016 report entitled Lower Delaware River Special Protection Waters Assessment of Measurable Changes to Existing Water Quality, Round 1: Baseline EWQ (2000-2004) vs. Post-EWQ (2009-2011).
The report compares water quality data initially collected from 2000-2004 to the assessment period of 2009-2011 at 24 different monitoring sites, and this map allows you to view each site included in the assessment.
For more information on the 2016 report, please click here.
Map of DRBC Water Quality Monitoring Locations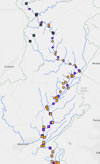 Selecting the monitoring locations shown on this map (click on the image to view) provides the user with an image of the monitoring site (where available) and a link to view a time-series analysis of the monitored parameters.
Currently, the available water quality data are specific conductance results from six HOBO® monitors that were deployed in the upper Delaware River Basin from 2012-2014 and barium and strontium data for samples taken from various locations in the non-tidal watershed. This data was collected as part of DRBC's monitoring program to establish baseline conditions in the upper Delaware Basin in advance of potential natural gas development. Click here to learn more.
For more information about monitoring results, please contact John Yagecic, DRBC Standards and Assessment Section Supervisor, at John.Yagecic@drbc.nj.gov or 609-883-9500 ext. 271.
Commission Member Links:
Delaware
|
New Jersey
|
Pennsylvania
|
New York
|
United States
Copyright © Delaware River Basin Commission,
P.O. Box 7360, West Trenton, NJ 08628-0360
Phone (609)883-9500; Fax (609)883-9522
Thanks to NJ for hosting the DRBC website
Last Modified: 01/31/2023