Delaware River Basin Commission
---
Delaware • New Jersey • Pennsylvania
---
New York • United States of America
---
DRBC Outreach/Education: Info for Students & Teachers
Learn about Water & the Delaware River Basin!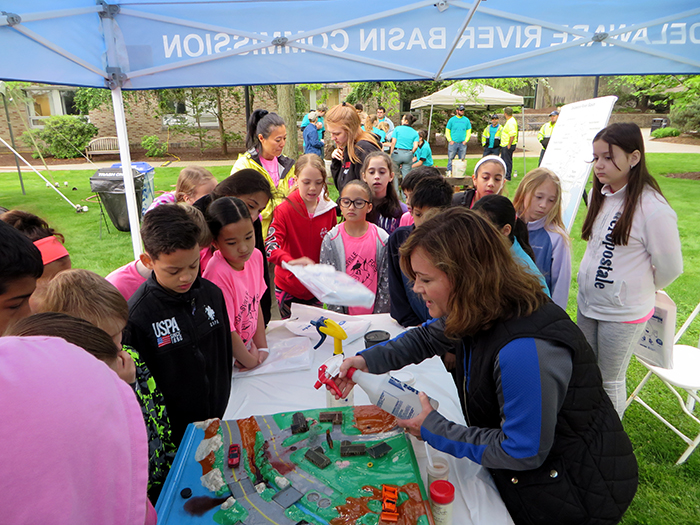 DRBC's Denise McHugh teaches kids about sources of water pollution at HydroMania 2019.
Photo by DRBC.
In addition to participating in educational outreach events, DRBC also provides information on its website to help people learn about the Delaware River Basin and our water resources.
All About the Delaware River Basin
From the DRBC:
Basin Info - Maps, Photos, Living Resources (e.g., bald eagles, American shad, and horseshoe crabs), Watershed Groups and more
Get Out & About in the DRB: Places to Visit and Things to Do
Activities for a Rainy Day - Test your DRB knowledge with these puzzles and a quiz
Baseball Rubbing Mud - Why is the Delaware River Basin so important to baseball?
Educational Videos - Developed as part of the public outreach campaign Our Shared Waters: A Look at the Delaware River Basin
Fairmount Water Works - Learn about Philadelphia's first municipal water supply system
Fun Facts - Learn some interesting, unique things about the Delaware River Basin that make it special
Home of the Hoagie? - Why do people in the Delaware Valley call these sandwiches hoagies?
Living Resources - Learn about several of the creatures that call the Delaware River Basin home.
Mules and the Iron Horse (pdf) - Learn how a major on-water "traffic jam" was avoided with the construction of Roebling's Delaware Aqueduct.
Pea Patch Island - Learn about Fort Delaware, located on the Delaware River near New Castle, Del.
Washington Crosses the Delaware
Water Conservation Dos & Don'ts (pdf)
Water Quality Terms & Definitions
Other Sources:
Clear Choices, Clean Water: My Delaware River - Learn how to conserve water around the home and how that helps the Delaware River.
National Park Service - Upper Delaware Scenic and Recreational River Teachers Page
Partnership for the Delaware Estuary: Kids and teachers page
Pike County Conservation District: Educational Print Resources and Videos: Virtual River Sojourn & Macros Sampling
Schuylkill Action Network's Education and Outreach Projects - Find information on their Schuylkill Street Art Contest, Schuylkill Scholastic Drinking Water Awards, and more.
Sustainable Choices - Learn about Philadelphia watersheds and environmental stewardship
Understanding the Urban Watershed: Teacher Toolbox - This web site offers lesson plans for a newly-developed Urban Watersheds Curriculum created by the Fairmount Water Works Interpretive Center in Philadelphia, Pa.
General Information about Water Resources
Watersheds and the Water Cycle:
Caring for Our Watersheds - This website offers a great one-minute watershed explainer video, as well as educational programs that engage students in preserving and improving their local watersheds.
Community Collaborative Rain, Hail & Snow Network (CoCoRaHS) Educational Series - Watch a short, animated video on YouTube explaining the water cycle. CoCoRaHS is a grassroots volunteer network of backyard weather observers of all ages and backgrounds working together to measure and map precipitation in their local communities.
Discover Water: The Role of Water in Our Lives
Project WET Foundation - Water Education for Teachers
New Jersey DEP's Watershed Information - You'll find basic information as well as links to restoration projects, approved watershed plans, outreach/education, and publications.
New York State DEC's Watersheds, Lakes, and Rivers Page - Learn about New York State's watersheds.
U.S. EPA's How's My Waterway - Helps you locate, use, and share environmental information about watersheds.
U.S. Geological Survey's Water Science School - Includes:
Watershed Education (WE) - This educational program from the Pennsylvania Department of Conservation and Natural Resources (DCNR), Bureau of State Parks, is for students and teachers in grades 6-12.
WikiWatershed™ - This Stroud Water Research Center product is a collection of web-based water resources information for the Basin community.
Water Conservation & Droughts:
GetWise - Tips and activities focused on conserving water and energy
How Would You Handle This Water Crisis? You are the mayor of a city that is running out of water. How will you solve the problem?
National Drought Mitigation Center: Drought for Kids
U.S. EPA's Water Sense Page for Kids - A part of the U.S. EPA's Water Sense partnership program, this web site helps you learn all about water and how to conserve it.
Water Footprint Calculator - Estimate your daily water use with this interactive calculator.
The Water Page: Water Conservation for Kids This web page offers links to games and other activities, as well as information about how kids can help save water.
Water: Use It Wisely - The Kids' Section of their web site has a lot of great information and games for kids and teachers.
Ground Water and Drinking Water:
Earth Science Classroom Lesson Plans on Ground Water and Surface Water - Distributed by the New Jersey Geological and Water Survey and the New Jersey Department of Environmental Protection.
Groundwater Foundation - Learn about groundwater basics with sections geared towards both educators and students. The Groundwater Foundation is a non-profit organization dedicated to educating and motivating people to care for and about groundwater.
National Ground Water Association's Info for Students & Educators
U.S. EPA's Office of Ground Water and Drinking Water - The Office of Ground Water and Drinking Water has compiled resources especially for kids to learn about drinking water.
Estuaries and Wetlands:
NOAA's "Test Your Estuarine Wisdom" Quiz
U.S. EPA's Wetlands Education for Students and Teachers

Water Quality:
LaMotte: Lesson Plans and Environmental Education Resources - Designed to be used with LaMotte water testing kits.
Leaf Pack Network - Presented by the Stroud Water Research Center, this web page teaches about benthic macroinvertebrates (aquatic bugs).
U.S. EPA's Nonpoint Source Pollution Information for Kids
World Water Monitoring Challenge Action Guides and Lesson Plans
Other Environmental Education Info
Environmental Education Centers in the DRB:
Alliance for Watershed Education of the Delaware River - Regional (DE, NJ, PA) initiative of 23 partnering environmental education centers
Delaware Association for Environmental Education (DAEE) - Promotes environmental and outdoor education to facilitate positive community impacts on the conservation and sustainability of Delaware's resources
Alliance for New Jersey Environmental Education (ANJEE) - Promotes and improves environmental education for people of all ages in New Jersey
New York State Outdoor Education Association (NYSOEA) - Supports outdoor and environmental education and interpretive services in New York State
Pennsylvania Association of Environmental Educators (PAEE) - Includes events and a directory of Pennsylvania environmental education centers/facilities
Other Resources:
Animal Diversity Web - Online database of animal natural history, distribution, classification, and conservation biology from the University of Michigan
Delaware DNREC's Environmental Education Programs - Provides a general overview of various programs offered by DNREC and contacts for additional information.
Discovery Channel School Lesson Plans - Includes lesson plans on a variety of subjects, broken down by grades K-5, 6-8 and 9-12
EcoExpress - This GreenTreks Network program provides teachers with classroom materials and resources that are tied to Pennsylvania teaching standards and requirements. Create an account (free) and log-in to see all this site has to offer!
New Jersey Audubon: Teacher Training
New Jersey SEEDS (The State's Environmental Education Directory WebSite) - SEEDS is an online catalog of environmental education resources available through NJDEP. Also explore NJDEP's Division of Watershed Management's outreach and education opportunities.
New York DEC's Environmental Education - Provides information about environmental/nature centers and workshops, including pages for teachers and students.
The Pine Barrens: Pinelands Educator and Student Resources
U.S. EPA's Students and Educators Web Site - Includes links to games, homework help, and teacher resources.
Commission Member Links:
Delaware
|
New Jersey
|
Pennsylvania
|
New York
|
United States
Copyright © Delaware River Basin Commission,
P.O. Box 7360, West Trenton, NJ 08628-0360
Phone (609)883-9500; Fax (609)883-9522
Thanks to NJ for hosting the DRBC website
Last Modified: 07/23/2021