Applications are now available for the Jersey Fresh Farm to School Recognition Award program at
https://www.surveymonkey.com/r/HY62NZ7. The deadline to complete and submit the application is July 31, 2022. One exemplary school that provides meaningful Farm to School overview will be presented with this year's "Best in New Jersey Farm to School Award" during Jersey Fresh Farm to School Week, September 26-30, 2022.
Schools that meet the criteria in the application will be acknowledged for their Farm to School efforts by recieving a Jersey Fresh Farm to School kit, including Jersey Fresh Farm to School banner, aprons, pencils, seasonality charts, Jersey Tastes flyers and media templates to announce this recognition.
NEW JERSEY DEPARTMENT OF AGRICULTURE PRESENTS
BEST IN NEW JERSEY FARM TO SCHOOL AWARD
Academy360 Recognized for Connecting Students with Local Produce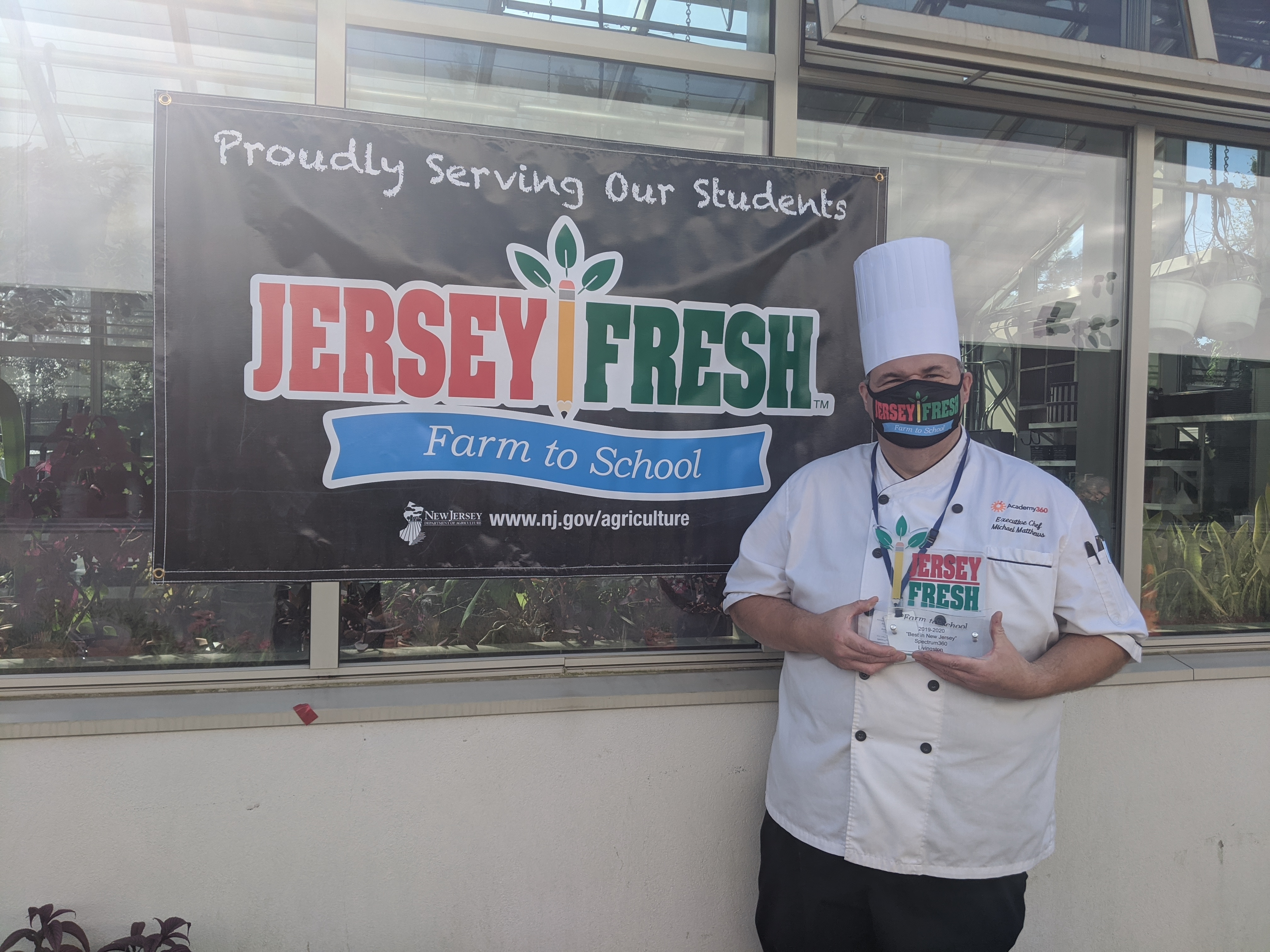 Academy360 Executive Chef Michael Matthews with the Award
(LIVINGSTON) – The New Jersey Department of Agriculture presented Academy360 in Livingston with the "Best in New Jersey Farm to School Award" for its Culinary Academy360 and gardening program. The presentation kicked off the celebration of the 10th annual Jersey Fresh Farm to School Week being held September 21-25.
Academy360 is a program of the NJ nonprofit Spectrum360, which serves children and adults with autism and other related disabilities.
"It is great to see Farm to School used to expand horizons by using local produce in the teaching kitchen and for growing plants in the greenhouse," NJDA Secretary of Agriculture Douglas Fisher said. "Academy360 uses Farm to School as a therapy and skills tool for students with special needs."
Academy360 Executive Chef Michael Matthews and school Principal Lynn Muir were on hand to accept the award.
"We try to teach our students the full circle of food from seed to harvest to the kitchen and finally the table," Matthews said. "We have a greenhouse on campus that we can take full advantage of, for items such as herbs, assorted greens, tomatoes, cucumbers, etc., depending on the season, of course."
When the COVID-19 Pandemic began last March, Matthews continued to teach by using Google Classroom. He decided the theme for the cooking classes for each week, and he and the students prepared the dishes. Critical lessons such as culinary math, culinary science, weights, measure, food safety, kitchen safety, proper personal hygiene, world geography, appropriate cutlery skills, time, and temperature were reinforced while creating the dishes. To support families and provide further enrichment to the Spectrum360 community, Matthews also led an after-school virtual cooking class for all family, staff, and students, which allowed them to explore everything from cake decorating to barbeque preparations.
In addition to the award presented to Academy360, 23 schools are being recognized for their Farm to School efforts in the 2019-20 school year. To enter the competition, schools had to showcase how their work with farmers and the community ensures that students have access to healthy fruits and vegetables in their school cafeterias and classrooms. Due to unforeseen circumstances and school closures last school year, schools had to react quickly and creatively with their meals. Many schools provided a variety of fresh produce in their grab and go meals with funding from the Fresh Fruit and Vegetable (FFVP) and Department of Defense (DoDFresh) Programs.
Other 2019-2020 School Year applicants were:
Absegami High School, Galloway
Bridgeton High School, Bridgeton
Broad Street School, Bridgeton
Buckshutem Road School, Bridgeton
Central Jersey College Prep Charter School, Somerset
Cherry Street School, Bridgeton
Donald M. Payne Sr. School of Technology, Newark
Essex County - West Caldwell Tech, West Caldwell
Geraldyn O Foster Early Childhood Center, Bridgeton
Hamburg Elementary School, Hamburg
High Bridge Elementary, High Bridge
Indian Avenue School, Bridgeton
John P. Stevens High School, Edison
Juan Pablo Duarte - Jose Julian Marti School 28, Elizabeth
Mount Olive Township School District, Budd Lake
Nicholas LaCorte School # 3, Elizabeth
Paul Robeson Charter School, Trenton
Plainfield Schools, Plainfield
Quarter Mile Lane, Bridgeton
Red Bank Primary School, Red Bank
Somerset Intermediate School, North Plainfield
West Avenue School, Bridgeton
These schools received Jersey Fresh Farm to School promotional materials kits including Jersey Fresh Farm to School masks, banner, stickers, and seasonality charts.
All Schools who submit an application and meet the criteria are added to our list of School Recognition Program Schools. To see all Recognition Program Schools and Farms, check our program map.
Jersey Fresh Farm to School Week was designated as the last week of each September by a law signed in 2010. During this week, the New Jersey Department of Agriculture showcases schools that connect with New Jersey farmers to purchase local produce for school meals to increase student consumption of fresh fruits and vegetables.
The influence of the Farm to School Program led to more than 250 schools purchasing local produce from their main distributor, more than 200 districts buying local produce directly from farms and using a curriculum that ties cafeteria meals to healthy eating education and more than 100 districts organizing field trips to farms.
###