The USDA Fresh Fruit and Vegetable Program (FFVP) is a federal grant offered to elementary schools with 50 percent or more students eligible for free or reduced price meals. Each year the New Jersey Department of Agriculture accepts applications from schools interested in participating in this program.
The Fresh Fruit and Vegetable Program exposes school children to fresh fruits and vegetables as healthy snacks on a routine basis. The goal of the program is to increase children's consumption of these nutritious foods and to make a difference in children's diets to impact their present and future health.
Click here for more information on the Fresh Fruit and Vegetable Program.
Schools that are awarded the FFVP grant are encouraged to serve locally grown fruits and vegetables for this program. As a special incentive in New Jersey, schools that agree to serve locally grown Jersey produce receive additional grant money. Schools that receive this funding have more resources to spend per portion on produce, providing them unique purchasing opportunities for locally grown. The FFVP program allows schools to showcase and expose children to the wonderful flavors and varieties of produce available from New Jersey farmers.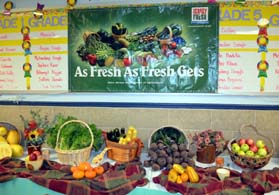 programs
Bok Choy
Kale
Sauteed Kale with Ginger & Soy
Roots