Delaware River Basin Commission
---
Delaware • New Jersey • Pennsylvania
---
New York • United States of America
---
Southeastern Pa. Groundwater Protected Area (SEPA-GWPA)
What is the GWPA?
The Southeastern Pennsylvania Ground Water Protected Area (GWPA) is an area of southeastern Pa. where more stringent regulations apply to ground water withdrawals than they do in the rest of the Delaware River Basin.
It was initially established by DRBC Resolution 1980-18 (pdf) at the request of the Commonwealth of Pennsylvania after it became evident that development was negatively impacting ground water levels in this area.
Lowered water tables were reducing flows in some streams and drying up others. This reduction in baseflows affects downstream water uses, negatively impacts aquatic life and can reduce the capacity of waterways in the region to assimilate pollutants.
Resolution 1980-18 created the requirement that new or expanded well water projects located within the delineated GWPA involving an average withdrawal of more than 10,000 gallons per day (gpd) from a well or group of wells operated as a system must obtain a DRBC Protected Area Permit. In the remainder of the Delaware River Basin, DRBC's review threshold for water withdrawal projects is for an average withdrawal of more than 100,000 gpd during any calendar month.
The main goal of the GWPA is to prevent the depletion of ground water. Another goal is to protect the interests and rights of lawful users of the same water source, as well as balance and reconcile alternative and conflicting uses of limited water resources in the region.
The GWPA regulatory program has been successful. Between 1990-2013, total ground water withdrawals were reduced by approximately 8.5 billion gallons, or 23.4 million gallons a day. More surface water is being used for water supply from various sources, including the Delaware River.
Related Resources:
Counties and Municipalities Included in the GWPA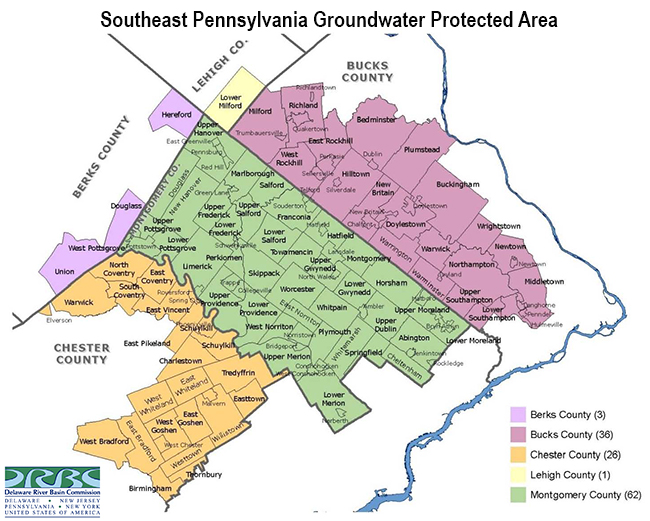 The GWPA takes in 1,200 square miles, includes 127 municipalities and provides water for domestic, municipal, commercial, industrial and agricultural use to approximately one million people.
In addition to the Neshaminy Creek Watershed, other large drainage areas include the Brandywine Creek, Perkiomen Creek and Wissahickon Creek subbasins.
In addition to all of Montgomery County, the following areas in surrounding counties fall within the Protected Area:
Berks: the townships of Douglass, Hereford, and Union.
Bucks: the townships of Bedminster, Buckingham, Doylestown, East Rockhill, Hilltown, Lower Southampton, Middletown, Milford, New Britain, Newtown, Northampton, Plumstead, Richland, Upper Southampton, Warminster, Warrington, Warwick, West Rockhill, and Wrightstown; the boroughs of Chalfont, Doylestown, Dublin, Hulmeville, Ivyland, Langhorne, Langhorne Manor, New Britain, Newtown, Penndel, Perkasie, Quakertown, Richlandtown, Sellersville, Silverdale, Telford, and Trumbauersville.
Chester: the townships of Birmingham, Charlestown, East Bradford, East Coventry, East Goshen, East Pikeland, Easttown, East Vincent, East Whiteland, North Coventry, Schuylkill, South Coventry, Thornbury, Tredyffrin, Warwick, West Bradford, West Goshen, Westtown, Willistown, and West Whiteland; the boroughs of Elverson, Malvern, Phoenixville, Spring City and West Chester.
Lehigh: Lower Milford Township.
Percent of Groundwater Use in the Delaware River Basin: 1997-2017
This time series video shows the percent of groundwater use in the Delaware River Basin as compared to the available groundwater per hydrologic unit (watershed ID #) for the years 1997 - 2017. The Southeastern PA Groundwater Protected Area and NJ's Critical Area 2 are delineated; these are known areas of groundwater stress in the basin. The time series was created by DRBC staff using data from the USGS.
Commission Member Links:
Delaware
|
New Jersey
|
Pennsylvania
|
New York
|
United States
Copyright © Delaware River Basin Commission,
P.O. Box 7360, West Trenton, NJ 08628-0360
Phone (609)883-9500; Fax (609)883-9522
Thanks to NJ for hosting the DRBC website
Last Modified: 03/21/2022