NJ Labor Dept. Records Lowest New Weekly Unemployment Claim Total in 9 Months
FOR IMMEDIATE RELEASE
November 25, 2020

TRENTON – The number of new unemployment claims filed in New Jersey declined for the sixth straight week, while the state Department of Labor and Workforce Development disbursed another $274 million in benefits during the week ending Saturday, for a total of $19.3 billion over the past nine months.

The number of new claims dropped to 12,192, a 6 percent decline from the prior week, and the lowest weekly claim total since March 14.

Meanwhile, the Department completed another round of FEMA payments, sending an additional $33 million to roughly 31,000 claimants whose unemployment was COVID-related. In all, the Department has distributed $1.3 billion in FEMA Lost Wages Assistance payments to 848,000 unemployed or under-employed New Jerseyans.

The $300 payments were for claimants who were eligible for at least $100 in unemployment benefits during the weeks of Aug. 1 through Sept. 5. The maximum payment was $1,800.

"We are thankful to see fewer New Jerseyans having filed new unemployment claims in the past several weeks and more residents having received FEMA payments. However, too many of our neighbors, family and friends continue to struggle financially because of layoffs or cuts in work hours. Labor Department are working hard every day to get vital wage-replacement benefits to these claimants," said Commissioner Robert Asaro-Angelo.

Since mid-March, just over 1.8 million unemployment claims have been filed, including 134,000 that have been reopened, meaning the claimant has applied for benefits more than once within a 12-month period. Since the US Labor Department requires states to report every new claim in its "initial claims" metric, those who reopen claims are, effectively, recounted.

Of the 1.47 million applicants who have earned enough income to qualify for benefits, 96 percent have received payment. The average per claimant benefit is $13,667.
Here is a look at the number of new unemployment claims received by the department each week:
Click the images below to view them full-size.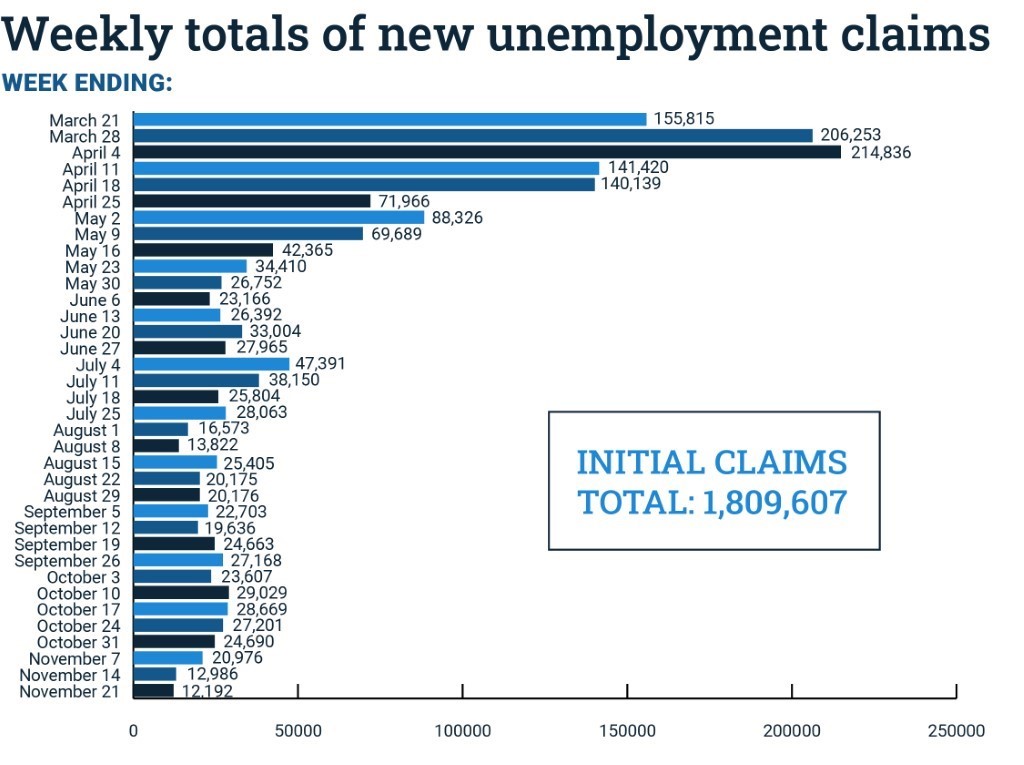 Here is a look at the weekly payments made by the Labor Department to eligible claimants: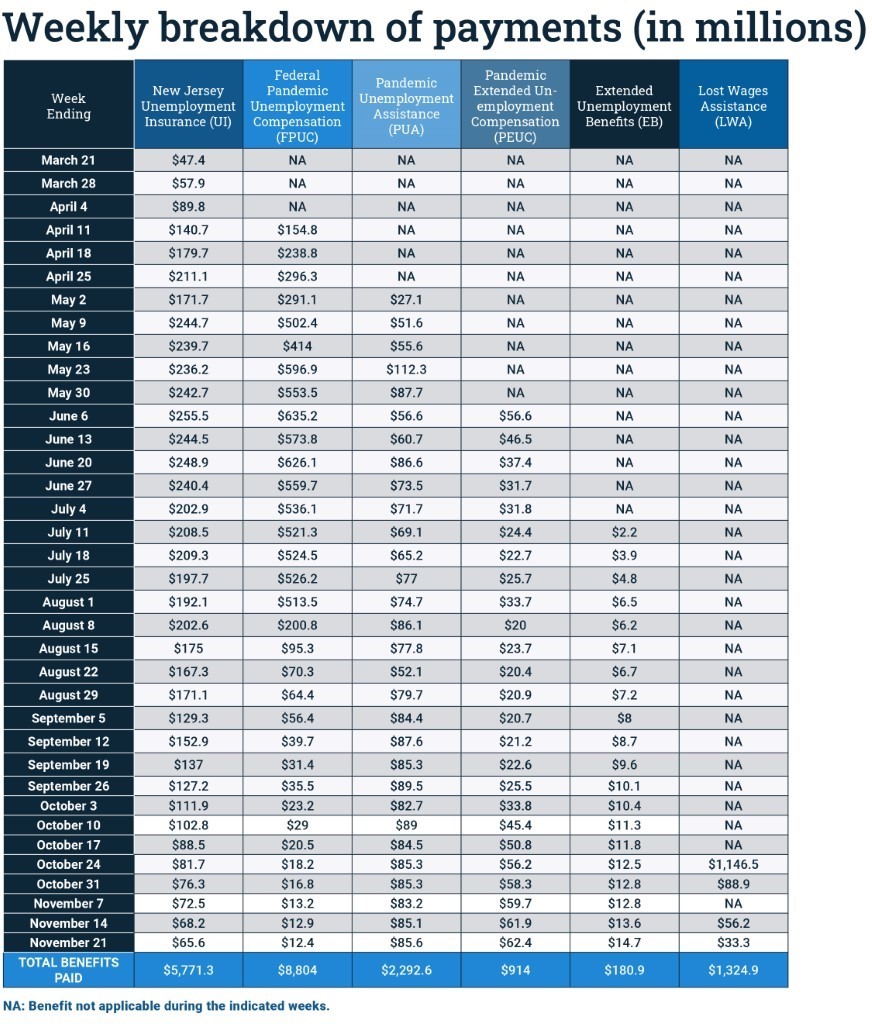 PUA, PEUC and FPUC are federal programs authorized by Congress under the CARES Act. Pandemic Unemployment Assistance (PUA) provides benefits through the end of the year; maximum eligibility is 46 weeks. Pandemic Emergency Unemployment Compensation (PEUC) provides 13 weeks of federal benefits for those who exhaust 26 weeks of state unemployment. Most of them are able to transition to 20 weeks of state Extended Benefits (EB). Federal Pandemic Unemployment Compensation (FPUC) provided $600/week to everyone eligible for unemployment for the weeks of April 4 through July 25. LWA provided up to six weeks of supplemental benefits through FEMA to people unemployed the weeks of Aug. 1 through Sept. 5 due to COVID, and who were eligible for at least $100 in weekly unemployment.
For more information on state or federal unemployment programs, visit myunemployment.nj.gov.
Anyone looking for work is encouraged to visit New Jersey's jobs portal -- jobs.covid19.nj.gov.
For national unemployment data, visit https://www.dol.gov/ui/data.pdf. For archived NJ claims data, visit https://oui.doleta.gov/unemploy/DataDashboard.asp.
  *This represents the final number for the week ending Nov. 21. The number listed for New Jersey by the US Department of Labor – 11,434 – is based on advanced reporting.