Stand Down reaches out to homeless vets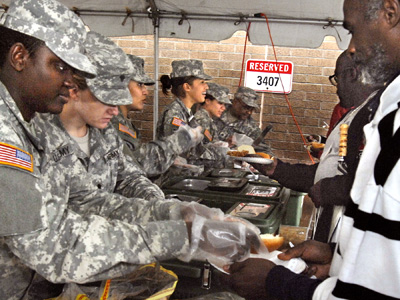 Specialists Lillian Nagery (left) and Courtney Roach - Soldiers from the 42nd Regional Support Group serve homeless veterans at the North Jersey Stand Down.
The New Jersey Department of Military and Veterans Affairs again this year partnered with county, state and federal agencies to support the volunteer Stand Down Committees in South and North Jersey.
On Sept. 21 the Cherry Hill Armory hosted the Stand Down. 1st Lt. Lisa Robinson and Maj. Roxellen Auletto, both clinical nurses with the 177th Medical Group assisted homeless veterans while Pfc. Dennis Ryan (top left photo) of the 328th Military Police Company, located at the armory, helps attach a plastic wrist band on a homeless veteran before he receives donated outerwear at the Cherry Hill Armory.
This year the North Jersey Stand Down was held on Oct. 21 at the John F. Kennedy Pool and Recreation Center in Newark, a new location for the event.
The Army and Air National Guard assisted with both Stand Downs as Soldiers cooked and provided logistics support while 177th Fighter Wing and 108th Air Refueling Wing medical personnel were on hand to help with the health screenings.
The Stand Downs provide homeless veterans with access to healthcare, mental health screening, substance abuse counseling, social services availability, religious counseling, a hot meal, a haircut and winter clothing. The goal of the program is to bring a wide range of resources together in one location so the veteran can access the various available services and be able to recognize that the community is concerned
Last year, 1,151 homeless veterans and their families attended Stand Downs in Cherry Hill and Newark. There are more than 6,500 homeless veterans in New Jersey. Stand Downs are grass roots, community-based intervention programs to help veterans' battle life on the streets.
Stand Down comes from the military term referring to the removal of exhausted units from the battlefront to a place of security and safety for rest and recovery.