MP Unit goes through SRP

By Spc. Mark O'Rear, 444MPAD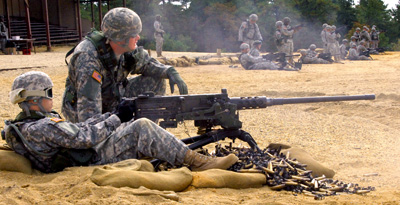 Pfc. Dennis Ryan fires the M-2 50 caliber machine gun while Sgt. Robert Rayca assists
.
As any Soldier can tell you, a deployment can be a stressful time filled with anxiety and mountains of administrative paperwork. New Jersey National Guard Soldiers of the 328th Military Police (MP), based in Cherry Hill, are now going through the processes that will give them an experience of a lifetime. Normally Soldiers would be a little apprehensive when they learn that their unit would deploy, but the 328th MPs are genuinely excited about going to Iraq.
"I really want to go," said Pvt. Conor McGrath. "I want to say I was a part of something this big." Ever since he could remember, McGrath has had aspirations of becoming a U.S. Soldier, coming from a family with a military background. McGrath had joined the NJNG right after high school with hopes that the knowledge he will gain from his experiences will get him one step closer to civilian law enforcement.
Our main goal is to make sure that we're fully qualified, fully trained before we hit the sand. Capt. David I. Rios 328th Military Police
The job of the MP is a dangerous job being a combat enhancement class MOS, but that did not stop Pfc. China-Marie Melendez from answering the call. 31B (Military Police) is one of the few combat MOS in which females can enlist.
"I've always had a sense of patriotism," said Melendez, and after the attack on 9/11, she became even more determined to become a U.S. Army Soldier. When not drilling on the weekends, Melendez works as a full-time receptionist and full-time student at a community college. She has also adjusted well to the news of the mobilization having already enrolled for the spring semester before her deployment.
Although the 328th MP have much more administration and training to do before their mobilization, Commander of the 328th MP Cpt. David I. Rios of Clifton, NJ, is pleased with the progress of the unit. "Our main goal is to make sure that we're fully qualified, fully trained before we hit the sand," Rios said. "Believe it or not, they [328th MP] are ready to go. They want to go."