Short Rounds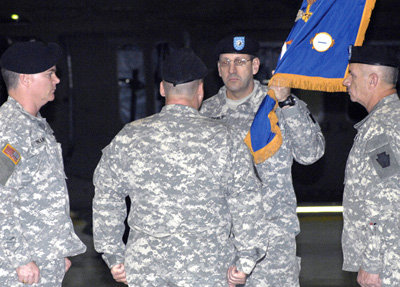 150th gets new CO
Lt. Col. Francis A. Matreale (holding guidon)assumed command of the 1-150th Assault Helicopter Battalion in a ceremony at the National Guard Armory in West Trenton on Dec. 1. Also pictured are Col. Kevin C. Hegarty (left), outgoing commander Lt. Col. Daniel J. Dreher (back to camera) and Sgt. Maj. Konrad Uldschmidt (right), 1-150th command sergeant major. Photo by Sgt. Shawn Morris, 444MPAD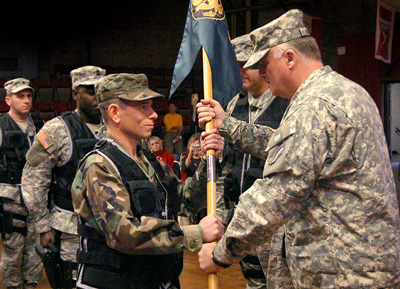 Arnstein to lead CST
Maj. Jesse Arnstein (left) receives 21st Civil Support Team (Weapons of Mass Destruction) guidon from Brig. Gen. Stephen Hines, deputy commander of the Army National Guard's 42nd Infantry Division, during a Change of Command ceremony held at the National Guard Armory in Lawrenceville on Nov. 28. Arnstein is the first Air National Guardsman to command the Civil Support Team. Photo by Tech. Sgt. Mark Olsen, NJDMAVA/PA.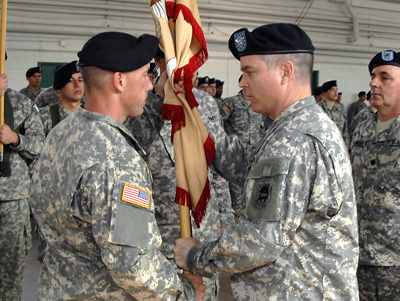 CSSB gets new commander
Incoming commander of the 119th Combat Sustainment Support Battalion (CSSB) Lt. Col. Todd F. Berger (left) accepts the colors from Col. Kevin Hegarty, commander, 57th Troop Command on Nov. 4 at the National Guard Armory in Cherry Hill . Lt. Col. Royce P. Lawler (right), served as the 119th CSSB commander since March 2006 of the unit based at the Hammonton armory. Photo by Kryn P. Westhoven, DMAVA/PA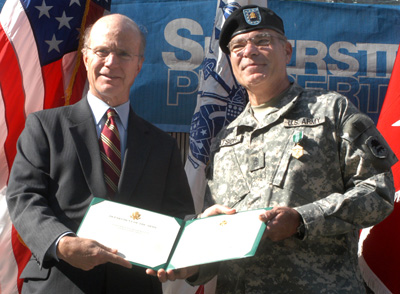 Special recognition
First Sgt. Frank Batsch (right), 63rd Army Band was awarded the Army Commendation Medal by Secretary of the Army Pete Giren in a ceremony at at the former World Trade Center site on Oct. 31. Batsch worked at Ground Zero performing search and recovery, cleanup and served as a platoon leader for a New York Army Guard unit. Batsch was recognized along with 12 other Soldiers for their first responder work at Ground Zero.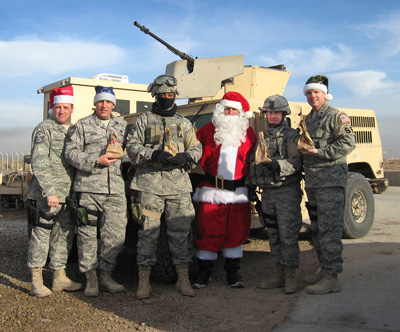 Santa will always find you
Santa sure does get around. Even with his busy schedule he takes time to visit Airmen from the 108th Security Force in Iraq. left to right 1st Sgt. Tom Fahnestock, Chief Master Sgt Lance Endee, Staff Sgts. Douglas (active-duty), Jeff Bock (aka: Mr. Claus) and John O'Keeffe and Lt. Col. Ron Turk. Photo courtesy 108ARW/SF.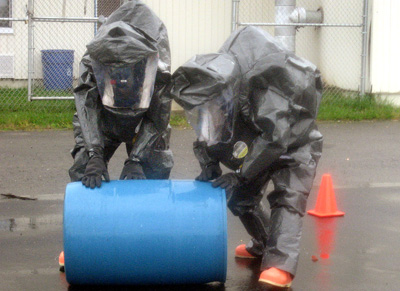 Level A Challenge
The 21st Civil Support Team (WMD) hosted an orientation day on Oct. 27 at Fort Dix designed to educate prospective applicants on the CST mission and what it's like to be a team member. The highlight was donning self-contained breathing apparatus and level A suits, and participating in the Level A Sports Challenge, which included shooting hoops, rolling 55- gallon barrels through an obstacle course and processing through a decontamination line. Photo courtesy 21CST.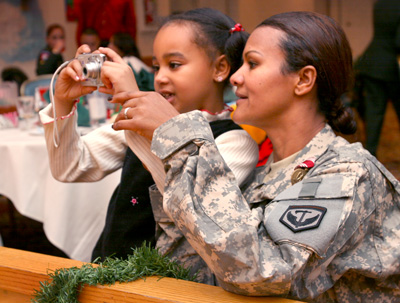 Family time during holidays
Sgt. Luisa Sanchez, 250th Personnel Services Detachment gives Madison Moore photo advice during the 50th Personnel Services Battalion annual holiday party at the McGuire Air Force Base All-Ranks club on Dec. 2. Highlights included a promotion and awards ceremony along with a visit from Santa Claus (yes, he does get around this time of year). Photo by Tech. Sgt. Mark Olsen, NJDMAVA/PA.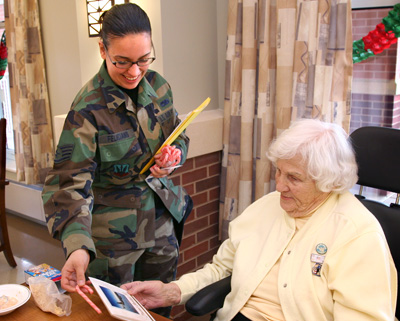 Holiday visit
Staff Sgt. Denise Felciano (left), 177th Fighter Wing gives a Vineland Veterans Memorial Home resident a holiday card and a candy cane on Dec. 19. The 177th and 108th Air Refueling Wing raised more than $1,500 for the residents and were joined by more than 50 fourth graders from the Seaview School in Linwood to sing holiday carols to the residents. Photo by Tech. Sgt. Mark Olsen, NJDMAVA/PA.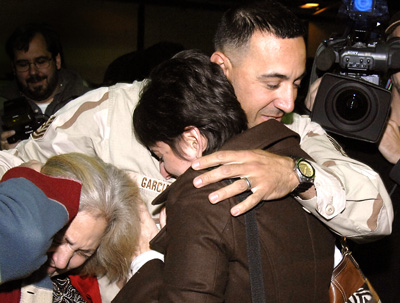 Home again
Tech Sgt. Frank Garcia is greeted by his mother Faustina Rojas, left and his wife Marci, who was nine months pregnant as 108th Air Refueling Wing Security Forces detachment Airmen ended a sixmonth tour in Iraq. On Thanksgiving Day, just two days after Frank's return, Marci gave birth to a healthy baby boy, Lucas Frank Garcia weighing in at seven pounds, six ounces. Photo by Kryn P. Westhoven, DMAVA/PA.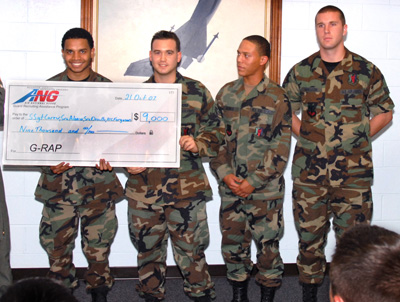 G-RAP works
The money just keeps coming in. Airmen from the 177th Fighter Wing (left to right) Staff Sgt. Seon Carew, Senior Airmen Fabio Alonso and Carlin Deville and Airman 1st Class Bradley Ferguson, recipients of $9,000 in Guard Recruiting Assistance Program bonuses. Photo by Master Sgt. Shawn Mildren, 177FW/PA.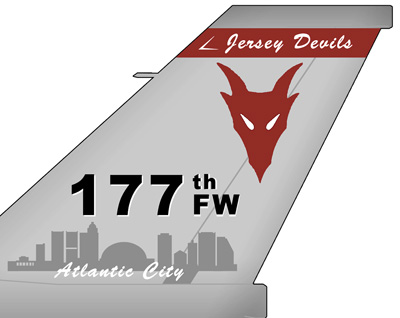 Wing announces new tail art
The 177th Fighter Wing formally released the design for the tail art for the wing commander's F-16 Fighting Falcon aircraft. Lt. Col. Anthony La Sure, Commander, 177th Maintenance Squadron came up with the concept based on the Atlantic City skyline. Final design was executed by Staff Sgt. Matt Hecht, 177th Fighter Wing Public Affairs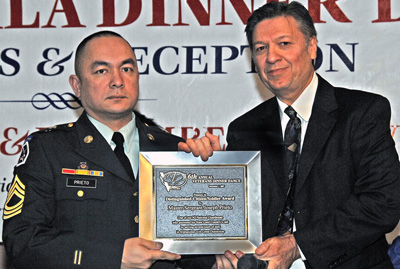 Soldiers receive awards
Master Sgt. Joe Prieto, Company D, 250th Brigade Support Battalion, receives the Citizen-Soldier Award at the 6th Annual Veterans Dinner Dance held on Dec. 1 in Cherry Hill from WPHT's Dom Giordano. Also honored was Capt. Kevin Welsh, commander Troop C, 5-117th Cavalry. The National Guard State Family Readiness Council received an $11,018 check from the event organizers, which is headed by the local chapter of the Jewish War Veterans. Photo by Kryn P. Westhoven, DMAVA/PA.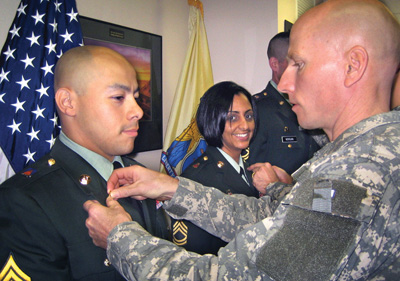 Newest Warrant candidates
Lt. Col. John Sheard (right) Commander, Recruiting and Retention Command, pins Aviation Warrant Officer Candidate (WOC) Billy Sierra (left) while Adjutant General CorpsWOC Mercedes Devarie (center) watches on Dec. 13 at Joint Force Headquarters- NewJersey. Sierra, Devarie and Quartermaster Corps WOC Robert Morgan (not pictured) were all pinned on the same day making this largest group of candidates pinned on a single occasion. Photo by Sgt. 1st Class Jeretha Prather, RRC.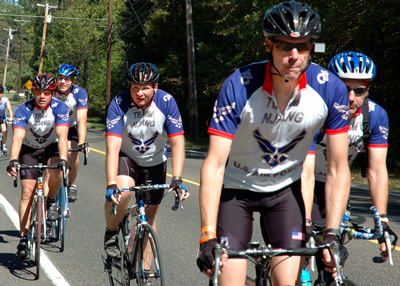 Coming at ya
Team NJANG members (front to back) Lt. Col. Dave LaTour, Master Sgt. Dave Heulitt, Pete Brown, Capt. (retired) Harry Marshall and Doug Erney along eight other cyclists and a two-member support team, joined 7,500 other cyclists in the 2007 MS150 City to Shore Bike Tour, Sept. 29-30. This two-day event takes riders from Cherry Hill to Ocean City and back. Team NJANG raised more than $6,900 for the event benefitting the National Multiple Sclerosis Society. Photo copyright Erick Panger.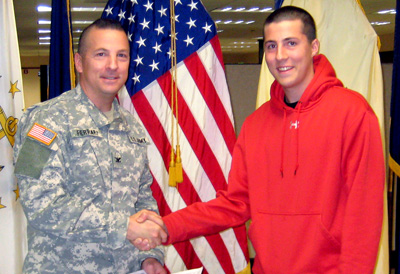 Guard Father-Son Team
Col. Steve Ferrari swore-in his son Pvt. Steven J. Ferrari on Nov. 5 at Joint Headquarters – New Jersey on Fort Dix. Pvt. Ferrari will serve with the 328th Military Police Company in Cherry Hill after he completes basic training and military police school beginning this March. Pvt. Ferrari is the third generation of Ferraris to join the Army; his father was sworn in by his grandfather Col. Mario J. Ferrari in 1981 at the Cherry Hill Armory. Photo courtesy Recruiting and Retention Command.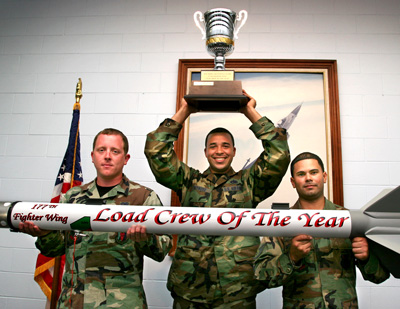 Load Crew of the Year
The trophy and the missile go to the 177th Fighter Wing Load Crew of the Year (l-r) Senior Airman Christopher Miller, Tech. Sgt. Bradley Reynoso and Staff Sgt. Anthony Gonzalez. The Annual Load Crew Competition was held on Sept. 15. Congratulations on being the best of the best. Photo by Tech. Sgt. Mark Olsen, 177FW/PA