108th Welcomes R Models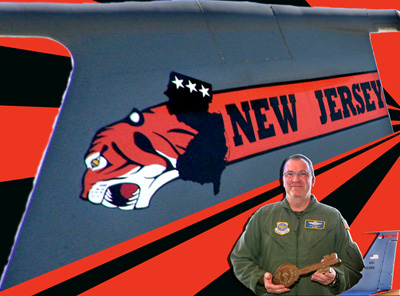 Brig. Gen. Michael L. Cunniff holds the ceremonial key to the wing's newest KC- 135R Stratotanker. Background photo illustrates the aircraft's new tail insignia.
The latest aircraft to come to McGuire Air Force Base was welcomed to the base on Oct. 15. The 108th Air Refueling Wing celebrated the arrival of the first KC-135R to the wing with a ceremony attended by distinguished visitors, wing members and retirees.
Brig. Gen. Michael L. Cunniff told the crowd, "This is a new day in the wing's history," when he spoke.
As the audience watched, the aircraft rolled down the flightline to the hangar and served as a backdrop to the stage. This is the first of eight R-model Stratotankers that will serve the wing.
Congressman Jim Saxton, who was instrumental in getting the R-model and other missions to the 108th after the recent Base Realignment and Closure Commission (BRAC), spoke to the guests at the ceremony.
"This is a great day for the 108th," he said. "I never cease to be amazed by the dedication of the men and women of this wing."
Boeing Company's model 367-80 was the basic design for the commercial 707 passenger plane as well as the KC-135A Stratotanker. In 1954, the Air Force purchased the first 29 of the future 732-plane fleet. The first aircraft flew in August 1956 and the initial Stratotanker was delivered in June 1957. The last KC-135 was delivered to the Air Force in 1965.
Also speaking to the group was Gen. Arthur Lichte, Commander, Air Mobility Command. He told the audience that the R-model sitting on the ramp was from the 60's and not the 50's as the aircraft that have been with the 108th since it became a refueling wing in 1993.
"The professional competency of the members in the 108th is unmatched," stated Maj. Gen. Glenn K. Rieth, The Adjutant General of New Jersey.
Rieth enumerated the many ways that the 108th members work to prove that competency. Some of the missions were the partnership with the 177th fighter Wing, Atlantic City, to provide patrol flights up and down the Atlantic seaboard. Another example was the way wing members "stood up to help the people of New Orleans after Hurricane Katrina with more than 40 sorties delivering water and other supplies to the survivors."
He added that "I am proud to serve with each and every one of you."
Rounding out the ceremony were the 108th Honor Guard, Master Sgts. Rafael Jimenez and Lisel White singing the national anthem and the U.S. Air Force Ceremonial Brass Band, Boling Air Force Base, Washington, D. C.