Hines promoted to brigadier general
By Tech. Sgt. Mark Olsen, NJDMAVA/PA; Photo by Kryn P. Westhoven, NJDMAVA/PA.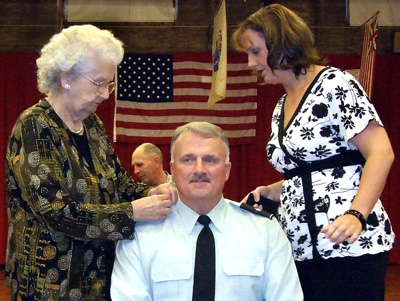 The rank of brigadier general is pinned on the shoulders of Col. Stephen J. Hines, center, by his mother Mary Hines (left) and his wife Patricia (right) on Sept. 30.
The rank of Brigadier General was pinned on the shoulders of Col. Stephen J. Hines at the National Guard Armory in Lawrenceville on Sept. 30.
Brig. Gen. Hines serves as the Deputy Commanding General, 42nd Infantry Division. He recently returned from Bright Star 2007, which combined the 42nd's staff, U.S. Central Command and U.S. Army Central and the Egyptian 9th Armored Division to foster greater military to military relations with participating nations.
Hines enlisted in the New Jersey Army National Guard on Oct. 9, 1971. He was commissioned as a Second Lieutenant upon graduation from the New Jersey Military Academy, Officer Candidate School Class 17, in July 1974. He received a master's degree in geopolitical strategic science from the United States Army War Collage. He also possesses a bachelor of science. Hines is a graduate of the United States Army War College, Class of 2003.
His military assignments include Rifle Platoon Leader, Mortar Platoon Leader, Tactical Intelligence Officer, Operations Air, Personnel Administrative Officer, and Commander, Headquarters and Headquarters Company with the 1st Battalion, 114th Infantry. While assigned to Headquarters State Area Command, Hines served as the State Marksmanship Coordinator, and Training Branch Chief in the Department Plans, Operations, Training and Military Support Directorate. Following these postings, he was the 50th Brigade Executive Officer from July 1995 to July 1999. The general then served as Squadron Commander, 5th Squadron 117th Calvary. Hines took command of the 50th Brigade, 42nd Infantry Division on March 1, 2002 and served until Feb. 29, 2004. Following that he served as Chief of Staff-Army, Joint Forces Headquarters, New Jersey Army National Guard.
The general has received numerous military and state awards during his career, to include the Meritorious Service Medal with four bronze oak leaf clusters, Army Commendation Medal with two bronze oak leaf clusters, Army Reserve Component Achievement Medal with one silver oak leaf cluster, National Defense Service Medal, Armed Forces Reserve Medal with one hour glass device, Army Service Ribbon, Navy Achievement Medal, Navy Good Conduct Medal, Navy Sea Service Deployment Ribbon, Desert Storm Support Ribbon, New Jersey Distinguished Service Medal, New Jersey Commendation Medal, New Jersey Medal of Honor, New Jersey Good Conduct Medal, New Jersey Merit Award (30th Award), and the New Jersey State Service Ribbon.