PPE Donations
The Department of Military and Veterans Affairs (DMAVA) is grateful for all of the well wishes we are receiving not only for the residents at our three Veterans Homes but also for the staff who care for them. Many of you are asking how you can help. The three DMAVA Veterans Homes are accepting donations of personal protective equipment such as: medical/surgical masks, washable homemade masks, face shields, goggles, washable surgical gowns, hand sanitizer, and vinyl gloves. You can donate these items by contacting each Home directly to coordinate a drop-off:
You can also learn how to make a donation to the State of NJ to be distributed to our hospitals, health care workers, and first responders here: covid19.nj.gov/forms/ppedonations.
---
DMAVA Messages


January 11, 2023

Paramus FY 2022 Medicare Cost Report
Click here to view the adjusted Paramus FY 2022 Medicare Cost Report in accordance with New Jersey Public Law 2021, chapter 457, subsection b(1). New Jersey Office of Budget and Management website may be viewed here.
October 31, 2022

DMAVA Veterans Memorial Homes Annual Financial Reporting Compliance
Click here for New Jersey Department of Military and Veterans Affairs financial statements and CMS cost reports in accordance with New Jersey Public Law 2021, chapter 457, subsection b(1). The Veterans Memorial Homes at Menlo Park, Paramus, and Vineland constitute nursing homes as defined in N.J.S.A. 26:2H-29 and are subject to additional reporting requirements in coordination with the New Jersey Department of Health.
New Jersey Office of Budget and Management website may be viewed here.



January 6, 2022

Governor Murphy Announces New Jersey National Guard Deployment to Assist Long-Term Care Facilities
TRENTON - Governor Murphy today announced that the New Jersey National Guard will be deploying to long-term care facilities throughout New Jersey to assist with COVID-19 response efforts and to augment facilities' staffing. This is an extension of Joint Task Force COVID Guardian, which has provided coordinated assistance to numerous long-term care facilities since the first weeks of the COVID-19 pandemic.
"Time and time again, the New Jersey National Guard has stepped up to the plate throughout this pandemic," said Governor Murphy. "This deployment will send members of our National Guard to long-term care facilities with staffing needs and will act to protect the health and safety of long-term-care residents while the Omicron variant surges throughout the nation.
"COVID-19 is still a threat to our New Jersey communities," said Department of Military and Veterans Affairs Commissioner Brig. Gen. Lisa Hou, D.O. "The Soldiers and Airmen of the New Jersey National Guard are working hard every day to protect public health."
"We are grateful to the National Guard for their assistance in caring for the residents of those facilities most in need," said Department of Health Commissioner Judith Persichilli. "Throughout this pandemic, protecting our most vulnerable residents has been paramount. As we have seen in the community, COVID-19 cases and outbreaks have been rising for several weeks in our long-term care facilities. We continue to work closely with long-term care facilities throughout the state to ensure that they have the staff they need."
Approximately 150 Soldiers and Airmen of the New Jersey National Guard are preparing to support staffing requirements of more than a dozen long-term care facilities around the state. Guard members will assist regular staff with a variety of tasks, including administrative and logistical support. Members are undergoing training and work is anticipated to start at their assigned locations on Monday, January 10, 2022.
Tasks that National Guard members will assist with will include:
Assist residents with getting from bed to chair, walking
Assistance in dressing and daily hygiene activities
Meal set-up and feeding
Routine assistance
Testing and screening staff, residents, and visitors


March 26, 2021
As of Saturday March 27, 2021, all three Veterans Homes will be open for outdoor visitation. Visitors will be screened for symptoms of COVID-19 prior to the visit, and will be required to perform hand hygiene and wear a well fitted face mask during the visit.
Residents who have been fully vaccinated (at least two weeks have passed since they received their final vaccine dose) may have close contact with the visitor.
During the period of time a resident is on quarantine restrictions, they will not be allowed to have visitors until the transmission based precautions have been lifted.
You may contact the Veterans Homes' recreation departments at the phone numbers below for additional information or to schedule a visit.
Menlo Park (732) 452-4258
Paramus (201) 634-8500
Vineland (856) 405-4212



December 29, 2020
Today, Governor Phil Murphy and Interim Commissioner of the New Jersey Department of Veterans Affairs (DMAVA) Col. Lisa Hou, D.O. announced that COVID-19 vaccinations are underway for residents and staff of the State's three veterans memorial homes. Residents and staff of the Paramus Veterans Memorial Home began receiving vaccinations yesterday and vaccinations are scheduled to begin over the course of the next week at the Menlo Park and Vineland Veterans Memorial Homes as part of the federal Pharmacy Partnership for Long-Term Care Program with CVS and Walgreens.


"Our veterans were there for us in our time of greatest need," said Governor Phil Murphy. "Now it is our turn to protect them with the distribution of lifesaving COVID-19 vaccines. While this pandemic is far from over, these vaccines will undoubtedly reduce the risk of severe illness or death among the residents of our veterans memorial homes."


"The immense relief is palpable," said Lisa Hou, D.O., Interim Commissioner of the New Jersey Department of Military and Veterans Affairs. "For our Veterans, our staff, and our National Guard members on duty, we have nothing but gratitude for the tireless work of the medical and scientific communities who have cracked the coronavirus code. COVID-19 has disrupted everyday life to an almost unfathomable degree. Department staff, Soldiers, and Airmen have worked around the clock for the health and comfort of our Veterans and their families. With an efficacious vaccine against this deadly virus, we finally have the strongest tool to bring some relief to our homes."


"New Jersey's Veterans Homes have been hit particularly hard during this pandemic," said Department of Health Commissioner Judith Persichilli. "As we rollout vaccinations to veteran homes' residents and staff, we are continuing our efforts to help protect some of the state's most vulnerable populations."


Under the federal Pharmacy Partnership Program, residents and staff who so choose will be vaccinated for COVID-19 at the Paramus, Vineland, and Menlo Park Veterans Memorial Homes. Vaccinations began on December 28 in Paramus, and will begin on January 1 and 5 in Vineland and Menlo Park, respectively. Residents and staff will receive the 2nd dose of the vaccines three weeks after the first dose.

October 23, 2020
Dear Powers of Attorney, Family Members, and Loved Ones:
Governor Phil Murphy announced significant changes to the leadership in the New Jersey Department of Military and Veterans Affairs (DMAVA) on Friday, 16 October 2020.
The Governor has asked me to serve as the interim Adjutant General and Commissioner of DMAVA, and it is an honor to lead one of the greatest battles our Department has ever faced.
While there are managerial transitions taking place in the Menlo Park and Paramus Veterans Homes, please rest assured that there are sufficient and appropriately trained personnel in place to lead and manage the homes on a day-to-day basis until new CEOs are hired.
We are working expeditiously to prepare our homes for the fall and winter, as cases of COVID-19 increase statewide and the flu season approaches. Please know that we will do everything in our power to keep your loved ones safe during this difficult time.
Furthermore, Governor Murphy, in collaboration with the U.S. Secretary of Veterans Affairs, Robert Wilkie, has secured additional staffing support for our homes in order to bolster them for the fall. The staff, which include an Incident Commander, an Associate Director, a Chief Nurse, two Infection Control Nurses, one Logistician, one Geriatrician, and one Geriatric Care Line Manager, have already begun to arrive in Menlo Park and Paramus.
Joining me in leadership is Colonel Walter Nall, Acting Deputy Commissioner of Veterans Affairs, who will assume the duties of the Director of Veterans Healthcare Services. The search will begin to find a new director to oversee the three Veterans Memorial Homes across the state.
Protecting our veterans and supporting our military personnel will be my priority today and every day. We must all work together to defeat this pandemic and I am committed to doing everything possible to the lead the Department and the National Guard through this difficult period.
Respectfully,
Lisa J. Hou, D.O.
Colonel, MC, NJARNG
The Adjutant General (Interim)
Commissioner (Interim), New Jersey Department of Military and Veterans Affairs
October 16, 2020
Governor Phil Murphy today announced a leadership transition at the New Jersey Department of Military and Veterans Affairs (DMAVA). Col (Ret.) Walter R. Nall, currently serving as the Acting Deputy Commissioner for Veterans Affairs, will take on the additional responsibilities of the Director of the Division of Veterans Healthcare Services, replacing Sean Van Lew.

June 21, 2020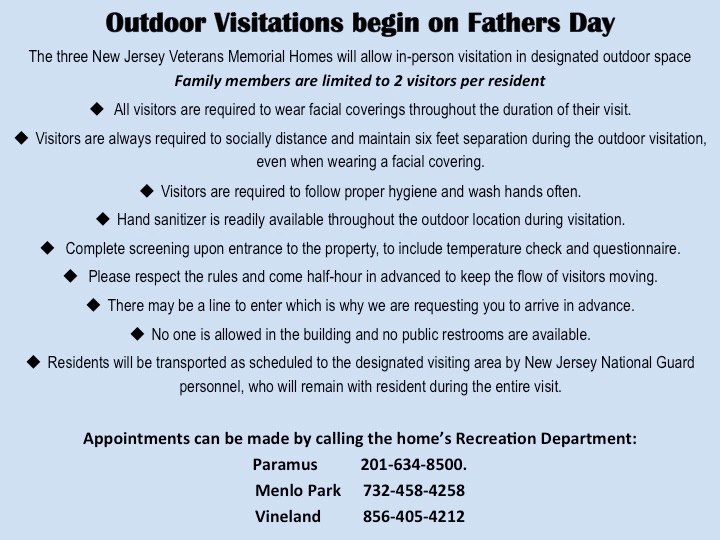 April 22, 2020

April 15, 2020

April 10, 2020

April 8, 2020

April 5, 2020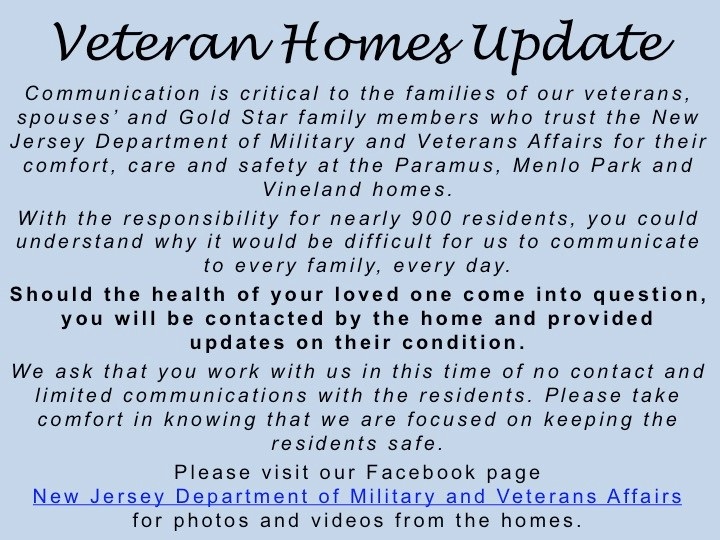 March 29, 2020

Family, Loved Ones and Friends,
I trust and hope this finds you all well and coping as best as can be during this trying time for our State and Nation. I implore you all to please heed all advisories and executive orders in place in order to do your part in helping curb the spread and control of COVID-19. Remember, "COVID-19 does not spread itself, it is spread by movement. If we stop moving, it will stop moving."
Operations at our three homes continue as normal as possible. As was expected, we are not immune to COVID-19. We have our first confirmed case of the virus in our Paramus home with a resident that has been in the hospital. This resident tested positive while in the hospital and remains there receiving care for the time being. One unit remains closed in the home. This closure was done prophylactically due to several residents exhibiting cold symptoms. This is standard procedure for us during cold and flu season to combat the spread of any contagion within the home. All residents in all of our homes are being closely monitored for any change in their baseline vitals to ensure that we stay on top of infection control within the facilities.
We have 2 residents from the Vineland home that have been hospitalized for underlying health concerns that are also being tested for COVID-19. Those test results are pending.
Our Menlo Park facility has 0 confirmed cases and 0 presumptive cases of the virus.
As I stated, we expected this and I want to ensure you that each of our facilities is on top of, and in compliance with all the latest guidance and instructions from CDC, DOH and OEM in order to combat the spread of the virus, while continuing to provide the best care we can for our guys and girls.
The staff in all of our homes have continued to rally around our residents. We are experiencing a below average number of absences from work, as our dedicated staff continue to rise to the challenge. Words cannot express how deeply grateful we are for the nurses, clinicians, kitchen, housekeeping and maintenance staff that continually show up each and every day to provide the best possible care for our most precious National resource, our Veterans. Their dedication as our first line of defense in the homes reflects great credit upon them and is reflective of the spirit of the staff in the Division of Veterans Healthcare Services.
Recreational activities continue in our homes with motivated staffs that are thinking outside the box to provide activities to keep our guys and girls sharp in this time of limited movement. As always, you are encouraged to call the home if you wish to speak to your loved one or to utilize the video chat that has been set up in all three homes. Seeing your face or hearing your voice will only serve to boost their spirits. Should you have any concerns or questions please don't hesitate to reach out to staff at the homes. We are here to assist you in any way possible.
Be safe. We will get through this.
Sean P. VanLew Sr.
Director
Division of Veterans Healthcare Services
NJDMAVA