PPE Donations
The Department of Military and Veterans Affairs (DMAVA) is grateful for all of the well wishes we are receiving not only for the residents at our three Veterans Homes but also for the staff who care for them. Many of you are asking how you can help. The three DMAVA Veterans Homes are accepting donations of personal protective equipment such as: medical/surgical masks, washable homemade masks, face shields, goggles, washable surgical gowns, hand sanitizer, and vinyl gloves. You can donate these items by contacting each Home directly to coordinate a drop-off:
You can also learn how to make a donation to the State of NJ to be distributed to our hospitals, health care workers, and first responders here: covid19.nj.gov/forms/ppedonations.
---
COVID-19 FAQs
The New Jersey Department of Military and Veterans Affairs (NJDMAVA) takes the threat of coronavirus (COVID-19) seriously. In consultation with the New Jersey Department of Health and Centers for Disease Control and Prevention (CDC), the New Jersey Veterans Memorial Homes have taken proactive measures to mitigate the spread of the virus. These action steps are outlined in the frequently asked questions below.
---
DMAVA Messages


July 28, 2020
July 1, 2020
Dear Family members, POA's and Friends of our Veteran's Memorial Homes,
I hope this communication finds you all well and coping as our Great State continues to battle this global pandemic.
These unprecedented times have tested all of us in ways our world has never seen. Together, we continue to move towards "normalcy" as our valiant staff continue to fight on the front lines of this pandemic to ensure that our guys and girls get the best possible, quality care that we demand for them.
As of this writing, I am pleased to report that it is because of the work of our Heroes in the Division of Veterans Healthcare Services that we can report to you that our homes in Paramus, Menlo Park and Vineland currently have NO residents that are positive for COVID-19.
This is a testament to the hard work and dedication of so many involved in our operation who worked through often trying times to help contain, treat and eradicate this virus from our facilities. While we will take a moment to celebrate this small victory and offer up a prayer of thanks, we still have much to do.
This brief respite gives us the opportunity to continue to practice proper infection control, restock our supplies and prepare for the future. Our work in "improving our fighting position" never ends as we seek to care for the men and women that deserve every full measure we can give. Our facilities continue to operate in accordance with all CDC, CMS and NJDOH guidelines and evolve our policies and procedures based on the changing guidelines to stay on top of best practices.
The Center for Medicare Services recently released their planned approach to reopening Long Term Care facilities in the state. This plan highlights the steps and milestones each nursing home must achieve for restrictions to be reduced.
The plan has three phases. We are currently, as are most nursing homes in the state, in Phase one. The plan involves universal and ongoing testing of residents and staff members of the homes. We have completed baseline and retesting of all our residents and staff members and have moved on to the next stage of testing, which is weekly testing. The plan indicates that nursing homes can progress through the phases of "re-opening" with continued documentation of no new positive test results for a fourteen-day period identified in weekly testing.
Please note, that according to the plan, opening the facility to limited family visits will not occur until we have reached phase three. At any point in the process, if a new COVID-19 positive resident or staff member is identified, we will revert to phase one and begin again. The complete plan can be found here: https://www.cms.gov/files/document/qso-20-30-nh.pdf.
It is a tough battle, but our staff are up to the task!
As we prepare to move forward, POA's will be kept abreast of changes in each homes' status. POA's have also been notified on the process of how to schedule in person, outdoor visits with their loved ones, which began on Father's Day. I encourage as many of you as possible to take advantage of this.
Together we are strong, and we will overcome. Thank you for your patience and understanding as we battle through this pandemic together. We look forward to the day when we can reopen our doors to you, and bring back the fabric of the quality of life that you help provide. Rest assured, we will only do that when we feel it can be safely done.
Remain vigilant, and please continue to follow all safety guidelines outlined by the State and local governments. May God bless you, our residents, staff, the Great State of New Jersey and the United States of America.
In service,
Sean P. VanLew Sr. CPM
Director, Division of Veteran's Healthcare Services
New Jersey Department of Military and Veterans Affairs
June 21, 2020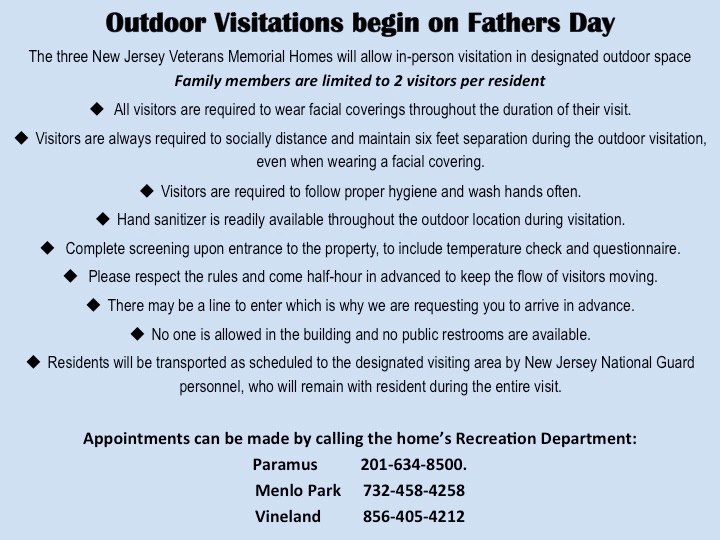 April 22, 2020

April 15, 2020

April 10, 2020

April 8, 2020

April 5, 2020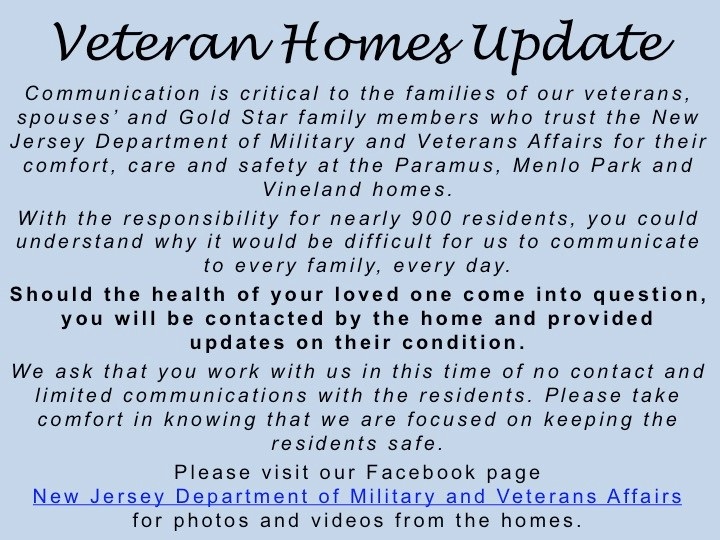 March 29, 2020

Family, Loved Ones and Friends,
I trust and hope this finds you all well and coping as best as can be during this trying time for our State and Nation. I implore you all to please heed all advisories and executive orders in place in order to do your part in helping curb the spread and control of COVID-19. Remember, "COVID-19 does not spread itself, it is spread by movement. If we stop moving, it will stop moving."
Operations at our three homes continue as normal as possible. As was expected, we are not immune to COVID-19. We have our first confirmed case of the virus in our Paramus home with a resident that has been in the hospital. This resident tested positive while in the hospital and remains there receiving care for the time being. One unit remains closed in the home. This closure was done prophylactically due to several residents exhibiting cold symptoms. This is standard procedure for us during cold and flu season to combat the spread of any contagion within the home. All residents in all of our homes are being closely monitored for any change in their baseline vitals to ensure that we stay on top of infection control within the facilities.
We have 2 residents from the Vineland home that have been hospitalized for underlying health concerns that are also being tested for COVID-19. Those test results are pending.
Our Menlo Park facility has 0 confirmed cases and 0 presumptive cases of the virus.
As I stated, we expected this and I want to ensure you that each of our facilities is on top of, and in compliance with all the latest guidance and instructions from CDC, DOH and OEM in order to combat the spread of the virus, while continuing to provide the best care we can for our guys and girls.
The staff in all of our homes have continued to rally around our residents. We are experiencing a below average number of absences from work, as our dedicated staff continue to rise to the challenge. Words cannot express how deeply grateful we are for the nurses, clinicians, kitchen, housekeeping and maintenance staff that continually show up each and every day to provide the best possible care for our most precious National resource, our Veterans. Their dedication as our first line of defense in the homes reflects great credit upon them and is reflective of the spirit of the staff in the Division of Veterans Healthcare Services.
Recreational activities continue in our homes with motivated staffs that are thinking outside the box to provide activities to keep our guys and girls sharp in this time of limited movement. As always, you are encouraged to call the home if you wish to speak to your loved one or to utilize the video chat that has been set up in all three homes. Seeing your face or hearing your voice will only serve to boost their spirits. Should you have any concerns or questions please don't hesitate to reach out to staff at the homes. We are here to assist you in any way possible.
Be safe. We will get through this.
Sean P. VanLew Sr.
Director
Division of Veterans Healthcare Services
NJDMAVA