New Jersey Veterans Home at Paramus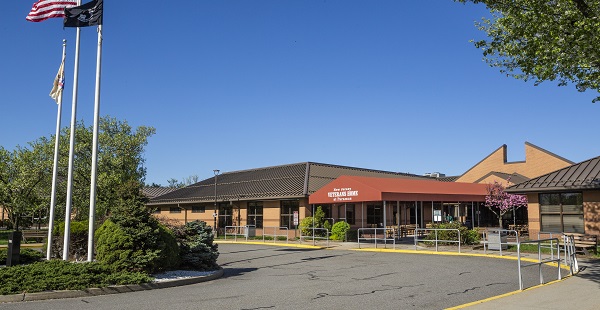 Address
NJ Veterans Home at Paramus
One Veterans Drive
Paramus, NJ 07652
Google Maps
Main Phone
201-634-8200
Admissions / Tours
201-634-8435
Emergency Contact Number
The emergency contact number for this facility is 201-634-8200. Any authorized person seeking information about any resident in the facility can contact this number and you will be directed to the appropriate staff member.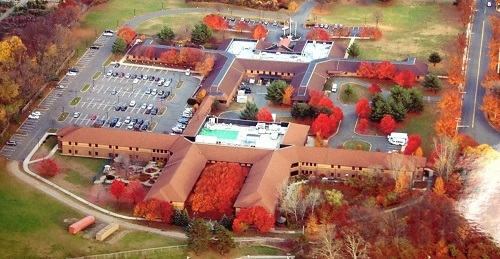 About Us
This facility, located on 23 acres in northeastern Bergen County, opened on August 4, 1986.
It has two modern residential buildings, able to accommodate 336 residents, and two fenced-in garden areas. In the courtyard, near the main entrance, a monument stands in memory of those who served in World War I, World War II, Korea, and Vietnam.
We are Medicare A Certified. Licensed by the New Jersey Department of Health and surveyed by the U.S. Department of Veterans Affairs.
Mission Statement
To honor and serve the military Veteran, their spouses and Gold Star Parents by consistently providing the highest quality of resident directed long term care by maintaining excellence in personal services and treatment through professional collaboration, innovation and dedication; in a setting that promotes dignity and independence.

Eligibility
The home is open to veterans who were honorably discharged from U.S. war or peacetime services, the veteran's spouse, and to spouses and parents of members of the military who were killed in action during a period of war (Gold Star Parent). A spouse/widow/widower must be at least 50 years of age and must have been married to the veteran for a period of not less than 10 years.

Facilities & Services
Comprehensive services and a deep concern for the residents go hand-in-hand at our state-operated veterans nursing home. Around-the-clock medical and nursing care is provided by a full-time staff of physicians, nurse practitioners, registered nurses, licensed practical nurses and certified nursing assistants. Rehabilitative services, such as occupational and physical therapies, speech therapy, and recreational activities are provided under the supervision of contracted licensed therapists.
For the convenience and comfort of the residents, the home features a dining room, fully equipped beauty and barber shops, lounges for socializing and watching television, outdoor areas, and a chapel for religious services for all faiths.
FacilitiesServicesVirtual Tour

Activity, Volunteer & Donation Programs
Residents are encouraged to be active in an environment which stimulates involvement, self-esteem, productivity and freedom for independent choices. This is accomplished by providing diverse recreational activities of interest to each resident. Activities provided are physical, social, intellectual, sensory, spiritual, creative, and community oriented. Recreational activities are available to the veteran home residents on an individual basis, small or large group, or independent participation. Activities are available 7 days of the week, including evenings.
Our volunteers and donations are incorporated into our Activity Programs to provide a full array of activities for each resident according to his or her capacity and preference thereby ensuring an enhanced quality of life.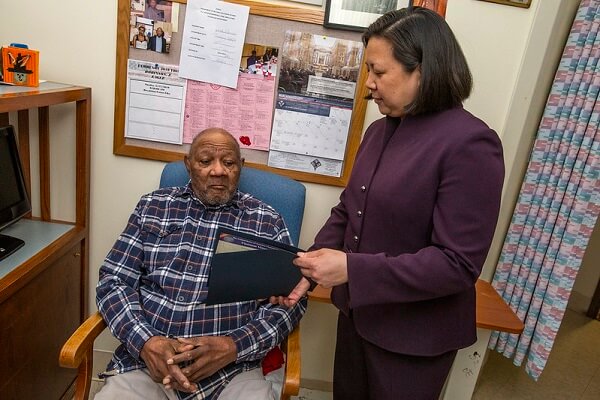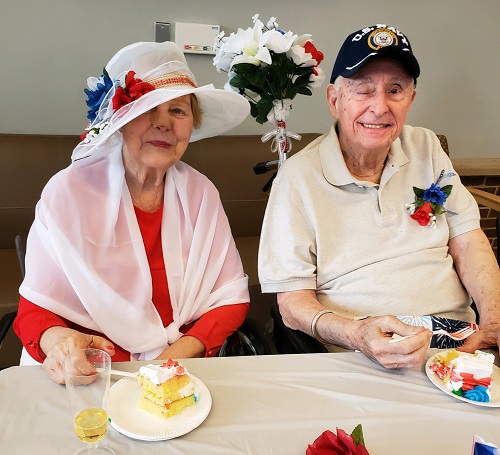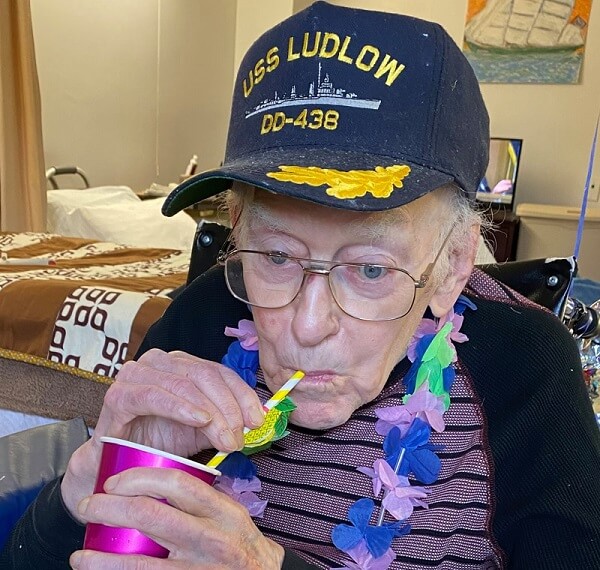 Testimonials
It is always difficult to have your loved one leave their home and put in the care of others. From the moment we entered the home we saw how organized, thorough and professional the staff was I knew I no longer had to worry. The home was clean; the nurses are friendly and more important attentive to my father's needs. I live in Washington, D.C., I rely on calling and getting information. Every time I call my concerns are addressed, and I am never rushed.
Karen R.
Not long ago, I was informed that my husband needed 24 hr. skilled nursing care. I began visiting several nursing homes. I am writing this to let you know how grateful I am for your wonderful facility. It is 5 stars on any scale and it was the 4th facility I had visited that week. Everyone I came in contact with was smiling, helpful, friendly, and this energy was made the residents there have a great quality of life. All the residents were happy and the facility was meticulously maintained.

Beatrice S.
Many thanks to you and your staff for all the wonderful care you provided for my dad while he was at the [Paramus Veterans Memorial Home] for over 4 years. I am going to miss all the wonderful faces that I saw each day. I became acquainted with each of the staff on all shifts and watched them interact with the residents. I viewed the upmost kindness and respect for each of the residents. My dad was lucky to be a resident at the [Paramus Veterans Memorial Home].
Susan C.