Introduction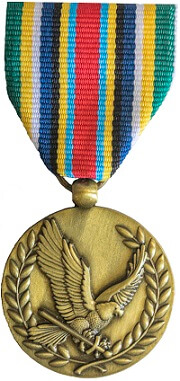 In an effort to recognize New Jersey Servicemembers who have contributed to America's War on Terror, a bi-partisan bill to create a New Jersey Global War on Terrorism Medal was signed into law on January 4, 2021. The law (P.L. 2020, c. 147) creates a state medal that the Governor can award to Servicemembers or Veterans who served for at least 30 consecutive days or 60 non-consecutive days in one of eight military operations related to the United States' War on Terror.

Eligibility
Veterans who meet all of the following criteria.
Criteria:
A resident of the State upon entry into service or has been a resident of this State for at least 20 years in the aggregate.
Awarded an honorable discharge and according to the federal DD214 served in at least one of the following Operations:

Enduring Freedom
Noble Eagle
Iraqi Freedom
Nomad Shadow
New Dawn
Inherent Resolve
Freedom's Sentinel
Odyssey Lightning

How To Apply
Individuals applying for the award must mail a completed Application for State Medals or a similar request in writing along with a copy of the Servicemember's DD Form 214 (Separation from Active Duty) attesting to the fact that an Honorable Discharge was granted. The DD Form 214 is also submitted to provide proof of service in the qualifying operation.
Copy of Death Certificate for posthumous awards.
Note: No person shall be entitled to more than one award of the medal.
All requests should be mailed to:
NJ Dept of Military and Veterans Affairs
Attn: DVS-VBB (Awards)
PO Box 340
Trenton, NJ 08625-0340