Veteran's Haven North
The Rally Point
Contact Info
Main Phone: 908-537-1999
Toll Free: 877-648-0091
Cell Phone: 908-255-2571 (alternate to main number for emergency purposes)
Fax: 908-537-1987
Mail
Veteran's Haven North
200 Sanatorium Road
Suite 101
Glen Gardner, NJ 08826
Google Maps

Our Mission
Veteran's Haven North will ensure that homeless veterans are treated and cared for in a dignified, compassionate, and professional manner so as to reach an optimal level of independence and aid them in re-acquiring the life skills and ability to live in the community while maintaining their self-sufficiency, dignity, and honor.
Veteran's Haven North is funded by the State of New Jersey, Department of Military and Veterans Affairs and supported by the US Department of Veterans Affairs and a wide variety of service organizations, community agencies, veterans groups and private citizens.
Transitional Housing Program for Homeless Veterans
Our nation and our State, grateful for its hard-won freedom and democracy, owes a special debt to its Veterans. For that reason, the word "Veteran" and the word "homeless" should never appear in the same sentence. Unfortunately, it is a reality. Therefore, it is an imperative that New Jersey works to restore dignity and purpose to those who so unselfishly laid their lives on the line for our country.

Our Team
Veteran's Haven North is comprised of a diverse team of professionals specializing in psychosocial rehabilitation, social services, addictions, vocational rehabilitation, and nursing. All treatment is individualized with the purpose of attaining realistic life goals and instilling hope and wellness to maximize community reintegration.
Our vision is to provide services to the veterans guided by principles of excellence and quality. In addition to our specialized team, there is a Veterans Service Officer on premises to assist Veterans in obtaining entitlements.
VHN Management Team
Superintendent: David Culley
Assistant Superintendent: Corinne Balaskas
Clinical Supervisor: Amy Halper
Human Services Supervisor: Cheryl Bade
Maintenance Supervisor: Anthony Lunghi
Food Services Supervisor: Albert Hanby

The Facility
Veteran's Haven North is located on top of a scenic mountain in Glen Gardner, New Jersey. With its tranquil surroundings, state of the art facility, and specialized staff, Veteran's Haven North boasts the perfect combination for a highly effective and efficient transitional housing program for homeless Veterans.

Our Program
Veteran's Haven North operates a two-year transitional housing program. The ultimate goal is to support veterans in developing a permanent solution to their homelessness.

Admission Criteria
Veteran must be homeless.
Individual must be a veteran under USDVA guidelines.
Veteran must be registered with the VA.
Applicant must be drug and alcohol free at time of admission.
**For Veterans that do not meet these criteria, a limited number of Veterans may still be eligible for admittance.**
For admission inquiry please contact:
Jennifer Chrucky
Office: 908-537-1980
Fax: 908-537-1990
jennifer.chrucky@dmava.nj.gov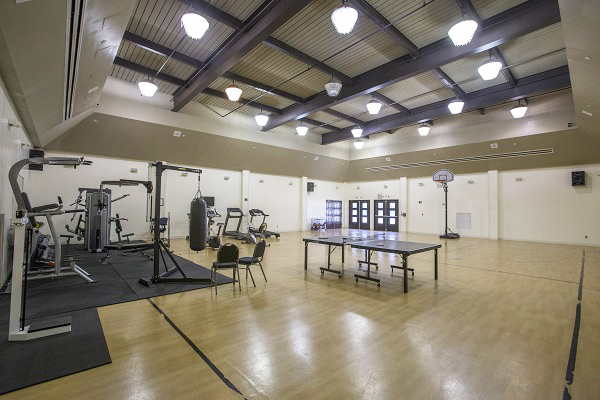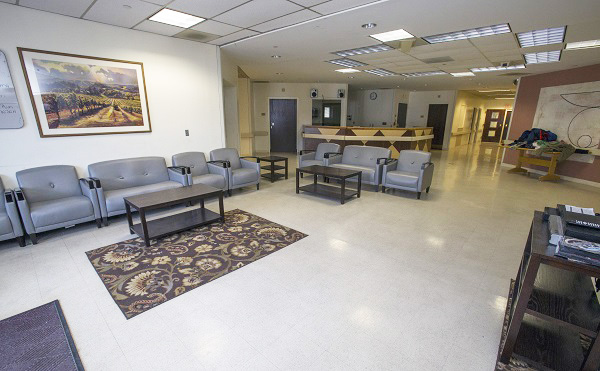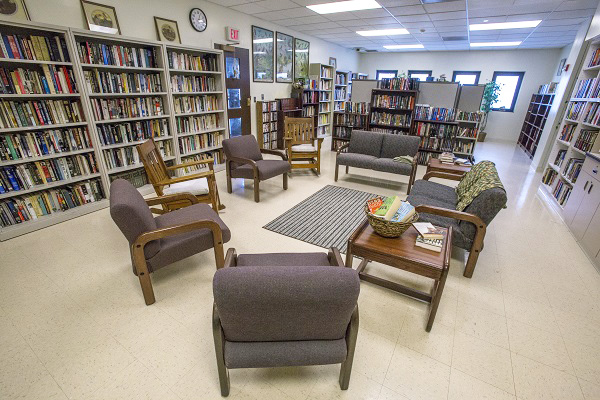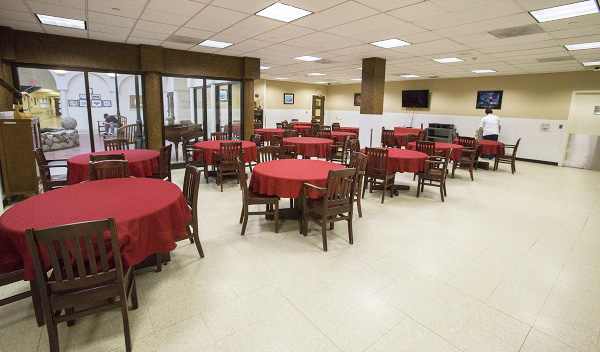 Thank You For Your Support
Veteran's Haven North would like to thank all our donors for your continuous support! Without donor support, VHN would not be able to provide all that we do to our most deserving Veterans. Pictured below are just a handful of our donors that support our Veterans year round. Many thanks to all of you!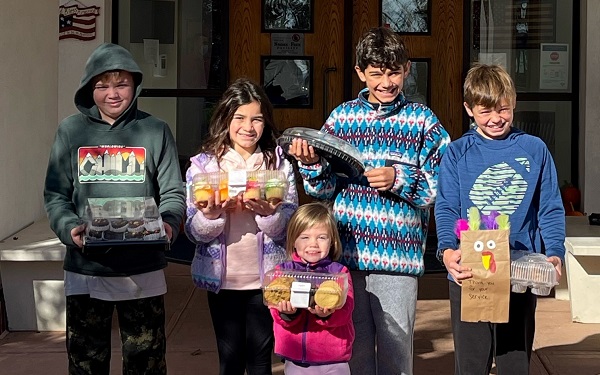 The Bermingham children dropped off some baked goods and special art work to Veteran's Haven North in celebration of Thanksgiving. Their artwork consisted of homemade brown paper bag thankful turkeys for each of the Veterans. Both the goodies and special artwork were enjoyed and very much appreciated!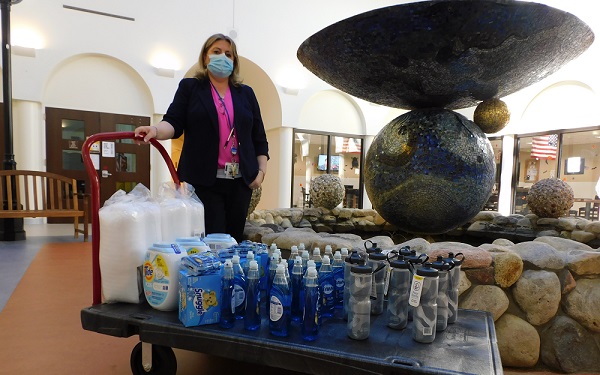 Special thanks goes out to New Vision Pioneers who have been a great supporter throughout the pandemic as well as many other occasions. They recently donated much needed cleaning products to keep our facility clean & safe and various other wish list items supporting our Veterans. We are so grateful for them! Pictured is Mariam Safi, Cottage Training Supervisor at VHN.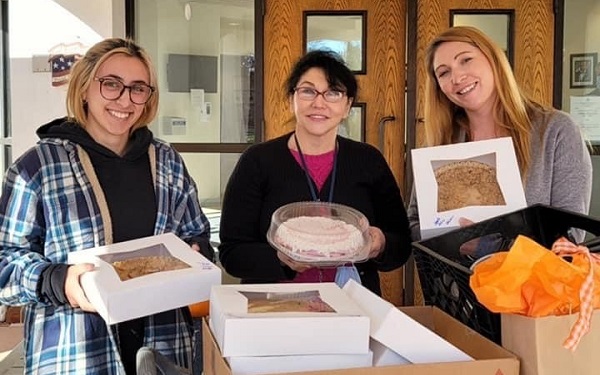 Helena Petrossian, an advocate for VHN works continuously to support the needs of our Veterans. You will often see her posting on Facebook or creating GoFundMe accounts to provide desserts, centerpieces, or other needed items for our facility. Helena does whatever she can to support our Veterans! Helena's daughter, Grace, is pictured with VHN Staff (left to right, Grace Petrossian, Karla Leone and Candice Wilhelm.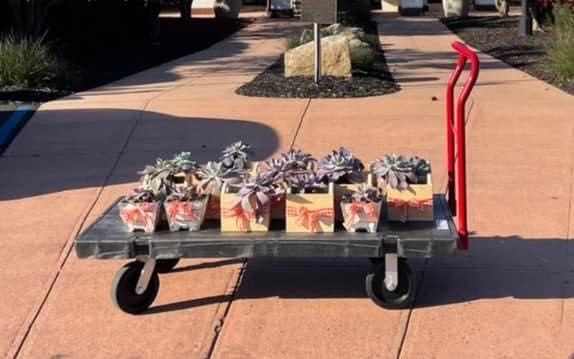 Beautiful succulent centerpieces were delivered by Helena Petrossian to decorate VHN's dining room tables for Thanksgiving dinner.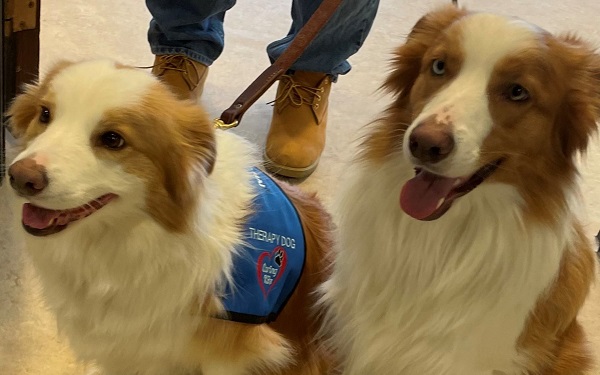 Therapy dogs from Caring K9's.org visit Veteran's Haven North for one of their regularly scheduled visits. Dixie and Yogi love visiting the Veterans at VHN!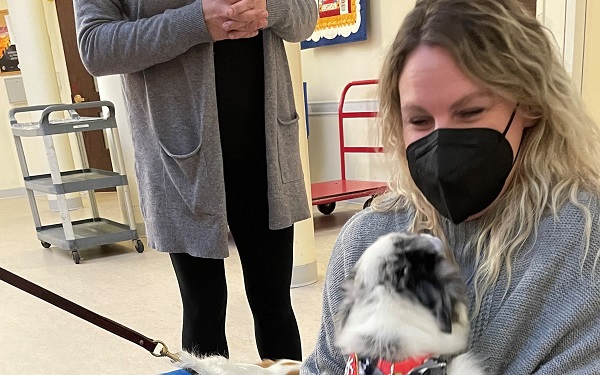 A therapy dog greets Jen Chrucky, Management Assistant at VHN.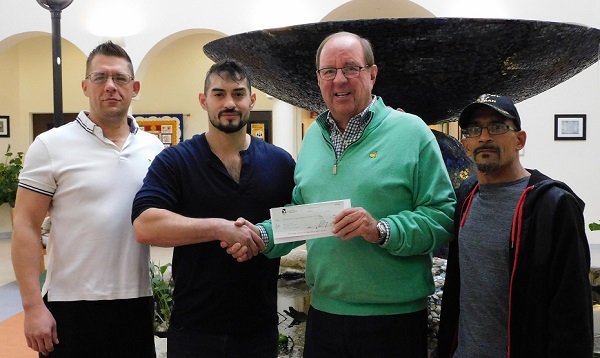 Generous Donation
Bruce Hoag, from Hawk Pointe Golf Club, presents Veteran's Haven North with a donation check from their "Warrior Cup Charity Gold Outing" held on October 10, 2022. Veteran's Haven North Veteran residents George G., Luis A., and Chris R. are pictured with Bruce.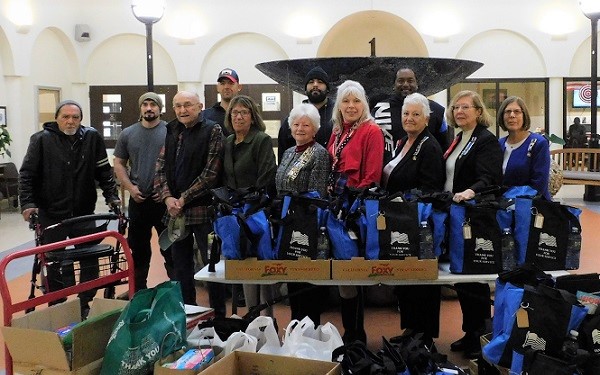 Daughters of the American Revolution
On October 3, 2022, members from the General William Maxwell Chapter of the Daughters of the American Revolution (DAR) presented "Thank You For Your Service" tote bags to Veteran residents at Veteran's Haven North. Each bag was filled with snacks, pocket calendars, note pads, reusable grocery bags, personal care items, playing cards, and water bottles. Pictured with members of the DAR are Veteran residents Roger W., Luis A., George G., Javier B., and John W.
Veteran Resident John W. received his "Thank you for your Service" tote bag from Ruth and Denise, members of the DAR.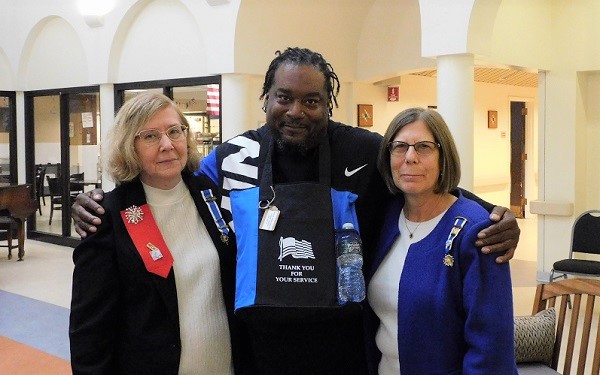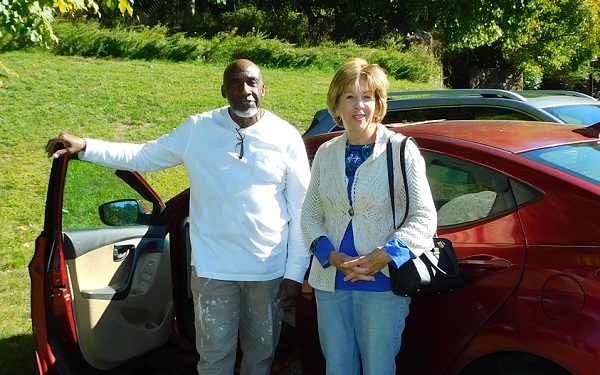 Generous Car Donation
On September 29, 2022, Veteran's Haven North Veteran Resident Samuel R. received a donation of a used car from Nancy C., whose brother was a past resident of VHN. With this wonderful and thoughtful donation, Sam can continue to achieve the goals that he has set for himself while a resident of VHN.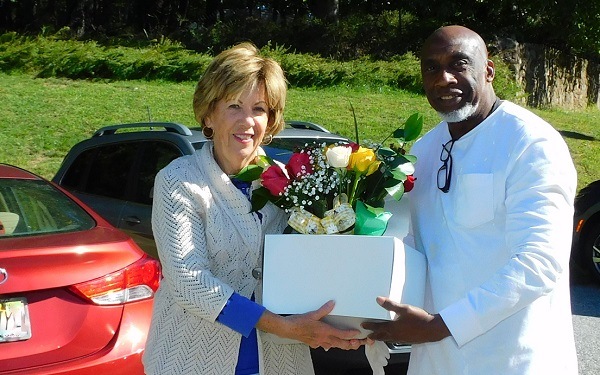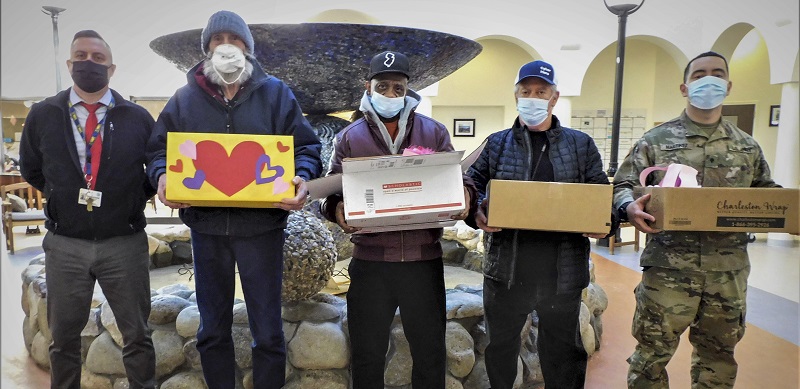 Valentine's Day Cards
Veteran's Haven North residents received Valentine's Day cards from Bayberry Elementary School, Bedminster Public School District, Bedwell Elementary School, Branchburg Public School District, Dayton High School Valley View Middle School, and Warren Township School District.
Pictured left to right: David Culley, Superintendent; Veteran residents David Best, Kenneth Burns, and David Crowley; and New Jersey Army National Guard Spc. Pedro Martinez, with boxes of Valentine's.
The schools participated in a Valentine's for Vets program.
Donations
New Jersey Sons of American Legion Detachments of NJ delivered donations to Veteran's Haven North on November 5, 2021. Gary Crawford (on left), the Past Commander of SAL Squadron 346 of Neptune NJ, assisted with supplies donated and VHN Staff member Ron Smith (on right) graciously accepted the donations.
Gary Crawford's grandson, Murphy Izquierdo at a young age of 11, from Squadron 346, helped load the donations. Murphy expressed his excitement in being part of the mission to support the Veterans at Veteran's Haven North.
Other members that were part of this generous donation were: David Page, Past Detachment Commander from the New Egypt Squadron 455, who was committee member of the New Jersey Sons of the American Veterans Affairs and Rehabilitation Committee, and was assigned to VHN. Along with Patrick Gallagher, Chairman of the Veterans Affairs North Region Committee.
Veteran's Haven North would like to thank you for your gracious donation!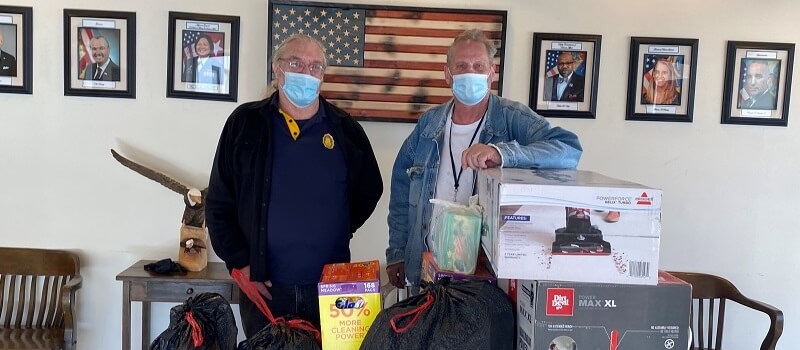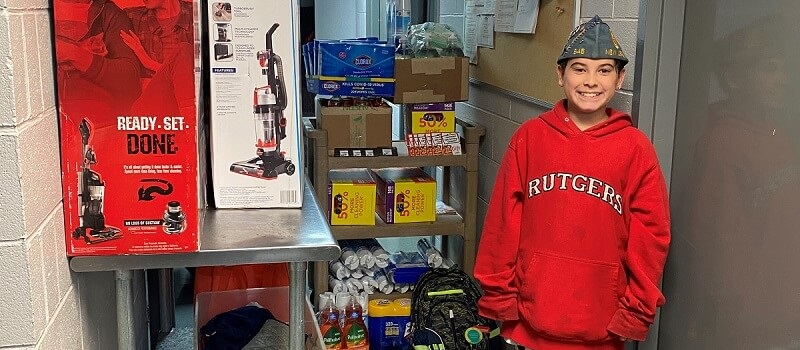 Halloween Festivities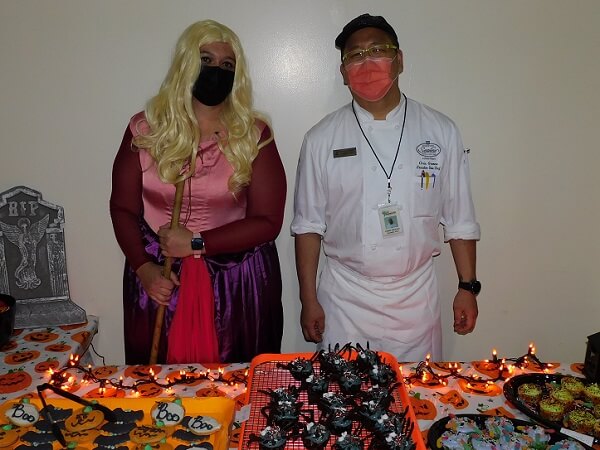 Veteran's Haven North Staff and Residents enjoy a Halloween themed party, with treats prepared specifically for them by Assistant Food Service Supervisor Meagan Aguirre-Perez and Head Cook Chris Groome.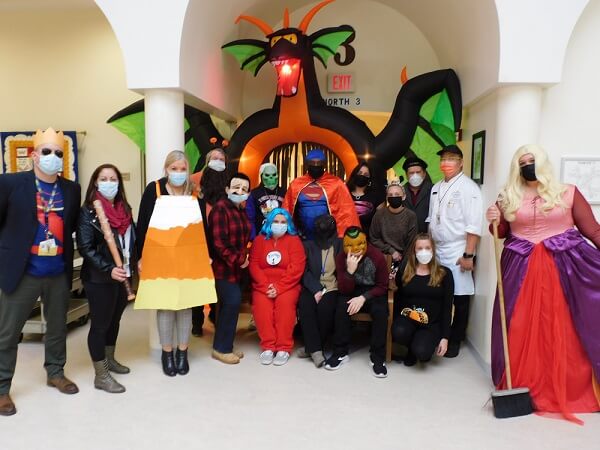 Veteran Residents and Staff alike were encouraged to dress for the Halloween festivities. Back Row (L-R) Stephen Greeley, Shelton Hightower, John Williams, Corinne Balaskas, Megan Kelly, Sibley Smith, Chris Groome. Front Row (L-R) David Culley, Jennifer Ege, Jill Panico, Karla Leone, Ashlee Wolfinger, Jennifer Chrucky, Matthew Rand, Monica Rieur, Meagan Aguirre-Perez.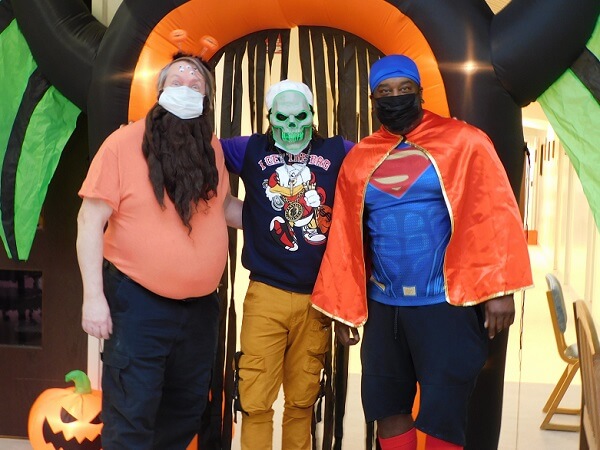 Dressed in their greatest costumes, Veteran Residents (L-R) Stephen Greeley, Shelton Hightower, and John Williams pose for a picture.
Celebrating Years of Service
Veteran's Haven North gathers to celebrate and present certificates to employees celebrating their Years of Service who as of 2020 had worked 5, 10, 20 and/or 30 years as a NJ State employee.
Certificates of Appreciation were also presented to essential workers who continuously provided their services through the midst of Covid-19 keeping our Veteran residents safe and well.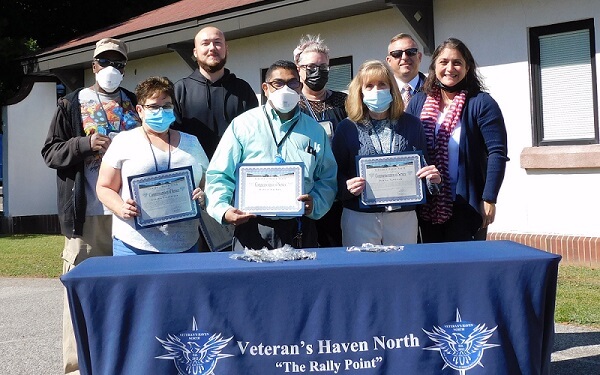 From left to right: Back Row - Jon Davis, Dale Purcell, Candice Ford, David Culley (Interim Sup), Corinne Balaskas (Assistant Sup)
Front Row - Annette Fiorentino, Robbie Bachan, Denise Sawitsch)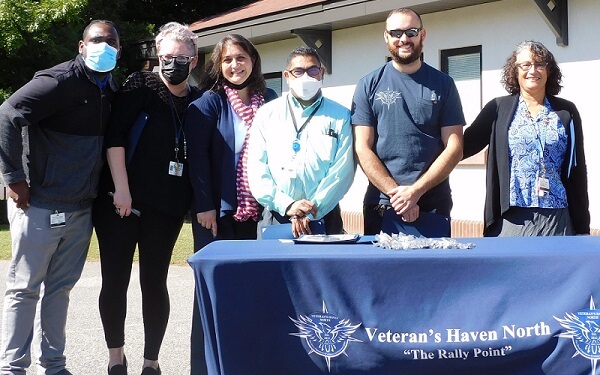 From left to right: David Thompson, Candice Ford, Corinne Balaskas, Robbie Bachan, Anthony Lunghi, Terese Acocella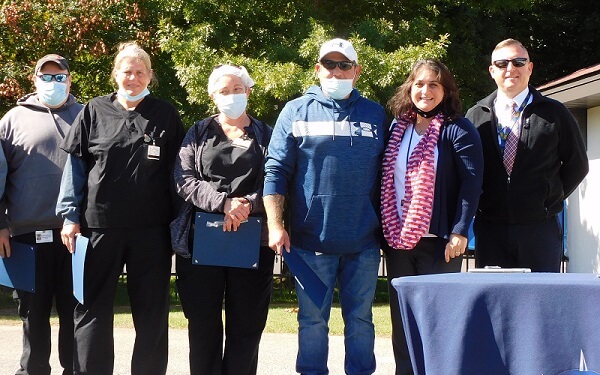 Fom left to right: Zach Becker, Cathy Cregar, Donna Wisneski, Al Hanby, Corinne Balaskas, David Culley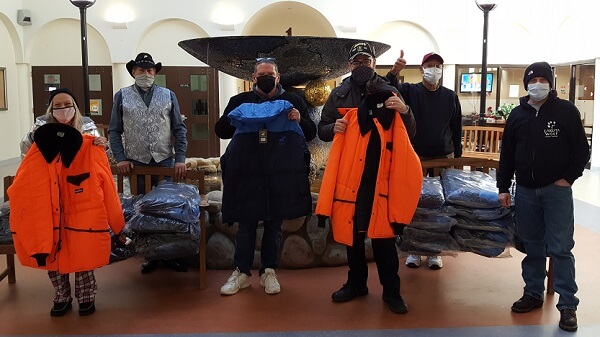 Operation Veteran Warmth
New Jersey SOS Veteran Stakeholder Group members drop off new winter coats for the residents at Veteran's Haven North. The donation was part of "Operation Veteran Warmth" which was arranged by David J. Pearson, Assistant Director of Veteran Services and founder of New Jersey SOS Veteran Stakeholder Group, in collaboration with Paul Riftkin, Massachusetts Military Support Foundation, and David Sarlitto, Ocean State Job Lot. The coats were dropped off to Ariel Luna, Director, Veteran Services for Bergen County, and with the assistance of Catholic Charities and New Jersey SOS Veteran Stakeholder Group, deliveries and distributions were made to Veteran's Haven North and other veterans' programs.
Veteran Mom Gives Back
Veteran Mom, Mary Bermingham and her husband Scott Bermingham of Glen Gardner, continue to teach their children the importance of supporting Veterans. They accompany four of their six children to Veteran's Haven North to bring treats of "thanks" to the residents, which always brings a smile to their faces!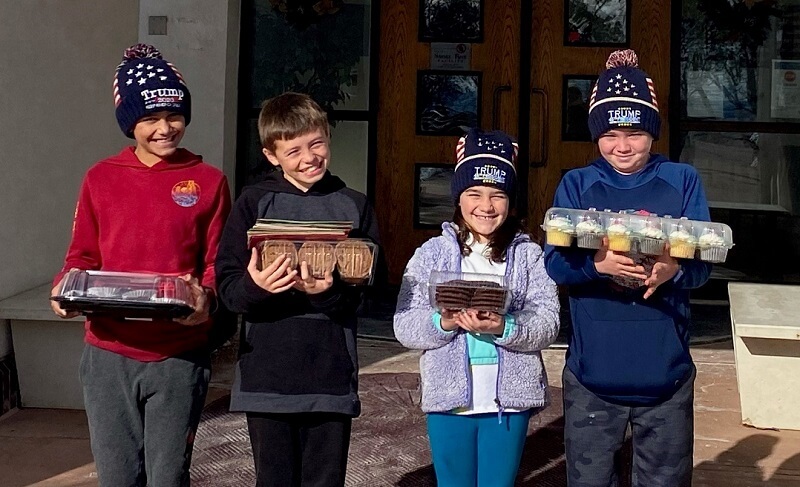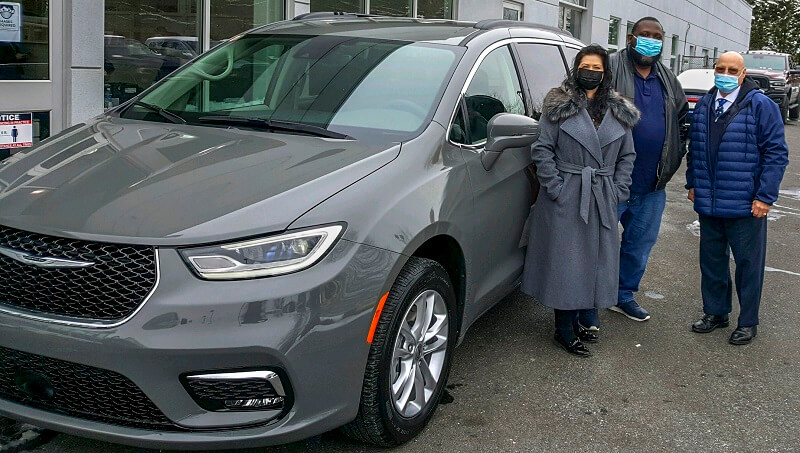 Van Donation
New Jersey American Legion State Commander Robert Newell, right, presents a 2021 Chrysler Pacifica AWD van to Cheryl Bade, left, and Shawn Hopkins, both with the New Jersey Department of Military and Veterans Affairs, at Turnersville, N.J., February 13, 2021. The van, which is part of Newell's Department Project, will provide Veterans Haven North resident transportation to appointments, train stations, bus stops, and shopping. The project, which has raised more than $117,000 for the three New Jersey State Veterans Homes, as well as Veteran's Haven North and Veteran's Haven South; has been a joint effort with the New Jersey American Legion Auxiliary, the Sons of The American Legion, and also private donations from individuals and corporations.
Youths Supporting Our Veterans
Catholic Boy Scouts (of local troops 62, 65, 90, 121, 200) assembled holiday gift bags of candy with holiday cards and presented to each veteran at Veteran's Haven North. Scouts with their leaders and parents gathered outdoors to sing Christmas carols to express their appreciation and wish the Veterans a Happy Holiday Season!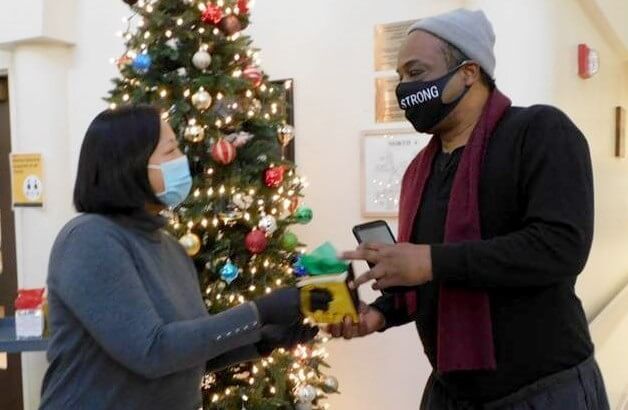 Holiday Season
Col. Lisa J. Hou, D.O., left, Interim Adjutant General and Commissioner of the New Jersey Department of Military and Veterans Affairs, presents a gift card to a resident at Veteran's Haven North. Hou and retired Col. Walter R. Nall, acting Deputy Commissioner of Veterans Affairs, visited with the residents and presented gift cards that were donated for each of the VHN residents in celebration of the holiday season.
My Brother's Keeper Award
Edward J. Chrystal, Jr., right, Superintendent of Veteran's Haven North, presents the My Brother's Keeper Award to Liz Thurrott, center, and Fred Spages of the Hackettstown Elks in recognition of their continuous efforts and support of Veteran's Haven North, Oct. 28, 2020. The award is presented annually to individuals or groups who support the veterans. (Courtesy photo)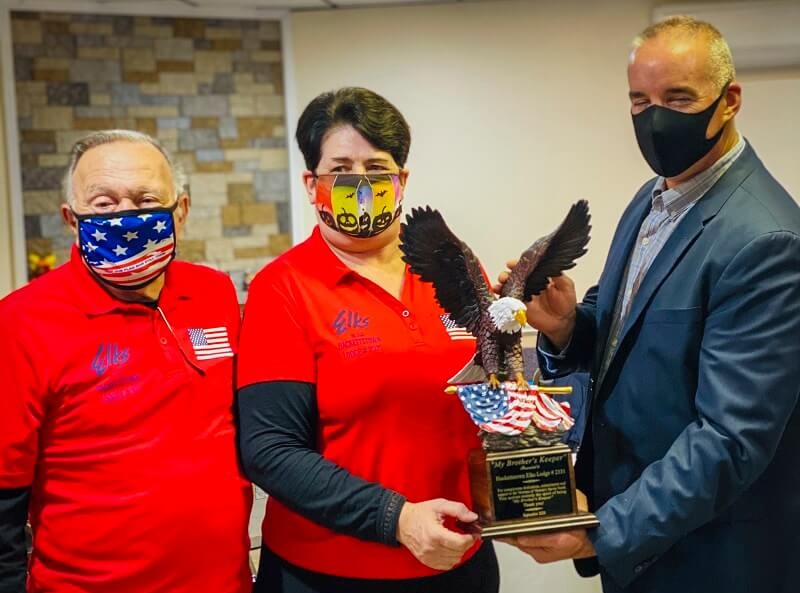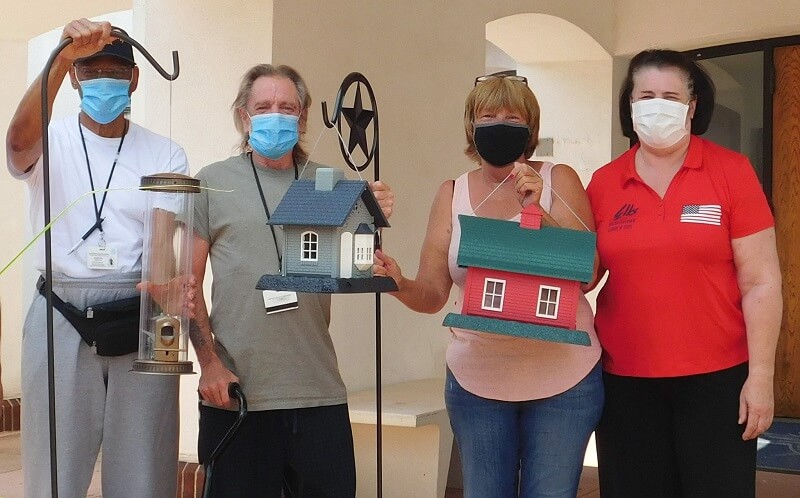 Donation from Elks Lodges
Veteran's Haven North residents James Coe, left, and William Bacher, second from left, hold a shepherd hook, a bird house, and a bird feeder donated by Helene Walsh, second from right, Lake Hopatcong Elks #782, and Liz Thurrott from Hackettstown Elks #2331. The bird feeders and bird houses were part of a donation from the two Elks Lodges that included toiletries for Veterans. (New Jersey Department of Military and Veterans Affairs photo by Denise Sawitsch)
Red Cross / Elks Donation
The American Red Cross New Jersey Region (Joint Base McGuire-Dix-Lakehurst), along with the assistance of the Hackettstown Elks, donated socks, snacks, chocolate, and popcorn to the veterans of Veteran's Haven North, Glen Gardner, N.J., May 4, 2020. Elk members practicing social distancing and wearing masks filled 72 Red Cross Care and Comfort Bags with the treats. Each bag contained a hand-written note telling the veterans that they were being thought of. The bags were then placed in each of the veterans' mailboxes. (Courtesy photo)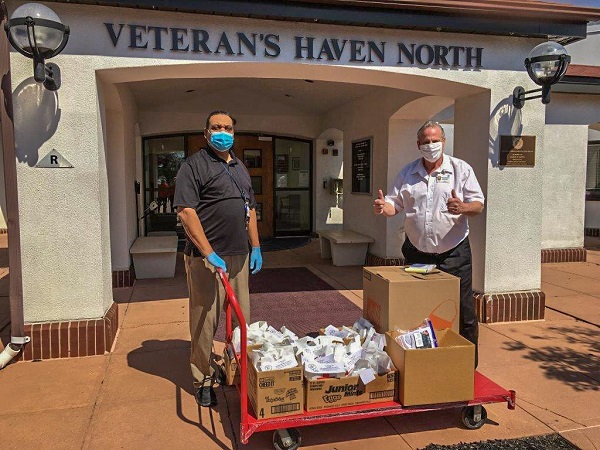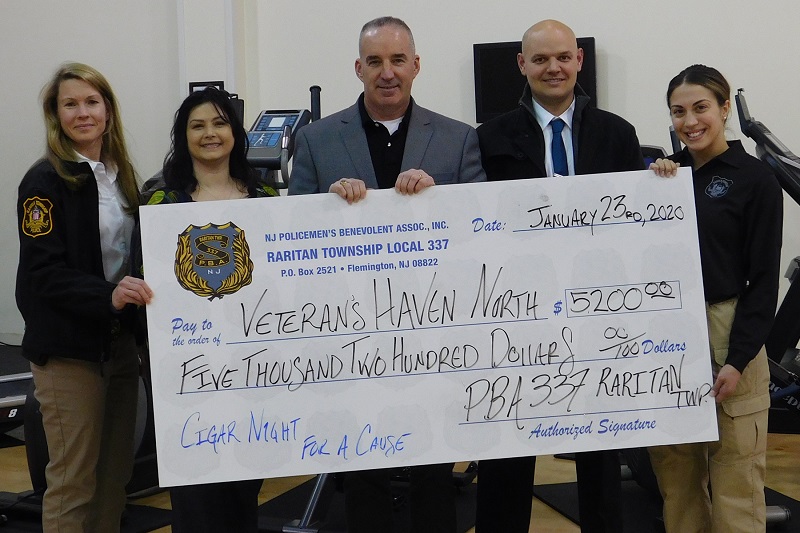 Raritan Township PBA Makes A Donation
The Raritan Township PBA, Local 337 made a $5,200 donation to Veteran's Haven North to purchased much needed gym equipment. Brig. Gen Edward Chrystal, Jr., Veteran's Haven North Superintendent, center accepted the check.
Pictured left are, Det. Meg Hammond, Raritan PBA; Cheryl Bade, Veteran's Haven North; Det. Ryan Barry, Raritan PBA President and Paige Montillo, Raritan Patrol Officer. The money was raised at a "Cigar Night For a Cause" held at Marinelli's Restaurant in Flemington.