| | | |
| --- | --- | --- |
| | | |
| | | |


| | | |
| --- | --- | --- |
| | | |

I'm not going to see the Pope but I'm passing through the area over the weekend. What should I expect?
It's estimated that upwards of a million people will travel to the area to see the Pope, 50 percent of those arriving by car. It's expected to be as many as 250,000 extra cars and 10,000 extra buses on the road. Combine that with the expected bridge closings and gridlock is expected. Travelers with elderly passengers and/or small children should be especially mindful. If possible, we advise not driving at all in the area during the week of the Papal visit. If you must travel that week Monday or Tuesday are the best days, otherwise you may be caught in the gridlock.

Where can I get the most up to date traffic information?
511NJ's Web site will have up to the minute traffic information. Your favorite area radio station also will have traffic information. We also recommend downloading the free Safe Trip NJ application. This app is hands free and eyes free and will have the most up to date traffic information.

What highways should I avoid?
Because of the Ben Franklin Bridge closure, I-676 northbound will be closed from Exit 3 to the Ben Franklin Bridge. Also, Route 30 westbound from Airport Circle (Route 38/Route 130) will be closed to the Ben Franklin Bridge. Other impacted roads include I-295, Routes 38, 42, 45, 47, 55, 70, 73, 76, 90, 130, 168 and 322. Roadways such as I-95, I-195 and Route 1 also may see significant traffic impacts.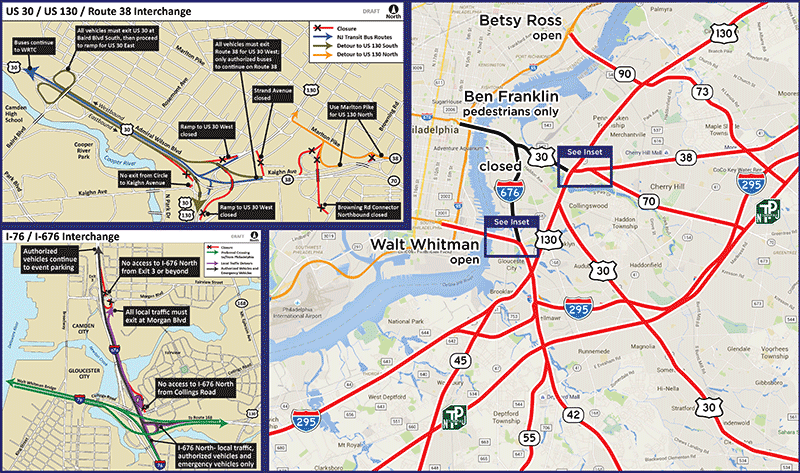 Local Conditions (pdf 2.1m)

Will there be construction activities in the area?
In order to minimize the impact to motorists in the immediate area of the Papal Visit in Philadelphia, the New Jersey Department of Transportation will not allow temporary lane and shoulder closures or perform moving operations along these roadways beginning Thursday, September 24 at 5 am until Monday, September 28 at 9 pm. Work behind concrete barriers on projects on these roadways will be permitted.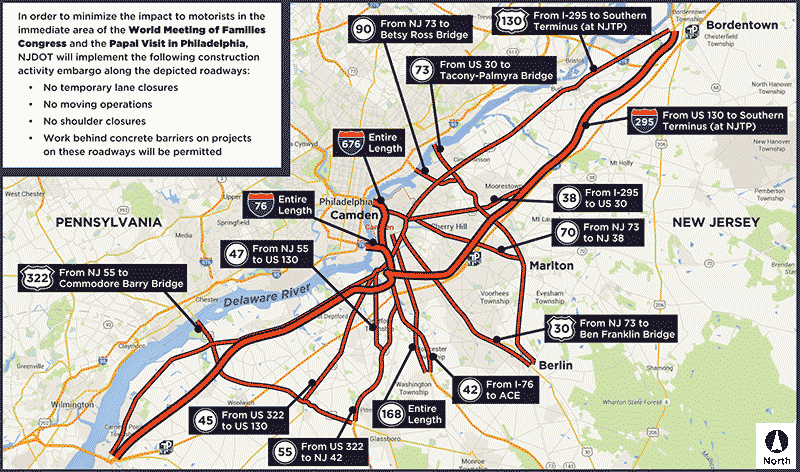 Construction Activities (pdf 1m)
What about taking NJ TRANSIT or Amtrak?
Some NJ TRANSIT and Amtrak lines will operate differently during the Papal visit. Please visit their respective web sites to make sure your route isn't affected. If you do decide to take either service, please purchase your ticket as far in advance as possible. There are still Papal Visit NJ TRANSIT tickets available. Buy now!