| | | |
| --- | --- | --- |
| | | |
| | | |



What's happening?
The Pope will be visiting Philadelphia from Saturday, September 26th to Sunday, September 27th, 2015. The Papal visit is an incredible honor for our region. We expect millions of faithful to flock to the area to see His Holiness but unfortunately, that brings with it traffic and congestion.

I'm not planning on going to see the Pope. Is there anything I need to know?
If you live within a 25 mile radius of Philadelphia the Papal visit may affect you. It's estimated that upwards of a million people will travel to the area to see the Pope, 50 percent of those arriving by car. With the expected bridge closings and the influx of vehicles, gridlock is expected.

Will I be able to get around town?
It's expected that the influx of Papal visitors will begin as early as Wednesday September 23rd, so you are encouraged to shop for your groceries and/or run your errands early in the week, on Monday or Tuesday.


Can I take NJ TRANSIT to get around?
Mass Transit is your best option for getting to Philadelphia. During the weekend of September 26 and 27, 2015, the Atlantic City Rail Line and the River LINE will operate on a limited schedule only on both days. NJ TRANSIT will NOT be operating regular weekend service on either of those lines.
Special tickets are needed for people planning to ride the Atlantic City Rail Line and River LINE. No one will be allowed to ride without a SPECIAL EVENT ticket. No other fares, including monthly passes, Family Super Saver or cash, will be accepted on the Atlantic City Rail Line or River LINE. A limited amount of SPECIAL EVENT tickets will be available for purchase on Saturday and Sunday to accommodate customers arriving at stations without tickets, however, the best way to purchase tickets is online. There are still Papal Visit NJ TRANSIT tickets available. Buy now!
For complete train schedule information, please visit NJ TRANSIT's Web site, and for detailed information on parking and transit options in Camden, please visit Camden's Gateway to the Pope Web site.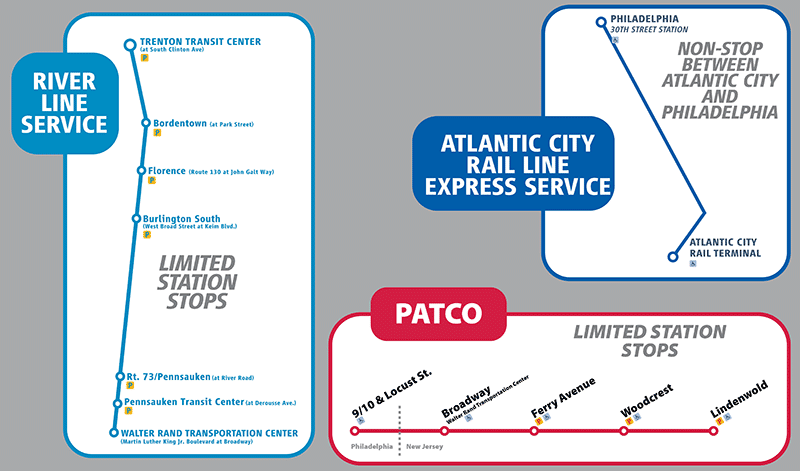 NJ TRANSIT BUS
All bus routes that normally travel to Center City, Philadelphia will terminate at the Walter Rand Transportation Center in Camden.
Extra bus service will operate on Route 419, which runs along the River LINE between Burlington Towne Centre and Camden.
Enhanced service will be provided on Route 554.
No special ticketing is needed for regular bus route service.

Okay, okay, I get the message. Plan ahead.
Absolutely. We are thrilled that the Pope is visiting but at the same time, we want to make sure that area residents aren't caught in the gridlock.