Suhani Purohit, Intake Coordinator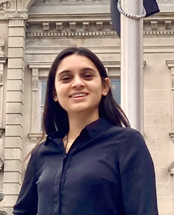 Suhani Purohit joined the Office of the Ombudsman for Individuals with Intellectual or Developmental Disabilities and Their Families in March 2023 in the role of Intake Coordinator. She supports the mission of the Office by responding to initial inquiries from individuals and families by phone and email; additionally she works to support our recently implemented case management database.
As an aspiring advocate in the disability community, Suhani holds a Bachelor of Science degree in Psychology from Rider University, with a minor in Political Science. Suhani plans on using her skills in psychology, her background in political communication, and personal experience throughout her life to effectively work closely with families in New Jersey and help them navigate the system of care.
Suhani has spent most of her life around diversity and has gained various social skills through her active involvement in the community. Her experiences in organizing cultural events, working alongside an Edison Councilman in 2017 and volunteering at Robert Wood Johnson Hospital allow her to view the community from multiple perspectives. Suhani can speak 3 languages fluently: Hindi, Gujarati, English. She can understand and communicate in 10 different dialects stemming from the Indian language of Hindi.
Suhani can be reached via email Suhani.purohit@treas.nj.gov or 609-633-8833.