COVID-19 Screening Questionnaire

To assure the safety and well-being of the New Jersey Department of Community Affairs' employees and its visitors, please answer the following questions before entering a DCA facility. This will help the Department in its effort to provide a safe environment by helping prevent the spread of the coronavirus and reduce the potential risk of exposure.
Please ensure you are logged into Office.com with your DCA account (first.last@dca.nj.gov).
You can check that on the office.com home page by clicking on the circle with initials in the upper right of the page and confirming your DCA email is referenced: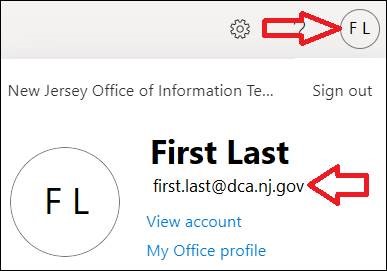 If not click sign out and sign back in with your DCA email account.
Click here for STAFF SCREENING QUESTIONNAIRE