Training Opportunities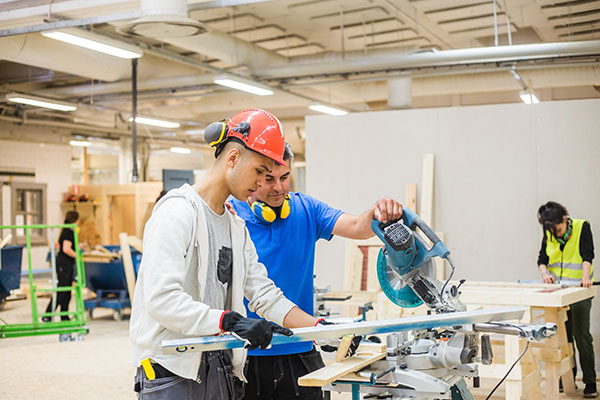 Whether to obtain additional training to meet your career goals is an important decision. Our on-the-job (OJT) and industry-specific training opportunities provide participants the skills they need to thrive in today's labor market and obtain exciting careers.
On-the-Job Training (OJT) is a subsidized opportunity designed to assist eligible New Jersey jobseekers obtain training that leads to employment. OJT has a proven track record of meeting the needs of both jobseeker and employer. Eligible workers are hired by a private or public employer and receive training that provides both the knowledge and skills essential to perform well in a position. If participants make satisfactory progress during the training period, they are retained by the employer as regular employees.
The Employer Partnership on-the-job training (OJT) program encourages employers to hire new workers by assisting them with the costs of training. Participants get a paid job, training, and an opportunity to learn a new skill, while the employer receives reimbursement for part of the participant's salary.
To participate in the Employer Partnership program:
You must be a New Jersey resident who is unemployed or facing an imminent layoff from your current employer.
You must either be currently receiving unemployment benefits OR must have exhausted your benefits within the past 52 weeks OR must meet the criteria to be regarded as a dislocated worker.
You must be paid at least the state minimum wage.
Jobs must be full-time (at least 32 hours per week), long-term employment.
Depending on the complexity of skills to be learned, the OJT contract period will range from 4 to 26 weeks.
The Opportunity Partnership training program helps participants secure industry-specific employment by providing practical job readiness training in occupational or credential areas. Through this program, participants are provided practical training with an opportunity to learn a new skill and land a job.
To participate in the Employer Partnership program:
You must be authorized to work in the US.
You must have been terminated or laid off; you must be eligible for unemployment insurance benefits; or you must have exhausted unemployment insurance benefits within the last 52 weeks; or
you must have lost your job from permanent closure or substantial layoff from a plant, facility, or enterprise; or
you must have been self-employed and are now unemployed because of economic conditions or natural disaster; or
you must be a displaced homemaker—an individual who was dependent on the income of another family member and is no longer supported by the income of that family member; or
you must be a non-retiree military service member who was discharged or released from service under conditions other than dishonorable, or you must have received a notice of military separation issued in advance of 180 days; or
you must be a spouse of a member of the armed forces on active duty who is unemployed or underemployed and is experiencing difficulty in obtaining or upgrading employment; or
you must be the dependent spouse of a member of the armed forces on active duty and whose family income is significantly reduced because of a deployment, a call or order to active duty, or service-connected death or disability of the service member.
You must be receiving employment counseling by approved job counselors, seeking training services, and make an application for such services through your local One-Stop Career Center. You may not self-enroll prior to the approval from the job counselors.
Upon selection into an industry-specific training program, a participant may interview and make arrangements with employers during training depending on the complexity of skills that the participant may learn. Training periods vary.
To learn about training options available to workers receiving Unemployment Insurance benefits, click here.