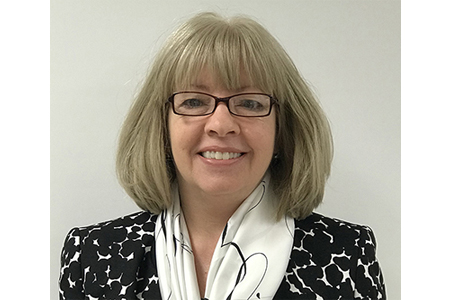 An oatmeal canister made a world of difference: Meet Volunteer Advocate Eileen Comerford
For 7½ years, Investment advisor Eileen Comerford has befriended residents at Llanfair House Care & Rehabilitation Center as a Volunteer Advocate. She's listened to their stories and helped them address personal issues at the Wayne facility.
"Life in a nursing home can be very lonely and isolating and for some, frightening. I know it gives many people comfort to have a friend and advocate," she says. To volunteer in this valuable role, call the LTCO Volunteer Advocate Program at (609) 826-5053 and by visiting the Volunteer Advocate Program webpage for more information.
For one talented resident, Eileen's friendship took the form of a cardboard cylinder. Eileen tells the story: "In 2012, the year I became a volunteer advocate, I met a resident who was profoundly unhappy. She had been living in the long-term care facility for eight years and spent most days just lying in bed. While she had a number of health and mobility issues, it soon became apparent to me that she was an intelligent and creative woman who had never adjusted to life in a nursing home. When I would arrive for my visits, she would spend the first few minutes …. letting me know how angry she was. Most of the time, I would just listen. She always felt better after having the opportunity to vent.
"The resident didn't participate in activities – and had no desire to – but she did some crafts on her own. One day, I found her weaving with colorful yarn, using an improvised loom that she had fashioned out of a large styrofoam cup and bobby pins. When I asked her what she was making, she said "string bags". These were essentially small knit pouches that could hold loose change and other small items. Unfortunately, the styrofoam cups kept breaking, forcing her to start over. She was clearly frustrated and I felt very badly for her.
"When I got home that day, I looked around my home to see if I could find something that resembled a styrofoam cup but was sturdier. When I saw a Quaker Oats Oatmeal canister in my cabinet, I felt confident that this would make a durable loom. I brought the oatmeal container to the resident and she tried it out immediately. Happily, it worked beautifully!
"On my next visit, the resident greeted me with a smile and started telling me about all the string bags that she was making for the staff and other residents. Once word got around about the "string bag" lady, people were coming to her to place their orders.
"Soon, the Director of Recreation . . . offered to supply her with yarn. She also [featured her in] the facility's next monthly newsletter. The resident was thrilled and couldn't wait to show me the article when it was published," recalls Eileen, who uses her string bag to store her stockings.
"As volunteer advocates, we see suffering that we can do little to alleviate, and that can be disheartening. Still, there is no limit to the ways in which all of us can touch the lives of residents in long-term care facilities. And it is remarkable how little it takes sometimes to spark joy in someone's life. In my situation, all it took was an empty cardboard oatmeal container," Eileen says.