Volunteer Advocate Program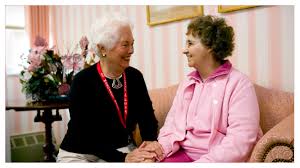 The New Jersey Office of the Long-Term Care Ombudsman (LTCO) Volunteer Advocate Program provides citizens with an opportunity to make a meaningful difference in the lives of people living in nursing homes in New Jersey.
The primary function of the LTCO is to advocate for people living in long-term care facilities by investigating and resolving complaints made by them or by others on their behalf.
Volunteer Advocates are an essential part of the LTCO team. They are an extension of the Office of the Long-Term Ombudsman.
The Volunteer Advocate's role is to solve problems for the resident and to ensure that all residents are being treated with dignity and respect.
Each Volunteer Advocate undergoes 36 hours of extensive and in-depth training and is required to pass a certification exam in order to participate in the program.

Then, after working a more experienced volunteer for two weeks, the Volunteer Advocate is assigned to a nursing facility close to home. Although Volunteer Advocates can make their own hours, they are required to visit their assigned facility and speak to residents for at least four hours per week.
The types of problems that Volunteer Advocates typically encounter include: lack of staff responsiveness; failure to respond to call bells; inadequate or unappetizing food; hygiene problems; lack of activities; and missing or stolen personal belongings, such as clothing, dentures and eye glasses.
If a Volunteer Advocate identifies serious issues, such as abuse, neglect or exploitation, a full-time investigator/advocate from the LTCO may be assigned to investigate and resolve that concern.
While the Volunteer Advocate Program currently has about 200 volunteers, many more are needed. Never has that role been more important than during the COVID-19 pandemic. For months, residents have been subject to severe restrictions on visitation by families and friends, which has badly affected resident health and well-being. The inability of residents, families, and friends to be together during the coronavirus pandemic has emphasized the importance of human connection.
If you are interested in having a direct impact on the lives of vulnerable New Jersey citizens living in nursing homes, please consider becoming a Volunteer Advocate. For more information, contact the Volunteer Advocate Program at 1-877-582-6995 press option #3 or email at volunteer@ltco.nj.gov.
Volunteer Spotlight