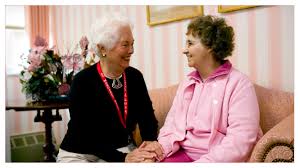 Thanks to the availability of funds from the U.S. Department of Health and Human Services Administration on Aging, the NJ Office of the Long-Term Care Ombudsman is assisted in its advocacy by a cadre of citizen volunteers.
Each highly trained Volunteer Advocate visits an assigned long-term care facility for at least four hours per week. These dedicated volunteers look out for people living in nursing homes, many of whom have no one else to help them.
While the Volunteer Advocate Program currently has more than 250 volunteers, many more are needed to fill the gaps left through attrition. We need more volunteers to care for the frail elderly, keeping them independent, healthy and able to live their lives out with dignity.
The need is clearly there. If you are interested in having a direct impact on the lives of elderly citizens in nursing homes, please consider becoming a Volunteer Advocate. For more information, contact the Volunteer Advocate Program at 609-826-5053 or email at volunteer@ltco.nj.gov.
As representatives of the Office of the Long-Term Care Ombudsman, Volunteer Advocates are part of a resident-focused advocacy program trained to observe the quality of services provided by the nursing home staff.
When problems are identified in a nursing facility, the Volunteer Advocate can play a crucial role in resolving issues of quality of care and quality of life as close to the bedside as possible.
Problems such as staff responsiveness, food and nutrition issues, hygiene problems, lack of activities, missing personal belongings such as clothing, dentures, eye glasses, etc., and, of course, residents who are not being treated with courtesy, consideration and respect – all basic civil rights. Challenges and rewards of participating in the Volunteer Advocate Program are varied and many.
Complaints of abuse, neglect and exploitation are referred to the LTCO for investigation.