What is Reliability and Resiliency?
What is Reliability?
Reliability - most often applied to electrical grids but also applicable to natural gas, water supply, wastewater treatment and other utilities - is defined as the ability of a system to deliver its benefits in the quantity and quality demanded by end-users. In other words, reliability means that lights are always on with few issues.
What is Resiliency?
Resiliency is the ability of those same systems to withstand, recover from extreme, damaging conditions, including weather and other natural disasters, cyber- and physical- attacks, and design failures.
As the type, number and magnitude of events change, system operators need to work with the regulatory community, end-users, operators and other stakeholders to adapt and redesign those systems to withstand threats.
Energy Resilience in New Jersey
As a result of the impacts of Superstorm Sandy on New Jersey's critical infrastructure facilities in October 2012, the NJDEP's Bureau of Climate Change and Clean Energy (BCCCE) began to focus additional efforts on energy resiliency. The energy resiliency efforts BCCCE has focused on are primarily related to critical infrastructure facilities that our agency regulates (i.e. Petroleum Sector Terminals & Retail Fuel Stations, Waste Water Treatment Plants, and Drinking Water Treatment Plants).
BCCCE has collaborated with Federal (i.e. DHS, DOE, NREL and Argonne National Laboratory) and State (i.e. BPU, EDA, OHSP, NJOEM, DCA, Treasury, etc.) agencies to advance our energy resiliency efforts as well as support the energy resiliency efforts of these agencies. Energy resiliency efforts undertaken, and supported, by BCCCE include a supply chain analysis of New Jersey's Petroleum Sector facilities which resulted in the development of the Petroleum Emergency Toolkit, the New Jersey EDA's Retail Fuel Station Program, the New Jersey Energy Resiliency Bank (ERB), the BCCCE Geographic Information System (GIS) Profile, as well as other tasks that support the new section, "Improve Energy Infrastructure Resiliency & Emergency Preparedness and Response" of the 2011 Energy Master Plan (EMP) Update (December 2015).
For additional information and background on these efforts visit the Tools & Program (Energy & Resiliency tools & program page) page.
Adapting to a Changing Climate and Environment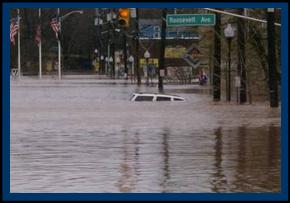 Climate Resilience of State Energy Sector and Environmental Infrastructure

According to the USEPA, "adaptation" refers to efforts by society or ecosystems to prepare for or adjust to future climate change. These adjustments can be protective (i.e., guarding against negative impacts of climate change), or opportunistic (i.e., taking advantage of any beneficial effects of climate change). Through adaptation planning, decision-makers take into consideration existing conditions as well as expected future impacts and vulnerabilities. Adaptation decreases a system's vulnerability or increases its resilience to impacts. Since there are limits to the ability of both manmade and natural systems to adapt, actions to mitigate climate change (i.e. continued reduction of greenhouse gas emissions) should continue. For example, the relocation of communities or infrastructure may not be feasible in many locations, especially in the short term. Over the long term, adaptation alone may not be sufficient to cope with all the projected impacts of climate change. Therefore, adaptation will need to be linked with continued efforts to reduce greenhouse gas (GHG) emissions.
Given that climate change is a global issue, regardless of how successful NJ is in reducing its greenhouse gas emissions over the long-term, there will still be unavoidable public health, ecological and economic impacts in New Jersey from the worldwide greenhouse gas emissions already in the atmosphere. Scientists predict that in the coming years New Jersey will experience higher temperatures during the summer months that will result in an increase of heat-related illnesses, as well as poor air quality and short-term droughts, and more intense rain events, leaving residents susceptible to high flooding. These intense rain events may also worsen the impacts of rising sea level in New Jersey's coastal and bay shore communities. For additional information, see the Department's environmental trends report (greenhouse gas emissions chapter) and related resources: http://www.nj.gov/dep/dsr/trends/pdfs/ghg.pdf and the Rutgers Climate Institute report: "State of the Climate: New Jersey 2013".
In response to Superstorm Sandy, state departments and agencies have incorporated resiliency strategy and planning in every aspect of the recovery process in an effort to rebuild back better and more resilient than before. Many of these initiatives will serve to make NJ more resilient to the adverse effects of climate change. These initiatives include: improved and coordinated planning tools that incorporate projected coastal hazards; funding and technical assistance for the design and installation of nature-based hazard mitigation strategies (i.e. living shorelines); beach and dune projects; acquisition of properties in repetitive flood loss areas; energy resilience at critical facilities throughout the State; and, actions to address emergency fuel highlighted during Superstorm Sandy by building resilience in fuel supply and distribution. The state is monitoring efforts within and outside New Jersey in planning and capacity building for long-term resiliency of the environmental infrastructure including the energy sector. The climate adaptive capacity of the energy sector is of utmost importance given its climate vulnerability especially to extreme events.