Energy Resiliency Tools and Programs
Petroleum Emergency Toolkit
The Petroleum Emergency Toolkit (PET) was developed by the Bureau of Climate Change and Clean Energy within the NJDEP following Superstorm Sandy. The PET profile is a confidential tool designed to support government management planning and response personnel in emergencies affecting the petroleum supply chain. The PET profile identifies the location of each facility, provides detail on each facility, and provides emergency contact information for all petroleum refineries, marine transfer facilities, storage facilities, major pipelines, petroleum distributors, heating fuel suppliers and retail gasoline stations within the state and relevant region. The PET profile is used with other GIS data layers, such as high-resolution aerial photography, topography and storm surge projections, environmental features, jurisdictional boundaries, electric and natural gas utility service territories, and electrical substations.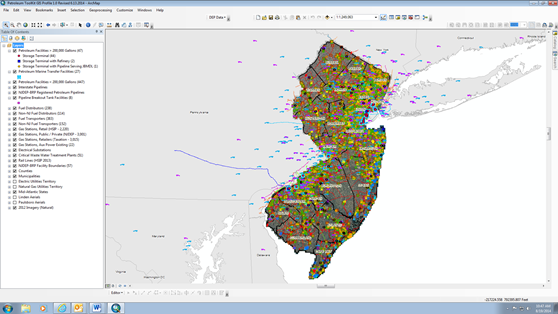 The PET profile provides access to state and federal orders, declarations, emergency rules and waivers (including extensions and terminations) necessary for state response to petroleum supply emergencies.
Retail Fuel Station Program
Retail Fuel Station- Energy Resilience Program

The State has awarded nearly $7 million in grants from the federal Hazard Mitigation Grant Program (HMGP) to more than 230 fuel stations located along key thoroughfares identified by state homeland security and emergency management personnel. Eligible station owners used the funds to purchase generators or permanent connection points for mobile generators, also known as "quick connects." Stations were targeted for the program based on factors including proximity to evacuation routes and fuel storage capacity.
Map of Participating Stations
Energy Resilience at Critical Facilities throughout the State
A multi-agency team from the State has been collaborating with the U.S. Department of Energy (DOE) and the DOE's National Renewable Energy Laboratory (NREL) to comprehensively study the energy needs of critical facilities throughout the State, and to identify creative and cost-effective alternative energy solutions. In coordination with the Board of Public Utilities, NREL conducted a state-wide survey of public buildings and leveraged existing data and resources maintained by the State to inform a locally-tailored analysis of energy resilience and efficiency for local communities. To realize energy resilience projects, the State announced $25 million in HMGP Energy Allocations to municipalities, counties, and other critical facilities that can be used to support a variety of alternative energy solutions — including microgrids, solar power with battery back-up, and natural gas-powered emergency generators — technologies that will allow critical facilities to operate even if the power grid fails.
NJ Energy Resilience Bank (ERB)
The Board of Public Utilities and the New Jersey Economic Development Authority partnered to commit $200 million in funding for the ERB to assist critical facilities with securing resilient energy technologies that makes them, and by extension the communities they serve, less vulnerable to future severe weather events and other emergencies.
The ERB financed the design, acquisition, construction, and installation of distributed energy resources that improves and increases the energy resiliency at certain New Jersey critical facilities. The DER technologies financed under the ERB included, but were not limited to:
CHP systems using various sized gas turbines, reciprocating internal combustion (IC) engines, or microturbines and may include thermal storage;
Fuel cells with and without heat recovery; and
Upgrades to solar panel systems with off-grid inverters and storage systems. (The ERB did not finance the cost for installation of solar PV panels or for any balance-of-system equipment related to solar PV panels.)
The ERB focused on providing capital to those facilities that offer the greatest resiliency benefits for the State. The ERB developed initial financing products for the water treatment plant and wastewater treatment plant market sector, and for the hospitals and long-term care facilities market sector. Further information on the NJ Energy Resilience Bank can be found at their website.
Coastal Vulnerability Assessment (CVA) and Mapping Protocol Tool
Some of the state initiatives include the development of a Coastal Vulnerability Assessment (CVA) and Mapping Protocol tool (see http://www.state.nj.us/dep/cmp/docs/ccvamp-final.pdf ) and Getting to Resilience (http://www.prepareyourcommunitynj.org). The CVA is a method for analyzing vulnerability and risk to the key community assets including critical facilities, infrastructure, businesses and vulnerable populations. It is an important step toward identifying mitigation strategies, including them in community plans and implementing mitigation projects. Getting to Resilience is a self-assessment tool that helps local communities reduce vulnerability and increase preparedness by linking planning, mitigation, and adaptation. Completing the assessment identifies ways to enhance a community's qualifications for FEMA's Community Rating System and for Sustainable Jersey certification, and produces recommendations for strengthening local hazard mitigation planning.
These resources are provided through the Department's Coastal Management Program (NJCMP) (http://www.state.nj.us/dep/cmp ). The NJCMP recognizes that the State's 239 coastal communities are increasingly facing coastal hazards which require new planning approaches and informed actions. In addition to resiliency planning assessment tools, the NJCMP and partners provide technical assistance to evaluate the feasibility of employing nature-based solutions to address coastal hazards. For example, these services can include guidance on the design and /or construction of living shorelines projects, wetlands restorations, or development of a shoreline assessment. The partnership is also developing on-line resources of resiliency tools, strategies and best management practices. A long-term comprehensive statewide adaptation plan needs to involve the input and action of many parties, including federal, state and local governments; non-governmental organizations, academia, private industry, and New Jersey's citizens. Safeguarding New Jersey's citizens, its built and natural environment, and ensuring that the State continues to grow in a manner that is both sustainable and resilient to the adverse effects of climate change will require adaptation planning.
Rutgers University formed the New Jersey Climate Adaptation Alliance
The New Jersey Climate Adaptation Alliance is described as "a network of policymakers, public and private sector practitioners, academics, and NGO and business leaders designed to build climate change preparedness capacity in New Jersey." The Alliance will focus on climate change preparedness in key impacted sectors (public health; watersheds, rivers and coastal communities; built infrastructure; agriculture; and natural resources). (http://climatechange.rutgers.edu/njadapt).
The ultimate goal of this initiative is to assess climate vulnerability and preparedness needs for critical sectors in New Jersey and to develop capacity for response implementation in New Jersey.