DVRS Services for Employers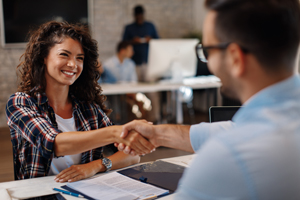 As part of the Division of Vocational Rehabilitation Services (DVRS), the Business Outreach Team (BOT) helps employers strengthen their businesses and enhance career opportunities for individuals with disabilities. We work collaboratively with employers and labor and workforce associates to provide talent acquisition solutions for businesses.
Through our Disability Awareness Training, employers are provided an introduction to working with individuals with disabilities.
Technology is constantly changing and helps individuals with disabilities perform work-related tasks. We provide technology assessments for individuals who are receiving our services as well as presentations for businesses.
The Americans with Disabilities Act has gone through many changes over the years. We can help you better understand the law and connect you with experts who can help address your specific needs.
Federal Bonding provides employers security in hiring certain, at-risk individuals. We can help you determine if the Federal Bonding program is right for you.
Tax credits are available for businesses who hire individuals with disabilities as well as other populations. We can help you better understand these incentives and navigate the processes and procedures.
By developing a partnership with a local training provider or state agency, we can help you meet your skill needs through customized training.
Through a job analysis, we identify observable work activities to determine good candidates for your available position.
Through targeted hiring events, we provide employers exclusive access to screened candidates.
Upon request, we can provide an introduction to NET and TAP, which connect businesses with talent across the United States.
On-the-Job Training contracts are designed to meet the needs of employers as well as the training needs of candidates. Through On-the-Job training, employers are provided financial incentives along with technical support to assist in hiring individuals with disabilities.
We can connect you to apprenticeship programs that combine work-based learning with classroom instruction to produce employees with specific skills.
As part of the New Jersey Department of Labor and Workforce Development, we work collaboratively with all divisions and agencies within the department. We can assist in coordinating those services to meet your needs.
Cheryl Casciano, Consultant
Counties served: Burlington, Cumberland, Gloucester, Ocean, Salem
Counties served: Bergen, Morris, Passaic, Sussex, Union, Warren
Barbara Stockton, Consultant
Counties served: Essex, Hudson, Hunterdon, Middlesex, Somerset
Irene Perez, Consultant
Counties served: Atlantic, Camden, Cape May, Mercer, Monmouth