Prevailing Wage Rates for State Building Service Workers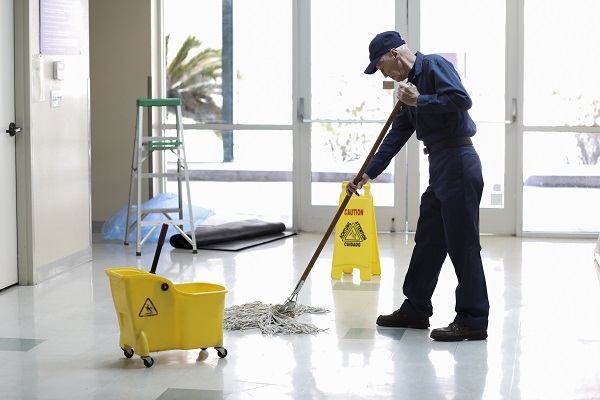 On January 12, 2006, legislation was enacted that establishes wage standards for workers employed by contractors and subcontractors performing "building services" for properties or premises owned or leased by the State. The new law will affect contracts entered or renewed on or after March 13, 2006.
The new law applies equally to contracts for building services in state-owned and state-leased buildings. For the building to be considered "leased by the State," 55% or more of the property must be leased by the State and the portion of the building leased must measure more than 20,000 square feet.
Effective with any new or renewed state building services contracts entered on or after March 13, 2006, contractors and subcontractors must pay employees the established wage standard for the appropriate New Jersey county and classification of building service employee.
"Building services," as defined by this law, includes cleaning or building maintenance work, including but not limited to sweeping, vacuuming, floor cleaning, cleaning of rest rooms, collecting refuse or trash, window cleaning, engineering, securing, patrolling, or other work in connection with the care, securing or maintenance of an existing building.
For any occupation that is covered under the "building services" rate, the Commissioner of the Department of Labor and Workforce Development may issue to any employee, including a learner, apprentice, or student, whose earning capacity is impaired by age or physical or developmental disability or injury, a special license authorizing employment at wages less than the wage standard designated by the Commissioner for building service contracts. Click here to obtain an application to pay less to a disabled person.
The New Jersey State Building Service Contracts Act, N.J.S.A. 34:11-56.58 et seq., establishes prevailing wage levels for the employees of contractors and subcontractors furnishing building services in state-owned and state-leased buildings. The wage and benefit rates are based on the determinations made by the U.S. General Services Administration pursuant to the federal "Service Contract Act" and are available at the federal Wage Determinations website at SAM.gov
Go to SAM.gov
Click on "Search Wage Determinations"
Select Wage Determination Type "Service Contract Ace (SCA)"
Select "New Jersey," and select the county where the services are to be performed
Click on WD# you want to open
Click on Print/Download to print Wage Determination
For Wage Determination History, click on "History"
Below is a list of common classifications for building service employees. Using the Occupation Code will make it easier to find the corresponding Wage Rate:
Janitor: 11150
Window Cleaner: 11360
Laborer: 23470
Boiler Tender: 25010
Stationary Engineer: 25070
Ventilation Equipment Tender: 25190
Guard I (Security Guard): 27101
Guard II (Security Guard): 27102
Swimming Pool Operator: 28690
Pest Controller (Exterminator): 99410
The required fringe benefits follow the occupational listing. The required health and welfare benefit must be provided in addition to the wage rate. The health and welfare benefit is normally increased once a year during the months of June or July. Effective June 23, 2022, the health and welfare benefit was increased to $4.80 per hour up to 40 hours per week or $192.00 per week or $832.00 per month.
The duties of employees under the job titles listed are those described in the "Service Contract Act Directory of Occupations." The complete Directory is available at beta.sam.gov (Reference Library) or www.dol.gov/whd (Topics, Government Contracts, McNamara-O'Hara Service Contract Act).
If you do not see the job title/occupation that you are searching for in the list below, please check the Directory for the appropriate occupation and the federal Wage Determinations for the wage and benefit rates.
The Janitor cleans and keeps in an orderly condition factory working areas and washrooms, or premises of an office, apartment house, or commercial or other establishment. Duties involve a combination of the following: sweeping, mopping or scrubbing, and polishing floors; removing chips, trash, and other refuse; dusting equipment, furniture, or fixtures; polishing metal fixtures or trimmings; providing supplies and minor maintenance services; and cleaning lavatories, showers, and restrooms.
Excluded are:
Workers who specialize in window washing
Housekeeping staff who make beds and change linens as a primary responsibility
Workers required to disassemble and assemble equipment in order to clean machinery
Workers who receive additional compensation to maintain sterile facilities or equipment
The Window Cleaner cleans windows, glass partitions, mirrors, and other glass surfaces of building interior or exterior, using pail of soapy water or other cleaner, sponge, and squeegee; crawls through window from inside and hooks safety belt to brackets for support; sets and climbs ladder to reach second or third story; uses basin chair, swing stage or other scaffolding lowered from roof to reach outside windows; or stands to reach first floor or inside windows.
The Laborer performs tasks which require mainly physical abilities and effort involving little or no specialized skill or prior work experience. The following tasks are typical of this occupation: loads and unloads trucks, and other conveyances; moves supplies and materials to proper location by wheelbarrows or hand truck; stacks materials for storage or binning; collects refuse and salvageable materials; and digs, fills, and tamps earth excavations. The Laborer levels ground using pick, shovel, tamper and rake; shovels concrete and snow; cleans culverts and ditches; cuts tree and brush; operates power lawnmowers; moves and arranges heavy pieces of office and household furniture, equipment, and appliances; moves heavy pieces of automotive, medical engineering, and other types of machinery and equipment; spreads sand and salt on icy roads and walkways; picks up leaves and trash.
The Boiler Tender tends one or more boilers to produce steam or high-temperature water for use in an establishment, fires boiler, observes and interprets readings on gauges, meters, and charts which register various aspects of boiler operation, adjusts controls to insure safe and efficient boiler operation and to meet demands for steam or high-temperature water. This incumbent may also do one or more of the following: maintain a log in which various aspects of boiler operation are recorded; clean, oil, make minor repairs or assist in repair to boiler room equipment; and following prescribed methods, treat boiler water with chemicals and analyze boiler water for such things as acidity, causticity, and alkalinity.
The Stationary Engineer operates and maintains one or more systems which provide an establishment with such services as heat, air-conditioning (cool, humidify, dehumidify, filter, and circulate air), refrigeration, steam or high-temperature water or electricity. Duties involve: observing and interpreting readings on gauges, meters and charts which register various aspects of the system's operation, adjusting controls to ensure safe and efficient operation of the system and to meet demands for the service provided; recording in logs various aspects of the system's operation; keeping the engines, machinery and equipment of the system in good working order. This engineer may direct and coordinate activities of other workers (not stationary engineers) in performing tasks directly related to operating and maintaining the system or systems. The classification excludes head or chief engineers in establishments employing more than one engineer. Workers are required to be skilled in the repair of electronic control equipment; workers in establishments producing electricity, steam, or heated or cooled air primarily for sale, and Boiler Tenders.
The Ventilation Equipment Tender tends ventilating and heating equipment, such as fans, vacuum pumps, air compressors, vents and ducts, and lubrication-oil coolers used in buildings or industrial processes; adjusts valves to regulate temperature of lubrication oil and flow of water through system. Moves controls to regulate speed of fans and to adjust vents and ducts. Records gauge readings, repairs completed, and time lost because of inoperative equipment. This worker writes repair work order tickets and out-of-order tags preparatory to equipment repair. Inspects equipment to detect excessive noise and heat. Replaces gauges and tightens and chalks leaky fittings, using wrenches, hammers, and chalking tool. Cleans carbon deposits, pitch, and grease from fans, vents and ducts, using scrapers, hammer, and compressed air or steam.
The Guard I carries out detailed instructions and procedures primarily oriented to ensure that emergencies and security violations are readily discovered and reported to appropriate authority. The primary duty is to observe and report security and emergency situations. This guard intervenes directly only in situations which require minimal action to safeguard property or persons. Duties require minimal training and physical fitness standards.
The Guard II enforces regulations and procedures designed to prevent breaches of security, exercises judgment and uses discretion in responding to incidents and emergencies, determining whether to intervene directly, ask for assistance as time permits, keep situation under control or surveillance, or to report incident or situation to the appropriate authority for handling. Duties require specialized training in methods and techniques of protecting controlled areas. Commonly, the Guard II is required to demonstrate proficiency with firearms and other special weapons, and to meet rigorous physical fitness standards.
The Swimming Pool Operator operates and maintains swimming pool and auxiliary equipment. Fills pool and tests water for proper chlorine content. Regulates feeders and puts in prescribed amounts of soda ash and chlorine according to specific instructions to purify water. Checks heating and pumping equipment, and adjusts or makes minor repairs, using mechanic's hand tools. This operator changes chlorine tanks, as required. Removes leaves and other debris from water, using net. Cleans bottom and sides of pool, using such aids as underwater vacuum cleaner, hose, brush, detergent, acid solution, and sander. Inspects and replaces loose or damaged tile. Cleans and repairs filter system. Reports emergencies or unusual malfunctions to superior. Prepares report of materials used and work performed.
The Pest Controller sprays chemical solutions or toxic gases and sets mechanical traps to kill pests that infest buildings and surrounding areas, fumigates rooms and buildings using toxic gases, sprays chemical solutions or dusts powders in rooms and work areas, places poisonous paste or bait and mechanical traps where pests are present; may clean areas that harbor pests, using rakes, brooms, shovels, and mops preparatory to fumigating; and may be required to hold State license.