Veteran News and Views
VA's Suicide Hot Line begins operations
To ensure veterans with emotional crises have roundthe- clock access to trained professionals, the U.S. Department of Veterans Affairs (VA) has begun operation of a national suicide prevention hot line for veterans.
"Veterans need to know these VA professionals are literally a phone call away," Secretary of Veterans Affairs Jim Nicholson said. "All service members who experience the stresses of combat can have wounds on their minds as well as their bodies. Veterans should see mental health services as another benefit they have earned."
The toll-free hot line number is 1-800-273-TALK (8255). VA's hot line, staffed by mental health professionals will take toll-free calls from across the country and work closely with local VA mental health providers to help callers.
To operate the national 24/7 hot line, VA is partnering with the Substance Abuse and Mental Health Services Administration of the Department of Health and Human Services (HHS).
VA is the largest provider of mental health care in the nation. This year, the Department will spent about $3 billion to provide mental health care to about 1 million vets yearly.
Ocean County opens Job Bank
With the largest population of veterans of any county in the state, Ocean County has teamed up with the federal Veterans Administration to open a Job Bank in the county. For more than 30 years the VA has offered vocational training assistance for Ocean County vets, but with the signing of the new agreement, the partnership expands.
On hand for the ribbon cutting were Bill McLemore, VA Assistant Secretary of Intergovernmental Affairs, Duane Honeycutt, director of the Newark VA Regional Office and Bill Devereaux, program coordinator for the New Jersey Department of Military and Veterans Affairs, along with representatives of veterans organizations and the county's Veterans Service Bureau.
Under the partnership with the VA, the Veterans Administration will actively have staff members on site at the county's Veterans Service Bureau, 1027 Hooper Ave., Toms River, Building 2, to assist veterans in finding a job, said Veterans Service Bureau Director John P. Dorrity.
Returning war veterans wanting more information on the new program can contact the Veterans Bureau at 732-929- 2096 or call 732-349-6106 for an appointment.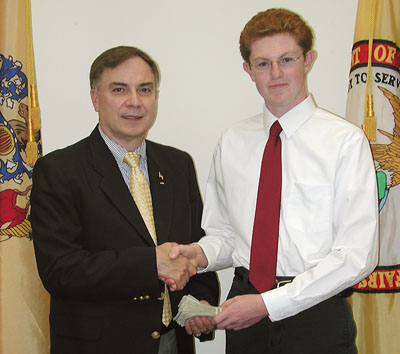 Grandson makes World War II donation
Stephen G. Abel, Deputy Commissioner for Veterans Affairs, New Jersey Department of Military and Veterans Affairs accepts a $516 donation to the World War II Memorial from Austin Mueller, who collected donations in memory of his grandfather, who was a World War II veteran. A recent high school graduate from Sea Girt, Austin will be an incoming freshman at Coastal Carolina University in Conway, S.C. Austin collected $258 and wrote a personal check to match that amount. His donation is an inspiration to young and old alike. More individual efforts like this would go a long way to achieving the fund raising goals for the memorial. Photo by Ellen Stein, NJDMAVA-MA
VA Research develops new prosthetic ankle
Veterans with lower-leg amputations can look forward to having a prosthetic ankle-foot that matches their natural ease of motion, thanks to research funded by the Department of Veterans Affairs (VA) and conducted by researchers from the Department and two top universities. Researchers say the new ankle-foot prosthetic is the first in a new family of artificial limbs. It will replicate natural motion by propelling people forward using tendon-like springs powered by an electric motor.
Through VA-funded research, the Center for Restorative and Regenerative Medicine, a partnership among the Providence VA Medical Center in Rhode Island, Brown University and Massachusetts Institute of Technology, developed the new prosthesis.
VA expects to spend more than $1.2 billion this year on prosthetics, sensory aids, glasses and hearing aids.
Vets with wings help wounded warriors
By Samantha L. Quigley, American Forces Press Service Sometimes all it takes for a wounded veteran to begin healing is being surrounded by family and friends. That's the premise on which the Minnesota-based Veterans Airlift Command was founded.
Walter Fricke, founder of the nonprofit organization and a former Army aviator, knows having family and friends nearby can aide a wounded vet's recovery. "I was a helicopter pilot in Vietnam, and I was wounded while flying a helicopter," he said.
Fricke said he spent about six months in a military hospital with 700 miles separating him from his family. It was only after his family members gathered the resources to visit him that his condition, which had actually begun to decline, started turning around.
Years after Fricke made a full recovery, he realized there was again an unmet need. Wounded veterans of the global war on terrorism are recovering at military medical facilities and Veterans Affairs hospitals across the country, sometimes far from their home and families.
With the mission of providing "air transportation for medical and other compassionate purposes to wounded warriors, veterans and their families through a national network of volunteer aircraft owners and pilots," he began Veterans Airlift Command.
Started in spring 2006 with nine aircraft, Veterans Airlift Command flew its first mission, which involved a young Marine. In fact, that's how the first mission came about. A young injured Marine had traveled from his home in Melbourne, Fla., to Jacksonville, N.C., to receive his Purple Heart and other awards. The trip took 13 hours and required four layovers. The Marine's father, in an effort to make things easier for his son's return trip, contacted the Military Severely Injured Center, which put him in touch with Veterans Airlift Command. "We flew him home in two and a half hours, nonstop," Fricke said.
The organization operates with very little overhead and works with donations that include the pilots' time, use of their planes and fuel. "We now have well over 200 aircraft in our system," Fricke said, adding that the number of volunteer pilots has grown without any formal advertising. The organization has been working with USA Cares and the groups travel request hotline, 1-866-784-8917 Fricke said. The group prefers requests come to them via their Web site, www.veteransairlift.com.
Nicholson to leave as VA Secreatary
WASHINGTON — Secretary of Veterans Affairs, Jim Nicholson announced his resignation to President George W. Bush, effective no later than October 1, 2007. In his letter of resignation, Nicholson thanked the President for the honor of serving him and our Nation's veterans in this key post at such a "critical time in our nation's global war on terror." "The VA is a dynamic organization dedicated to serving our nation's finest citizens – our veterans," Nicholson said. "It has been an honor and privilege to lead the VA during this historic time for our men and women who have worn the uniform. We have accomplished so much and the VA is always striving to improve our services to veterans."
Nicholson said he wants to return to the private sector. "This coming February, I turn 70 years old, and I feel it is time for me to get back into business, while I still can." Nicholson left the private business world over 10 years ago, where he ran a successful residential development and construction company.
Nicholson, a Vietnam Veteran, was sworn in as Secretary of Veterans Affairs on February 1, 2005 to head the department that treats more than one million patients a week.