Veteran Homes win with Lottery money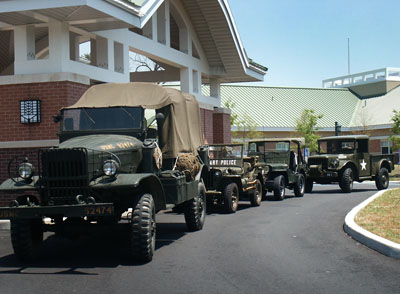 On May 31, the New Jersey Lottery Commission kicked off its newest scratch off instant game "The Duke" at the New Jersey Veterans Memorial Home at Vineland.
The three game cards feature images of John Wayne and the World War II movies he starred in.
The Acting Executive Director of the Lottery Commission, William T. Jourdain, along with selected Vineland Home staff and residents, took a short ride in World War II era military vehicles to visit Todd's News Agency, a leading lottery ticket retailer in South Jersey.
me to begin its campaign for the new instant game, since many of the residents are World War II veterans. Furthermore, the three Veterans Memorial Homes receive roughly one-third of their operational budgets from the Lottery Commission, which translates to roughly $23 million a year.
More than one-third of every lottery dollar is returned to support education and institutions, which includes the three veterans homes.
We are truly grateful for the support the Lottery Commission has provided to our veterans.