DCVA's Message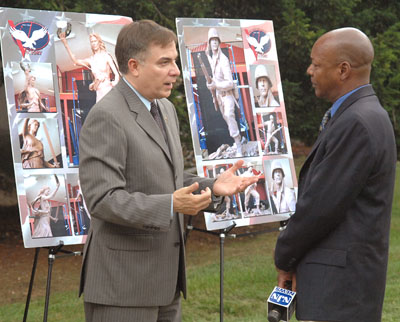 Dear Veteran, As I write this, I am attending the National Convention of the Veterans of Foreign Wars in Kansas City, Missouri. Governor Jon S. Corzine addressed the gathering and Maj. Gen. Glenn K. Rieth, The Adjutant General of New Jersey was in attendance to show support and congratulate George Lisicki of New Jersey on his elevation to the post of National Commander in Chief.
The Governor's continued support of New Jersey's Veterans epitomized by this trip is further reinforced by recent actions on his part, including signing legislation authorizing this department to study providing home health care to those Veterans who want to remain in their homes. The Department of Military and Veterans Affairs has also benefited from the high priority placed on Veteran issues by Governor Corzine. His support is shown by the current fiscal year funding for the World War II Memorial, Post Traumatic Stress Disorder (PTSD) hotline, the Veterans Haven expansion and the Yellow Ribbon Advisory Committee.
The Yellow Ribbon Advisory Committee on Returning Combat Veterans was established to identify emergent issues facing our newest veterans. The Committee, made up of a diverse group of veterans, community leaders and representatives of veterans support agencies, identified and prioritized issues into four categories; Health care, Family Support, Employment and Outreach. The Department has already begun work on many of the most critical issues. DMAVA recognizes and applauds the New Jersey Bar Association's offer of pro bono legal assistance. We are improving coordination between the U.S. Department of Veterans Affairs and New Jersey veterans, especially as concerns diagnosis and treatment of Traumatic Brain Injury. We continue to actively work to improve and expand outreach efforts to insure veterans are fully informed of their well-deserved entitlements and support.
In the last issue of the VeteraNJournal, I praised the volunteer efforts of the veteran community in support of their comrades. This combined with the genuine concern and generous support of New Jersey's Chief Executive Officer, and the dedication of the staff at DMAVA significantly augments our efforts to serve those who have served us so well.