Building honors Medal of Honor recipient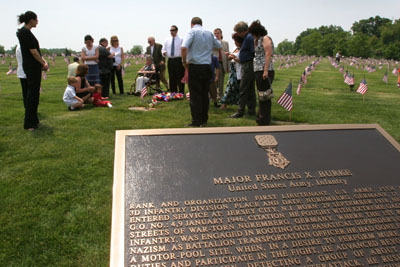 The Administration-Maintenance Complex was dedicated during New Jersey's official Memorial Day ceremony at the Brig. Gen. William C. Doyle Veterans Memorial Cemetery on May 26. The $6.2 million facility will serve the state veteran's cemetery through the end of its useful life.
Burke, who entered military service in 1936 as a member of the New Jersey Army National Guard, was awarded the Medal of Honor by President Harry S. Truman, for his extraordinary heroism in Nuremberg, Germany, on April 17, 1945. Burke and his wife Kitty are buried at the Doyle Cemetery; he is the lone recipient of the nation's highest military honor to be interred there. A permanent display, honoring Frank Burke's life and service, is being created for the Administration building.
Beginning with the traditional cannon shot provided by the Colonial re-enactors of the First New Jersey Artillery, the parade of dignitaries and veterans organizations stepped off shortly before 11 a.m. The line-of-march was greeted at the dais by Governor Jon S. Corzine.
Following remarks by Maj. Gen. Glenn K. Rieth, the Adjutant General of New Jersey, and Governor Corzine, they were joined by Stephen G. Abel, Deputy Commissioner for Veterans Affairs for a posthumous presentation of the New Jersey Distinguished Service Medal to three of Burke's four children. An unveiling of the complex's dedication plaque and a ceremonial ribbon cutting followed immediately.
After the presentation of floral tributes by the state's veterans organizations, the ceremony closed with a rifle salute provided by Soldiers from the Joint Forces Headquarters, the playing of taps and an F-16 flyover by aircraft from the 177th Fighter Wing. Music was provided by the 63rd Army Band and two students from Bordentown Regional High School, who began the ceremony with "The National Anthem" and ended it singing "God Bless America."