Other News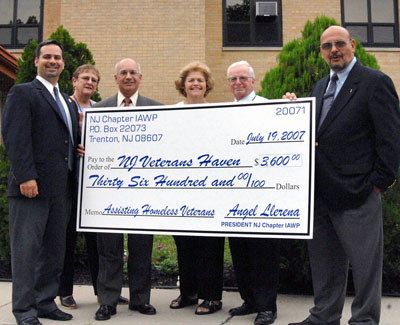 Vets Haven benefits from golf event
The New Jersey Chapter of International Association Workforce Professionals (IAWP) held a golf tournament for Veterans Haven. Chapter President Angel Llerena, is joined by chapter members Patsy Fox, Michael Mrvichin and Suzzane Guibert as they present a check to Robert Sauselein, Superintendent of Veterans Haven and Gary Englert, Director of Veterans Services on July 19. IAWP member Robert Fletcher was instrumental in Veterans Haven being selected by the chapter as their project for this year which provided a total of $3,735.43 to thefacility. A big thank you to all the IAWP members for their support. Photo by Kryn P. Westhoven, NJDMAVA-PAO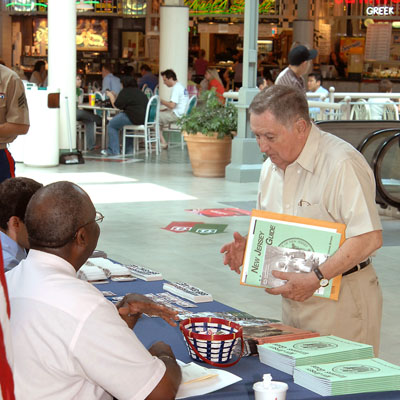 Outreach kiosk visits new malls
A veteran picks up a copy of the Veterans Guide, right, during the visit of the Outreach Kiosk at Bridgewater Commons in July. The mall in Bridgewater and an August visit to Newport Centre in Jersey City were first time visits for the 'One Mall A Month' outreach program allowing Veterans Service Officers to speak to residents of Somerset and Hudson countires. The outreach kiosk makes return visits to malls for the fall months with daily hours from 10 a.m. to 6 p.m., all three days of the visit:
Livingston Mall Sept. 12-14 (Medal ceremony on Sept. 13 at 10:30 a.m.)
Deptford Mall Oct. 2-4
Brunswick Square Mall Oct. 30, 31 & Nov. 1(Medal ceremony on Oct. 31 at 10:30 a.m.)
Quaker Bridge Mall Nov. 27-29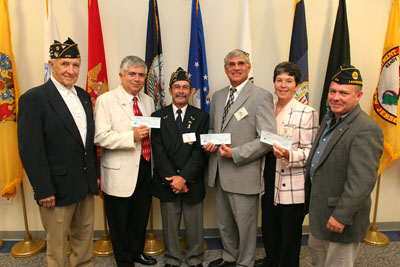 American Legion donates
American Legion Post 414 of Lawrence donated three $750 checks, one for each of the New Jersey Veterans Memorial Homes on Aug. 16. Pictured left to right are Charles Brothers, Post 414 historian; Joe Brandspiegel, CEO Menlo Park VMH; Nick Loveless, American Legion Post 414 Commander; Joe Romano, CEO Vineland VMH; Doris Neibart, CEO Paramus VMH and Dave Snedeker, Post 414, Post Service Officer. American Legion Post 414 donated $500 earlier this year to support the World War II Memorial.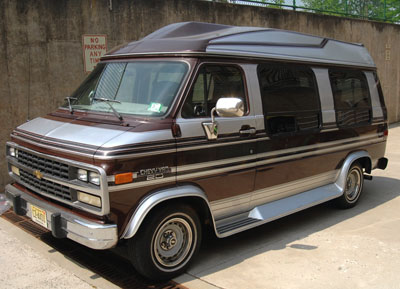 Veterans Haven receives donated vehicles
Veterans Haven recently received a 1993 Chevy Conversion Van to be given to a resident of the transitional housing program. The vehicle was donated by Carlton Golden Sr. of Creamridge. Over the past several months a 1989 Ford LTD was donated by Mr. and Mrs. Robert Sawyer of Cherry Hill. And three vehicles were provided by VFW Post 3020 in Delran. Post 3020 bought the vehicles, a 1989 Oldmobile Cutlass, a 1990 Ford Thunderbird and a 1990 Jeep Cherokee and had a mechanic go over them before they were donated. VFW members Al Bicchi and Tom Farrell headed up the effort. Veterans Haven obtained a 1991 Chevy Caprice and a 1995 Ford Crown Victoria from the Winslow Township's municipal fleet at a cost of only $1 per vehicle. These vehicles will enable the residents to seek employment beyond the range of the local public transportation system and significantly increase their chances of improving their quality of life.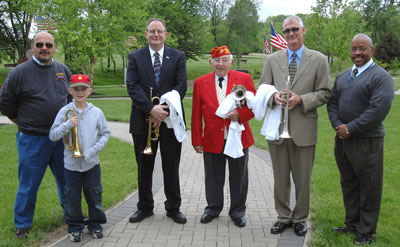 Echo Taps at Doyle Cemetery
Gary Englert, Director of Veterans Services, left and Iven Dumas, Assistant Superintendent of the Brig. Gen. William C. Doyle Veterans Memorial Cemetery join the four buglers who participated in the national Echo Taps event on Armed Forces Day May 19. The buglers included Jonathan Perosa and David Sitchler both of Pemberton Township, Frank Richetti from Brick and Earl Fahnestock of Cherry Hill. The volunteers who played a cascade of 'Taps' to honor uniformed service members past and present, ranged in age from 11-year old Perosa to Richetti, who is 84. Photo