July 21, 2013
Rescue - Wildwood Station
Sgt. C. Jones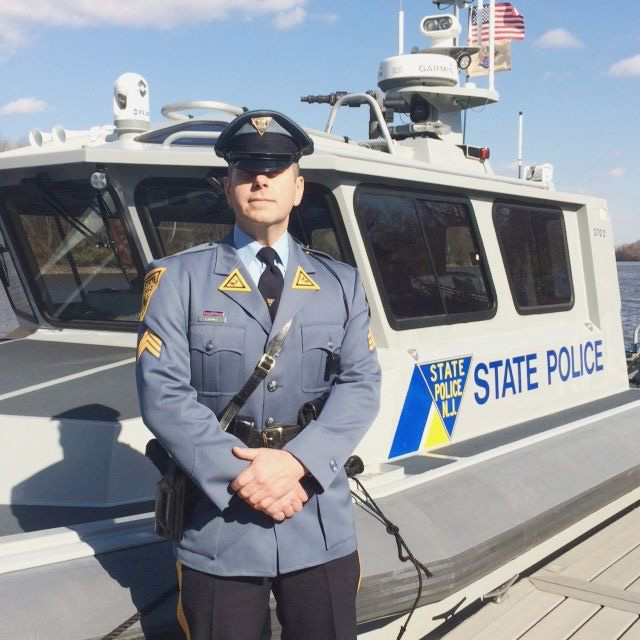 Sgt. C. Jones
On July 21, 2013, Sgt. Jones #6456 was on patrol in State Police Vessel #8212, in the area of Hereford Inlet, Cape May County, when he was advised of a vessel aground on the North East side of the Inlet.
Upon his arrival, Sgt. Jones observed three individuals wading through waist deep water, walking away from a departing vessel. The three subjects, a male and two females, continued to wade through even deeper water toward Champagne Island. Understanding the characteristics and the inherent danger of that particular area of the inlet, Sgt. Jones approached the three subjects and asked them to board his patrol vessel. The three subjects declined his assistance and continued towards Champagne Island. Realizing the severity of the situation, Sgt. Jones advised the subjects that he will remain near-by until they safely out of the water.
As this interaction was taking place, the first female, later identified as Emilie Gagmam, was swept into the open water of the inlet Sgt. Jones immediately threw a line to retrieve the distress swimmer. As Sgt. Jones was assisting Emilie Gagmam, the second female, later identified as Laurence Raby, was also swept into the inlet. In an effort to assist Ms. Raby, the male subject, Nicholas Linteau swam after her. Both subjects began to struggle against the current and choppy conditions.
Sgt. Jones turned his immediate attention to Raby and Linteau who were being swept further away from the troop boat. Realizing the boat engine could not be started due to Ms. Gagmam still making her way on board the vessel, Sgt. Jones removed his gunbelt and jumped into the water.
Upon reaching the distressed swimmers, Sgt. Jones immediately took Ms. Raby from Mr. Linteau. Seeing Mr. Linteau was now able to stay afloat, Sgt. Jones swam Ms. Raby back to the patrol vessel. Upon reaching the vessel, Sgt. Jones instructed Ms. Raby to hold onto the stern of the boat while he reboarded the vessel. Once aboard, Sgt. Jones threw a line to retrieve Mr. Linteau, and was able to assist both Ms. Raby and Mr. Linteau on board the troop vessel.
Sgt. Jones demonstrated three personal traits: His knowledge of an inherently dangerous area, his calm demeanour and understanding of an ever widening life-threatening situation, and his selfless action all came together to prevent the drowning of three exhausted and panic-stricken swimmers.