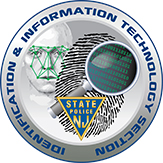 The members of the Identification & Information Technology Section are instrumental in providing technological services to the law enforcement community statewide. From the development and implementation of state of the art applications to the electronic publishing of crime statistics to using mapping to identify high crime areas, this Section enables the Division to stay at the forefront of the nationwide drive to better use today's technological advances to fight crime.
The Section is comprised of the following Bureaus and Units:
---
Criminal Justice Records Bureau
The following Units make up the Criminal Justice Records Bureau:
Discovery Unit
The Discovery Unit is responsible for fulfilling requests for all discovery materials that the New Jersey State Police generates. These requests include criminal, drunk driving, traffic, motor vehicle accident, and boating accident reports.
Records & Archives Management Unit
This unit perpetuates state police documents through digitizing and microfilming of records produced throughout the Division. The records archive is maintained as per the Department of Treasury, Division of Revenue and Enterprise Services, Records Management Services. It also maintains the state police Records Retention Schedule System and legally destroys documents in accordance with policies set forth by the Department of Treasury, Division of Revenue and Enterprise Service, Records Management Service.
Uniform Crime Reporting (Compliance Unit and Analytical Unit)
Uniform Crime Reporting (UCR) is comprised of two individual units: The UCR Compliance Unit and the UCR Analytical Unit. Both units work collectively to gather, analyze, and publish the UCR data for the state of New Jersey. The UCR Compliance Unit is responsible for the collection and compilation of crime statistics reported by all law enforcement agencies within the state. Annual training and instruction, periodic audits and statistical verifications are conducted by the UCR Compliance Unit in order to ensure quality crime statistics and data are being submitted by every law enforcement agency in NJ. After collection, the UCR Analytical Unit analyzes the UCR data, including the supplemental reports completed for all domestic violence, bias, carjacking, and assault firearms incidents reported statewide.
The UCR units compile reported statewide crime data to produce the annual Crime in New Jersey publication, Domestic Violence Report, Bias Incident Report and Carjacking Offense Report. After collection and review, the UCR Analytical Unit submits the UCR statistics to the Federal Bureau of Investigation's Uniform Crime Report Program.
The UCR Analytical Unit has collaborated with the Bureau of Justice Statistics after securing a grant to fund the state's transition to the FBI's National Incident Based Reporting System (NIBRS), which is a more comprehensive platform for collecting crime statistics. The NJSP is implementing a new NIBRS UCR repository in 2019 which will initiate the certification process for the state of New Jersey to become compliant with the new Federal reporting standard.  Beginning in 2019, NJ law enforcement agencies will begin submitting NIBRS data into the state repository which can then be utilized to analyze crime data, identify patterns and trends as well as the potential use for predictive policing.
---
Information Technology Bureau
The Information Technology Bureau provides the Division of State Police with the technical expertise and support necessary to carry out the Division's mission through the strategic use of computerization. Further, the Information Technology Bureau augments the Law Enforcement Community's ability to protect and serve by facilitating the storage and retrieval of computerized information relevant to preserving the public's safety.
Enterprise Data Services Unit
Responsible for design, writing, testing and debugging of personal computer/local area network database applications and the administration of the Division's database servers.
The primary responsibility of the Unit is the development and management of database solutions consistent with the needs and goals of the Division of State Police and its associated business units. Additionally, the unit installs, configures, and maintains the Division's business applications infrastructure, including the regular application of database software and security patches and updates.
Enterprise Data Services Unit administers and manages databases and database servers ensuring "authorized" accessibility, data integrity, and internal data security.
Provide the necessary technical support for all issues and problems relating to database schema access, SQL query performance tuning, and other related database and database-connection needs, which are associated with the Unit's management of the Division 's business application and database infrastructure.
Information Security Unit
The Information Security Unit is responsible for the safeguard of information contained within the Division of State Police Computing resources. Associated with these responsibilities is the security and integrity of the network from intrusion, disruption and destruction of sensitive data.
The Information Security Unit provides proactive monitoring of the CJIS Network and is responsible for network security design and configuration. They also conduct periodic field audits to ensure local, county and State compliance with FBI CJIS regulations.
The Information Security Unit implements and maintains the requirements for the federally mandated state Information Security Officer (ISO) and serves as a state level focal point for the gathering and dissemination of information for other local, county, state and military on information security issues.
IT Contracting Unit
The IT Contracting Unit provides Division wide Information Technology (IT) Purchasing Services.
IT Project Management Office
The IT PMO tracks the Division's Information Technology Portfolio. The Office documents clearly defined project boundaries and resources, placing simple processes into motion to ensure consistent reporting and change management. It uses an established governance model to review and approve project progress at each stage of the project life cycle. The Office serves as project manager for large projects as assigned by the ITB Bureau Chief. It assimilates technology, people, process and infrastructure towards a common goal.
IT Systems Support Unit
The IT Systems Support Unit (ITSSU) is responsible for the, receipt, configuration, installation, and ongoing maintenance of all computer related hardware and software for the Division. The Unit sets computer hardware and software standards and ensures computer equipment is purchased and deployed within these guidelines. ITSSU Manages user accounts for Division personnel, providing secure access to State Police computer systems and data. The unit's staff provides technical support to Division personnel as well as its vendors and partners.
Network Services Unit
The Network Services Unit (NSU) is responsible for the planning, development, configuration, implementation, and maintenance of the Division of State Police data network. This State wide infrastructure is comprised of the physical wiring, routers, switches, wireless access points, and server hardware, as well as the software and services that together provide local and wide area connectivity. The unit develops, deploys, and maintains the Division of State Police Storage Area Network, including strategies and tactics for disaster recovery of data storage. It is charges with the management of all network authentication of users and computers, directory and print services, as well as DHCP and DNS. NSU designs, implements, and maintains all email services for the Division, including remote and mobile access. The unit deploys and maintains all systems in accordance with policies of the NJSP Information Security Unit as well as the NJOIT security mandates.
Operations Support Unit
The Operations Support Unit identifies information technologies having strategic value to the Division's business and enforcement activities.
The unit is responsible for proper implementation and operation of the Computer Aided Dispatch system, Mobile Data Computers, Digital In-Video Recorder, E-ticketing, Electronic Accident Reporting and all personal computers and related peripheral devices for the Field Operations Section.
Programming Unit
The unit develops, tests, implements and debugs computer programs based on specifications written by the System Design Unit.
New Jersey State Police applications such as the Human Resource System, Records Management System and the eDaily have been created by the Programming Unit. These core applications were all designed, coded, and implemented in house using our own team of State Police and civilian personnel.
Systems Design Unit
The Systems Design Unit (SDU) is part of the Information Technology Bureau (ITB). Its primary mission is to design custom IT solutions for the New Jersey State Police as well as the NJ law enforcement community at large. The unit is comprised of both enlisted and civilian personnel, all with strong analytical and programming skills. SDU also coordinates the analytical efforts of personnel assigned from the Office of Information Technology.
SDU is also responsible for coordinating the development and maintenance of the IT solutions they design. This is done in conjunction with the Programming Unit in ITB.
---
State Bureau of Identification (SBI)
The State Bureau of Identification (SBI) functions as the central repository for the receiving, verifying, coding, processing, and dissemination of all criminal history record information utilized by criminal justice agencies for criminal justice purposes and noncriminal justice agencies for licensing/employment purposes.
Current computer technology allows for the input, update, and dissemination of accurate and timely criminal history record information (CHRI).
The Bureau has management responsibility for the following statewide programs:

Master Name Index
Computerized Criminal History System
Noncriminal User Fee System
Megan's Law Sex Offender Registry
Central Drug Registry
Interstate Identification Index
Court Disposition Reporting System
Automated Fingerprint Identification System
Arrest and Conviction Flag File
National Instant Criminal Background Check System (NICS)
National Crime Information Center (NCIC)
Criminal Justice Information Systems
Volunteer Review Operation
Expungement
Federal and state laws mandate that the services provided by the SBI be maintained at a high level of efficiency and accuracy.
Presently, there are over eleven thousand New Jersey Criminal Justice Information System (NJCJIS) field terminals which access the Bureau's computerized criminal history files for arrest, prosecutorial, and custody information.
The following Units make up the State Bureau of Identification:
Biometric Identification Unit
The Biometric Identification Unit (BIU), formerly called the Automated Fingerprint Identification Unit, classifies, searches, stores and verifies all criminal and noncriminal fingerprint, palm print, and mug photo record submissions. The master fingerprint file contains more than 6,800,000 fingerprints and nearly 674,000 palm prints.
The implementation and efficient utilization of the Automated Fingerprint Identification System (AFIS) has enabled the unit to achieve its mandates by processing criminal arrest and noncriminal licensing/employment fingerprint records in a timely and accurate manner. The Automated Fingerprint Information System is a computerized scanning system used for the storage and comparison of fingerprints and palm prints. Since its inception in May 1990, AFIS has proven to be one of the most significant advancements in law enforcement technology.
In 2016, BIU completed a significant upgrade to the state's AFIS with the implementation of Idemia/MorphoTrak's Morpho Biometric Identification Solution (MorphoBIS) AFIS.  The MorphoBIS AFIS provides for faster record processing and improved print matching capabilities of digital print records received 24 hours a day from the point of booking to the State Bureau of Identification (SBI) utilizing digital live scan and mug photo devices. This process provides for rapid identification while a suspect is still in custody. At the end of the identification process, the suspect's NJ criminal history record is automatically built and/or updated and the fingerprint and palm print record is then electronically transmitted to the Federal Bureau of Investigation's Next Generation Identification (NGI) to be searched nationally. The digital mug photo is stored in SBI's central repository, where it is shared and viewable by the entire law enforcement community. Stored mug photos are used in facial recognition comparisons and digital mug photo line ups, and populate the Offender Watch Sex Offender Registry.
As of September 2020, there are 707 live scan devices deployed statewide. Nearly all full-time law enforcement agencies in New Jersey are equipped with a live scan device. Additionally, 580 agencies are equipped with mug photo devices and 356 agencies submit palm prints. Nearly all criminal fingerprint, palm print, and mug photo submissions are electronically submitted to SBI and NGI.
Biometric Identification Unit's Latent Identification
To assist law enforcement agencies throughout the state, the Biometric Identification Unit (BIU) has three (3) locations capable of processing latent print submissions from crime scenes:
Troop A Headquarters in Buena Vista, Holmdel Station on the Garden State Parkway, and NJ State Police Division Headquarters in West Trenton, NJ.
Buena Vista latent hours are 7:30 A.M. to 3:00 P.M., Monday through Friday. Phone # (609) 561-1800 Ext. 3326.
Holmdel latent hours are 7:30 A.M. to 3:00 P.M., Monday through Friday. Phone # (732) 441-4525.
NJ State Police Division Headquarters Latent Operation and Tenprint Operation hours are Monday through Sunday, 6:00 A.M. to 9:00 P.M. Phone # (609) 882-2000 Ext. 2461
As of September 2020, BIU has received and processed more than 22,500 latent cases resulting in nearly 17,035 possible suspect identifications since the unit's AFIS upgrade to the MorphoBIS AFIS in 2016.
Criminal Information Unit
New legislation has increased the number of citizens that are required to be fingerprinted for licensing, employment, firearms application, and volunteering. Numerous public and private sector employers now require job applicants to submit to background and fingerprint based checks. Many non-profit groups that have members or volunteers who interact with children and senior citizens (i.e., Boy Scout Troop Leaders, Youth Coaches, and Health Care Workers etc.) require fingerprinting.
The State of New Jersey utilizes a state contracted vendor to schedule and provide electronic live scan fingerprint services.  The vendor provides an 800 number and a web based on-line scheduling service to allow applicants to schedule fingerprint appointments within seven (7) days. Applicant fingerprints are electronically captured at the contractor's private fingerprint sites within approximately ten (10) minutes.  Currently the state contracted vendor has eighteen (18) static sites located within twenty (20) miles of an applicant's residence, school, or place of employment.  The state vendor also offers the ability to schedule mobile fingerprinting operations at various locations. For more information on applicant and noncriminal fingerprinting, please visit https://uenroll.identogo.com/ or contact the state vendor's call center at 1-877-503-5981.
The use of live scan fingerprinting technologies has reduced the ink and roll card process and completes the applicant's background check within ten (10) business days, for both State and Federal checks. Fingerprints are electronically captured, which reduces poor quality submissions and the need to create two (2) sets (state and federal) of fingerprint cards. Submitting state agencies typically receive criminal history record results electronically within one to ten business days.
For additional information on applicant and noncriminal fingerprinting, please contact the Criminal Information Unit at 609 882-2000 x 2918.
Criminal Justice Information System Control Unit
The Criminal Justice Information System Control Unit (CJISCU) is designated as the CJIS Systems Agency (CSA) by the FBI, and provides statewide management to criminal justice users with respect to CJIS data. The system is utilized by 850 criminal justice agencies and provides users with computerized data from the New Jersey Motor Vehicle Commission (NJMVC), National Crime Information Center (NCIC), and the National Law Enforcement Telecommunications System (NLETS).
The main objective of CJISCU is to ensure that all statewide users meet NCIC policy requirements, by enforcing system integrity, discipline, and security.  To accomplish this, CJISCU conducts periodic training, triennial audits, and security checks of all users. 
The New Jersey Criminal Justice Information System Security Policy outlines and defines security measures for all statewide users.  The Security Policy covers personnel security, physical and visual security of terminal sites, user authorization, technical security, dissemination of CJIS information, audit program, and Mobile Data Computer (MDC) access control standards.
Authorized CJIS users throughout the state can access additional information and resources regarding CJIS via the Garden State Network (GSN) website at, CJIS.NJSP.ORG. The website provides a centralized location for users to obtain guidance relating to network and computer security. The website is for use by authorized criminal justice personnel only.
Criminal Records Integrity & Compliance Unit
CRICU creates, updates, modifies and reviews all computerized criminal history (CCH) records contained within the Master Name Index (MNI) and the CCH system. CRICU searches, identifies, and inputs all criminal source documents into the CCH and MNI and reviews the criminal history files prior to dissemination to ensure accuracy.
CRICU's continuing interface with the Administrative Office of the Courts' (AOC) Automated Complaint System (ACS) aim to eliminate paper reporting to the SBI from the municipal courts. The completed interface with the AOC PROMIS/Gavel system has eliminated the manual paper reporting from the twenty one county superior courts. Juvenile records are flagged for criminal dispositions from the family courts by this unit. Correctional information on jailed subjects is flagged via an automated interface and built on the CCH records for a complete criminal background record. Arrest/conviction notifications are electronically sent from this unit to requesting agencies.
New Jersey is one of twenty states participating in the National Fingerprint File (NFF) Program, which allows for the electronic transmission of federal Interstate Identification Index (III) records directly from this state. CRICU maintains the Central Drug Registry for law enforcement employment background checks and maintains all records in the Firearms Licensing System for application/registration.
This unit also manages the New Jersey Sex Offender Registry (NJSOR) software. CRICU reviews sex offender records submitted from the twenty one county prosecutor offices for accuracy, completeness, and publication on the NJ Sex Offender Registry web site at NJSP.ORG for public safety.  As a requirement of Megan's Law, CRICU contributes the sex offender records to the federal Convicted Sexual Offender Registry File (CSORF). CRICU assists with the building of Computerized Criminal History (CCH) records from the criminal disposition data retrieved from automated criminal disposition databases. This unit also inks DNA data from the State Police laboratory system to the CCH record for access by law enforcement agencies for investigative purposes.
Expungement Unit
The Expungement Unit ensures an individual's right to privacy with the sealing and expunging of all criminal records ordered by the court, pursuant to N.J.S.A. 2C:52-1 et seq., N.J.S.A. 2C:35-14m, and N.J.S.A. 2C:44-1.1.The unit is responsible for reviewing petitions and court orders to determine if they conflict with the intent of the law. The unit also reviews and disseminates expunged records for criminal justice agencies, pursuant to N.J.S.A. 2C:52-27c.
National Instant Criminal Background Check System (NICS) Unit
The New Jersey State Police (NJSP) NICS Operation Center conducts background checks for Federal Firearms Licensees (FFL) on prospective firearm purchasers in accordance with the provisions set forth in the Brady Handgun Violence Prevention Act, 18 U.S.C. Section 922. The NICS Operation Center transmits a formatted message to the Federal Bureau of Investigation (FBI) NICS Operation Center accessing the Interstate Identification Index (III), National Crime Information Center (NCIC) hot files, and the NICS Index. In addition to these files, the NJSP NICS Operation Center accesses the following New Jersey data bases: the Administrative Office of the Courts (AOC) Domestic Violence Central Registry, the New Jersey Motor Vehicle Commission (NJMVC) files, and the NJSP Firearms Investigations Unit files.