July 12, 2014
Rescue - Point Pleasant Station
SSGT Rodney Goodson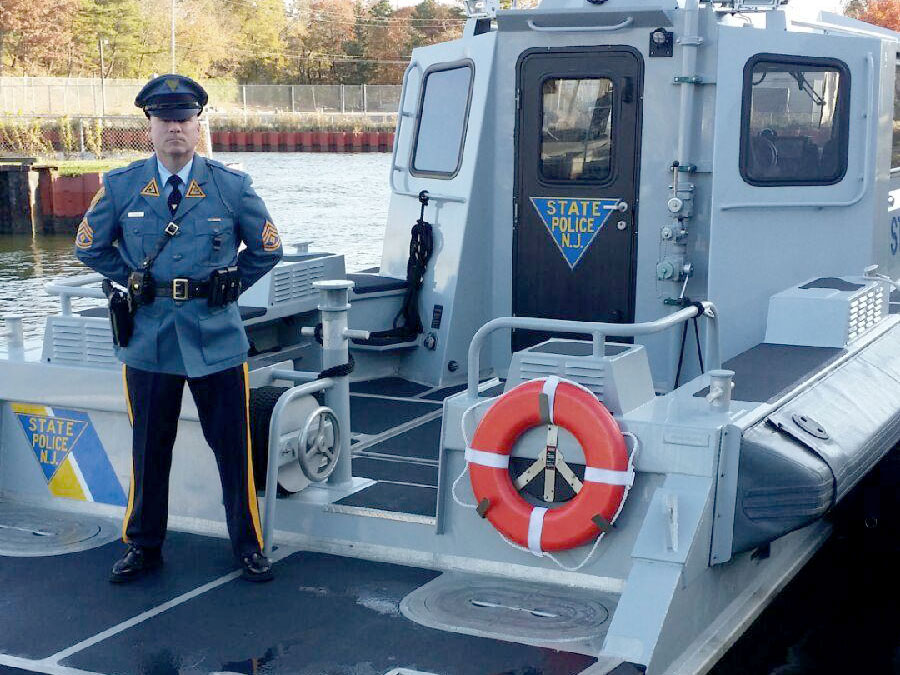 SSGT Rodney Goodson
On 7-12-2014 at approximately 10:40 AM, a MAYDAY was broadcast on VHS channel 16 advising that a large vessel had struck the submerged jetty in Barnegat inlet. A SEATOW commercial salvage vessel patrolling in the area responded, immediately followed by a State Marine Police vessel. Both boats were on scene in less than three minutes. The vessel in distress, a 44-foot Cruisers Yacht, named the "SHAR RON', with six persons onboard had struck the submerged jetty coming from the North. This vessel was stranded on the rocks and rapidly taking on water. SSGT Rodney Goodson #5702 operating Troop vessel #V2219 advised he was going to try to evacuate the occupants of the stranded boat. SSGT Goodson using expert boatmanship brought the bow of his vessel within inches of the swim platform of the stranded boat, and then assisted a teenage female onto his vessel. After extracting the female, SSGT Goodson returned to the stranded boat and again maneuvered within inches of the stranded vessel and extracted a teenage male. SSGT Goodson relayed the two teenagers to a waiting Coast Guard asset. SSGT Goodson returned to the stern of the disabled vessel, extracted an adult male onto his boat and relayed him to the waiting Coast Guard asset.
As soon as the stranded vessel was pulled off the rocks, SSGT Goodson singlehandedly approached the disabled vessel again, extracted two more male passengers, and relayed them to the Coast Guard asset. The Captain of the distressed vessel was in shock, disoriented, and was not responding to instructions for him to leave his boat. SSGT Goodson commandeered a crewmember from the Coast Guard asset and instructed him to maneuver the State Police vessel to the side of the disabled boat, then jumped onto that vessel and assisted the 70 plus year old captain onto the State Police vessel. Having singlehandedly saved the lives of six souls aboard the 44-foot vessel. SSGT Goodson then volunteered to assist the SEATOW captain attempting to keep the vessel from sinking. SSGT Goodson left the safety of his boat and boarded the partially submerged 44-foot vessel and was able to save the vessel from sinking.
SSGT Goodson's decisive actions, professionalism and bravery saved the lives of six persons on this day and helped save a 44-foot vessel from sinking in the middle of the inlet.