August 25, 2001
Rescue - Bivalve Station
Sergeant David Bodine
Trooper I Heath Welsh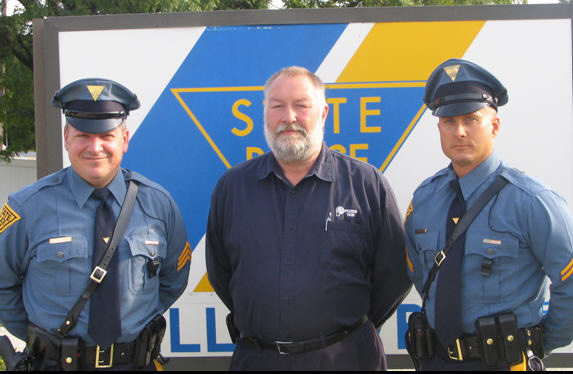 On August 25, 2001, Bivalve Station received a mobile phone call from a recreational boater reporting that a small, unoccupied vessel was running in circles at a high rate of speed.  The location was given as approximately one mile from Thompson's Beach in the Delaware Bay, Maurice River Township, Cumberland County, New Jersey.  Sergeant David Bodine was on patrol and responded from the entrance of Dividing Creek in a twenty-foot Boston Whaler.  Trooper I Heath Welsh, also on patrol, responded from the Maurice River in a similar boat.  The unoccupied vessel, a 17-foot center-console Sun Sport, was quickly located by Tpr. Welsh two miles south of East Point Light, but because of its high rate of speed, the craft was not approachable.  Sea Tow, a marine assistance provider, was contacted for recovery of this vessel. 
Sgt. Bodine and Tpr. Welsh immediately coordinated a search and rescue grid towards each other.  Approximately three minutes from the time the unoccupied vessel was located, the victim was located.  Exhausted, Randy Boston, 41, of Vineland City, was clinging to two small crab pot markers and treading water.  He was not wearing a life jacket.  Sgt. Bodine immediately threw a type-IV personal floatation device (PFD) to the victim.  Mr. Boston grabbed the PFD and Sgt. Bodine brought him into the State Police boat.  Sea Tow responded with a 40-foot vessel and recovered the unoccupied boat without incident.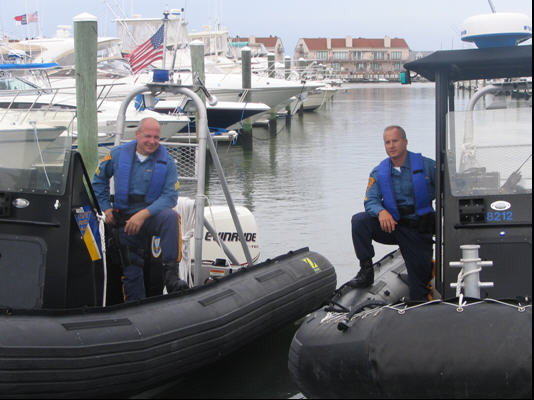 Mr. Boston told troopers he was fishing by himself and attempted to walk to the rear of the vessel to check his bilge pump discharge.  He lost his balance and grabbed the steering wheel in an attempt to remain on board, but fell overboard pulling the wheel hard to starboard in the process.  Mr. Boston, now in the water without a PFD, had to continually swim to avoid getting run over by his own vessel, which was circling around him.
Randy Boston firmly believes that his life was saved by Sergeant David Bodine and Trooper I Heath Welsh.  He was physically exhausted after treading water for more than an hour.  He said he was about to give up when he saw the blue lights on top of Tpr. Welsh's vessel in the distance.  The renewed hope of rescue gave him the strength to hang on until he was pulled aboard the State Police boat.
The quick response and assessment of this search and rescue operation by these troopers saved Mr. Boston's life.  The troopers actions are in keeping with the finest traditions of the New Jersey State Police.
---