September 11, 2001
Rescue - Newark Bay Station
DSG Alexander J. Koopalethes
Trooper I Joseph G. DeMarino
Trooper I Clark T. Motley (Retired)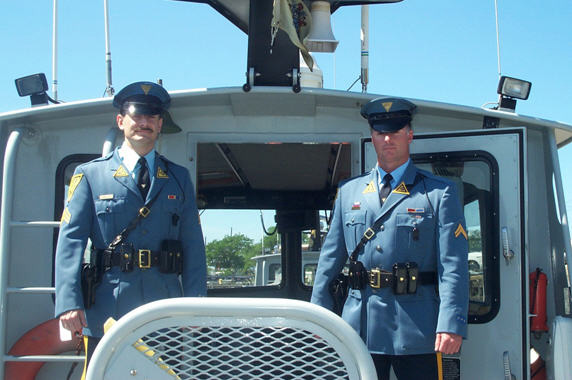 The events of Sept. 11, 2001, surrounding the World Trade Center disaster will forever be remembered for their horrific impact upon our  country. This is certainly true for those who helped with the rescue effort on that day.
After learning that the first tower of the World Trade Center had been struck by terrorists, Sergeant Alex Koopalethes, Trooper Joe DeMarino and Trooper Clark Motley departed from Newark Bay Station in their 40-foot State Police patrol vessel and headed toward New York Harbor. While clearing the last buoy in Newark Bay, they watched as the second tower was struck and it too became engulfed in flames. The troopers arrived on scene and took a position on the Hudson River 50 yards west of North Cove Marina. They watched as the helpless people trapped in the upper floors of the towers jumped  to their deaths.Then, the first tower began to collapse, forcing the vessel back to avoid the falling debris. As the dust and smoke cleared the troopers noticed that the injured were being brought into the marina and to an area along the Hudson River. Knowing that the marina was now unsafe because of its narrow access and proximity to the second tower,  they maneuvered their vessel alongside the river bulkhead,  just south of the marina, and from there began loading the wounded. They then ferried the wounded across the river where waiting ambulances relayed them to area hospitals.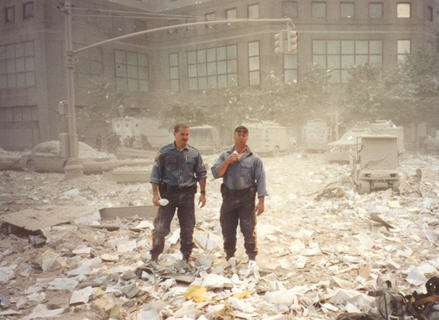 Upon returning to their position, the troopers observed that the more critically injured, many on stretchers, were being assembled in North Cove Marina. Without hesitation, they entered the cove and began loading these seriously injured, which included many New York City firemen. Then, the second tower began to collapse, engulfing the boat in hot ash, concrete dust and debris. In zero visibility Trooper DeMarino navigated the boat out of the cove while Sergeant Koopalethes and Trooper Motley safeguarded the injured exposed on the rear deck of the vessel. Again, they made their way across the river to awaiting ambulances. They repeated this trip numerous times, being joined by other vessels in the harbor.   More lives would have been lost had the aforementioned Troopers not reacted in a way indicative to the high expectations and sense of duty that is part of the New Jersey State Police tradition.