November 26, 2007
Rescue - Atlantic City Station
S/Sgt. Dave Burns
Tpr. Vincent Damiani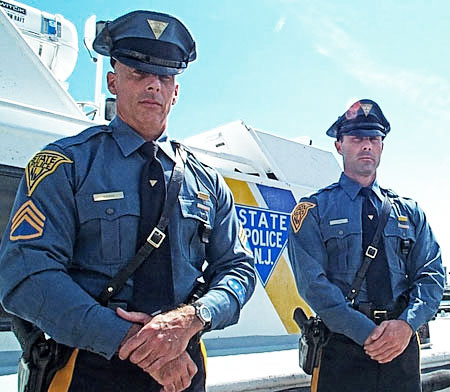 On November 26, 2007 at approximately 4:58 pm, the Marine Services Bureau Atlantic City Station received a phone call from the United States Coast Guard - Station Atlantic City. The Coast Guard advised that a 24' Boston Whaler Center Console, with 3 people on board, was in distress, due to heavy fog and rough seas, just outside the Little Egg Inlet in Beach Haven Boro. The Coast Guard also advised that one of the passengers, Mr. Lester Szygiel, was a Type II diabetic and was beginning to exhibit signs of low blood sugar.
After receiving the call, S/Sgt. Dave Burns #4603 and Tpr. Vincent Damiani #6070 immediately departed the station, located in Clam Creek (off of Absecon Inlet), in a 25' Sea Ark patrol vessel and established communications with the Coast Guard, via VHF radio channel 16 and 22. The Coast Guard advised that they had launched a 25' Safe Boat with 4 crew members, which was also en route to the distressed vessel. Shortly after speaking with the Coast Guard, a call from the distressed vessel was received, stating that Mr. Szygiels' blood sugar level had reached 90 and he was shivering and becoming increasingly colder.
S/Sgt. Burns and Tpr. Damiani reached the Mouth of the Absecon Inlet and were met with near zero visibility (heavy fog) , rough seas with wave heights of 2 - 4 feet and gusting winds. Utilizing the vessels radar and GPS , coupled with the experience of both Troopers, they navigated through the inlet into the Atlantic ocean. Shortly after clearing the inlet the Troopers made contact with the Coast Guard and were informed that they had terminated the 25' Safe Boat, due to unsafe weather conditions and they were launching a 47' Motor Lifeboat from Barnegat Light, with a 1 hour and 45 minute estimated time of arrival. S/Sgt. Burns and Tpr. Damiani knew that due to the victims hazardous location and deteriorating medical condition, they needed to reach the vessel as quickly as possible and continued on their course, despite not having assistance readily available. After more than an hour and a half, operating in near zero visibility and seas that had now increased to 5 - 7 feet , with 25 knot winds, the Troopers reached the last reported position of the vessel. Knowing that they were in close proximity and with no other way to find the exact location, the Troopers activated their blue emergency lights and began utilizing audible signals to pinpoint the vessel, without causing a collision . This proved successful and a short time later they were abreast of the distressed vessel. Mr. Szygiel was given food to increase his blood sugar level, which immediately began to improve his potentially serious condition. A tow line was affixed to the vessel in distress and they were placed in tow. The Troopers continued to monitor Mr. Szygiels' condition, which remained stable for the duration of the contact. Approximately 30 minutes later, the Coast Guard vessel arrived on scene and the tow was transferred. E.M.T.s' aboard the Coast Guard vessel would monitor Mr. Szygiels' condition during the trip back to the Barnegat Light station.
On April 5th, 2010 S/Sgt. Burns and Tpr. Damiani received a Letter of Commendation from Colonel Joseph Fuentes, which credited the Troopers professionalism, courageous actions and seamanship abilities, to bringing this potentially life threatening situation to a successful conclusion, with no loss of life or property.