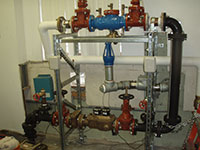 Physical Connection Permit Online Processing
Permit Renewals
An online processing service must be used for permit renewals to be submitted through the Department's "NJDEP Online"Business Portal. If you currently use the Portal, you will be able to add the service to your current profile. If you have not previously used the Portal you will need to register at which time you may find additional services that will benefit you. NOTE THAT AS PART OF THE RENEWAL SERVICE, YOU WILL BE REQUIRED TO PAY THE FEE EITHER WITH A CREDIT CARD OR AN E-CHECK.
FAQ's: Online Renewal and Quarterly Services
The online permitting process will consist of two processes / services.
Submission of the Quarterly Physical Connection Test Results by the Certified Tester: Certified Testers can either submit the previous year's test results so the permit can be renewed online as well as enter the current year's test results.
Submission of the annual renewal application by the Permittee, online fee payment, and download of the approved permit: Permittees must set up user accounts and facility administration rights prior to renewing online.

EFFECTIVE WITH THE 2018 RENEWAL CYCLE, IT WILL BE MANDATORY TO SUBMIT ALL RENEWAL APPLICATIONS ONLINE THROUGH THE RENEWAL SERVICE.
To facilitate the automatic approval of a permit renewal the results of the quarterly tests showing that all devices have been working correctly will need to be submitted by the Certified Tester in advance of the submission of the renewal application.
A service to allow a permittee to add a new device to an existing permit or apply for a new permit will not be available, but if an existing device is replaced as part of a repair or maintenance this is able to be reported.
An overview of the Online Permit Process can be obtained from our Overview of ePermitting document.
Prior to the submission of a Permit Renewal the Owner of the Facility needs to:
Create a user account
Obtain the rights to electronically approve the individuals who can on their behalf certify the application. This is done by completing and submitting the Facility Site Administrator application form to the Bureau of Water System Engineering.
Ensure that the individuals that will be submitting the renewal application create their own user account and electronically submit their request for Responsible Official rights.
As specific guidance documents are developed the appropriate links will be provided on this page. Therefore please check back periodically.
If you would like us to contact you by email as additional information and when the services are made available please email us.
Certified Agencies
To facilitate the submission of the Quarterly Test Results, the Department needs to maintain a database of the backflow prevention device testers that are certified to test the devices. Therefore effective December 2013 the Certifying Agencies shall submit electronically their list of Certified Testers using the following spreadsheet to physicalconnection@dep.nj.gov at least once a year.