Adapting to a Changing Climate and Environment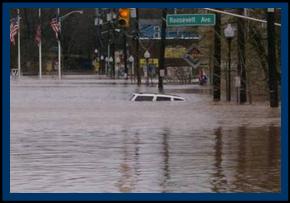 Climate Resilience of State Energy Sector and Environmental Infrastructure

According to the USEPA, "adaptation" refers to efforts by society or ecosystems to prepare for or adjust to future climate change. These adjustments can be protective (i.e., guarding against negative impacts of climate change), or opportunistic (i.e., taking advantage of any beneficial effects of climate change). Through adaptation planning, decision-makers take into consideration existing conditions as well as expected future impacts and vulnerabilities. Adaptation decreases a system's vulnerability or increases its resilience to impacts. Since there are limits to the ability of both manmade and natural systems to adapt, actions to mitigate climate change (i.e. continued reduction of greenhouse gas emissions) should continue. For example, the relocation of communities or infrastructure may not be feasible in many locations, especially in the short term. Over the long term, adaptation alone may not be sufficient to cope with all the projected impacts of climate change. Therefore, adaptation will need to be linked with continued efforts to reduce greenhouse gas (GHG) emissions.
Given that climate change is a global issue, regardless of how successful NJ is in reducing its greenhouse gas emissions over the long-term, there will still be unavoidable public health, ecological and economic impacts in New Jersey from the worldwide greenhouse gas emissions already in the atmosphere. Scientists predict that in the coming years New Jersey will experience higher temperatures during the summer months that will result in an increase of heat-related illnesses, as well as poor air quality and short-term droughts, and more intense rain events, leaving residents susceptible to high flooding. These intense rain events may also worsen the impacts of rising sea level in New Jersey's coastal and bay shore communities. For additional information, see the Department's environmental trends report (greenhouse gas emissions chapter) and related resources: http://www.nj.gov/dep/dsr/trends/pdfs/ghg.pdf and the Rutgers Climate Institute report: "State of the Climate: New Jersey 2013".
In response to Superstorm Sandy, state departments and agencies have incorporated resiliency strategy and planning in every aspect of the recovery process in an effort to rebuild back better and more resilient than before. Many of these initiatives will serve to make NJ more resilient to the adverse effects of climate change. These initiatives include: improved and coordinated planning tools that incorporate projected coastal hazards; funding and technical assistance for the design and installation of nature-based hazard mitigation strategies (i.e. living shorelines); beach and dune projects; acquisition of properties in repetitive flood loss areas; energy resilience at critical facilities throughout the State; and, actions to address emergency fuel highlighted during Superstorm Sandy by building resilience in fuel supply and distribution. The state is monitoring efforts within and outside New Jersey in planning and capacity building for long-term resiliency of the environmental infrastructure including the energy sector. The climate adaptive capacity of the energy sector is of utmost importance given its climate vulnerability especially to extreme events.
Some of the state initiatives include the development of a Coastal Vulnerability Assessment (CVA) and Mapping Protocol tool (see http://www.state.nj.us/dep/cmp/docs/ccvamp-final.pdf) and Getting to Resilience (http://www.prepareyourcommunitynj.org). The CVA is a method for analyzing vulnerability and risk to the key community assets including critical facilities, infrastructure, businesses and vulnerable populations. It is an important step toward identifying mitigation strategies, including them in community plans and implementing mitigation projects. Getting to Resilience is a self-assessment tool that helps local communities reduce vulnerability and increase preparedness by linking planning, mitigation, and adaptation. Completing the assessment identifies ways to enhance a community's qualifications for FEMA's Community Rating System and for Sustainable Jersey certification, and produces recommendations for strengthening local hazard mitigation planning.
These resources are provided through the Department's Coastal Management Program (NJCMP) (http://www.state.nj.us/dep/cmp). The NJCMP recognizes that the State's 239 coastal communities are increasingly facing coastal hazards which require new planning approaches and informed actions. In addition to resiliency planning assessment tools, the NJCMP and partners provide technical assistance to evaluate the feasibility of employing nature-based solutions to address coastal hazards. For example, these services can include guidance on the design and /or construction of living shorelines projects, wetlands restorations, or development of a shoreline assessment. The partnership is also developing on-line resources of resiliency tools, strategies and best management practices. A long-term comprehensive statewide adaptation plan needs to involve the input and action of many parties, including federal, state and local governments; non-governmental organizations, academia, private industry, and New Jersey's citizens. Safeguarding New Jersey's citizens, its built and natural environment, and ensuring that the State continues to grow in a manner that is both sustainable and resilient to the adverse effects of climate change will require adaptation planning.
Rutgers University formed the New Jersey Climate Adaptation Alliance (http://climatechange.rutgers.edu/njadapt). The New Jersey Climate Adaptation Alliance is described as "a network of policymakers, public and private sector practitioners, academics, and NGO and business leaders designed to build climate change preparedness capacity in New Jersey." The Alliance will focus on climate change preparedness in key impacted sectors (public health; watersheds, rivers and coastal communities; built infrastructure; agriculture; and natural resources).
The ultimate goal of this initiative is to assess climate vulnerability and preparedness needs for critical sectors in New Jersey and to develop capacity for response implementation in New Jersey.