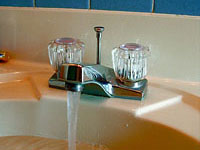 Lead in Drinking Water
Lead is not normally found in drinking water at the source. Typically, lead gets into your drinking water from the service lines, plumbing and fixtures that contain lead. As a result of corrosion, lead and other metals from the pipes slowly dissolve into the water. Many factors affect the amount of lead that leaches into the water, including lead content of pipes, fixtures, and solder, along with water temperature, pH and hardness. Lead is associated with adverse health impacts even at low levels, particularly in infants and children.
Additional information is available at the following links:


Flush your pipes before drinking, and only use cold water for cooking and drinking.
Anytime the water in a particular faucet has not been used for six hours or longer, flush your cold-water pipes by running the water until it becomes cold.
New Jersey Lead Service Line Requirements
The Department is developing additional guidance and information on the new lead service line requirements, NJ Bill A5343/S3398, P.L.2021, Ch.183, and will be contacting public community water systems about future deadlines.
In the meantime, the Department continues to strongly recommend public water systems work diligently on their service line inventories and, if applicable, strategy for replacement.
The next milestone of the legislation is for all community water systems to submit an initial service line inventory with specific details of all service lines no later than January 22, 2022.
The public and regulated community are encouraged to check our website for the most up to date information: https://www.state.nj.us/dep/watersupply.