NJDOT provides Traffic Incident
Management safety training to NJ TRANSIT
staff as part of national program
(Newark) - New Jersey Department of Transportation (NJDOT) this week held emergency response training for NJ TRANSIT road and terminal operations staff. The nationally compliant training, held in conjunction with several emergency response agencies, helps provide effective communication and quick roadway clearance.
The all-day training sessions held at the NJ TRANSIT Ferry Street Bus Operations training facility in Newark included an outdoor activity where fire equipment, a local bus-towing operator, and State Police staged an incident scene for program participants to get a visual representation of how to work in these types of zones.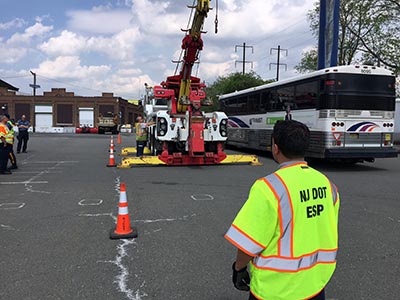 NJDOT, along with several responder agencies, provides training for New Jersey's first responders in Traffic Incident Management (TIM) practices. In an effort to foster a greater cooperation among agency partners on New Jersey's roads and highways, NJDOT proactively developed an interagency TIM program. The program sets federally compliant safety guidelines, procedures, roles and responsibilities as well as communications protocol.
NJDOT's TIM practices are based on Highway Incident Traffic Safety Guidelines for Emergency Responders that are endorsed by the NJ Attorney General's Office and recognized by the Federal Highway Administration (FHWA). The program teaches responders who don't usually work on our road network how to understand terminology, roles and responsibilities, as well as response and traffic control at incident scenes.
Since adopting the national program, NJDOT has trained more than 3,600 first responders in the state including; Firemen, EMT's, Safety Service Patrol staff and tow truck operators. NJDOT reached out to our partners at NJ Transit to give their road and terminal operations staff training in TIM.