Diane Gutierrez-Scaccetti sworn in as Commissioner of the New Jersey Department of Transportation

(Trenton) - Diane Gutierrez-Scaccetti was sworn in this week as the Commissioner of the New Jersey Department of Transportation (NJDOT). She released the following statement: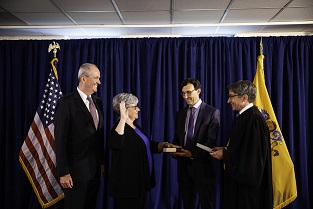 The opportunity to serve as the Commissioner of the New Jersey Department of Transportation is an honor and a privilege. I can say without any hesitation that I understand both the tremendous responsibility and accountability commensurate with the office. Transportation enhances the quality of our lives. It enables our communities to thrive. It fosters the commercial and industrial development that we desire and provides the ability for future generations to prosper.

"The Governor has made clear that he wants those agencies under his leadership to be forward-facing, fully transparent and customer-oriented. I could not agree more. Making sure that our accomplishments are understood and that our performance is tracked visibly will be evidence of our success. I will be a tireless advocate for New Jersey's transportation sector.

"I am grateful to Governor Murphy for this opportunity and pledge to those who work at NJDOT, as well as those we serve, my full commitment to delivering a world-class transportation system."

Commissioner Gutierrez-Scaccetti is a transportation professional with more than 28 years in the industry, and 34 years in government service. She is the former Executive Director and CEO at Florida's Turnpike Enterprise, a part of the Florida Department of Transportation. Under her leadership, Florida's Turnpike Enterprise managed more than 460 centerline miles and a 5-year capital program more than $6 billion, supported by $1 billion in revenues.

Prior to that, she spent 21 years at the New Jersey Turnpike Authority, working her way up from a Contract Administrator to the post of Executive Director, a position she held from 2008 to 2010. During her tenure, she managed the day-to-day administrative operations and was chief negotiator for the agency's several collective bargaining units. There, Commissioner Gutierrez-Scaccetti participated in several major agency initiatives, including the remediation of the E-ZPass System, the financial and operational consolidation of the New Jersey Turnpike Authority and New Jersey Highway Authority, bringing the New Jersey Turnpike and Garden State Parkway under a single organization. She holds degrees from the University of Connecticut (BS) and Rutgers, The State University of New Jersey (MS).


For NJDOT news follow us on Twitter @NJDOT_info and our Facebook page.