Office of Information Privacy
The mission of the Office of Information Privacy is to carry out the mandate of Daniel's Law: to work with State, county, and local government agencies to shield the protected information of Covered Persons as the law defines them from disclosure on those agencies' websites, so that consistent and effective privacy protections are provided to these Persons, who serve the people of the State of New Jersey every day.
With respect to Internet postings
other than those
on New Jersey state, county, and municipal government websites, an authorized person, as defined by law, seeking to prohibit the disclosure of the home address or unpublished home telephone number of any covered person shall provide written notice to the entity or person advising that they are an authorized person and that they are requesting that the entity or person cease the disclosure of the information and remove the protected information from the Internet or where it is otherwise made available. See, N.J.S.A. 2C:20-31.1(c) and N.J.S.A. 56:8-166.1(a)(2).
Judge Esther Salas announces the Daniel's Law online Portal.
Click the button below to access the Daniel's Law Portal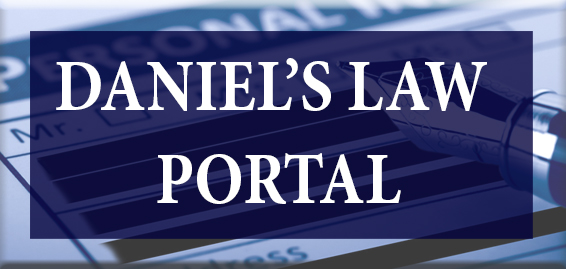 How to Sign Up as a Redactor
Watch this video to learn how to sign up as a redactor for your state, county, or municipal agency. You must appoint or sign up as a redactor by January 12, 2023.
Demo Q&A Webinar
Contact Us
Demo Q&A Webinar
Title Search Business Entities
DISCLAIMER
Please be advised that the Department of Community Affairs (DCA) and its Office of Information Privacy (OIP) cannot provide legal advice and recommend that a person or entity seeking same consult with an attorney.

The information presented on this site is only general in nature and is not intended to be, nor should it be construed as, legal advice. No user of this site should act or refrain from acting on the basis of information contained on this site without contacting an attorney for legal advice. The DCA and OIP expressly disclaim all liability with respect to actions taken or not taken based on the contents of this site.