Office of Information Privacy
One year ago, on July 13th, the Office of Information Privacy ("OIP") opened a portal for Covered Persons to register for protections under Daniel's Law. Since that time, over 8,000 Covered Persons – active and retired judges, prosecutors, and law enforcement from the federal, state and local sectors – have taken advantage of this new statute. Also, approximately 1,800 redactors have signed up to carry out the mandate of Daniel's Law by removing Covered Persons' residential information from state, county, or local government agency websites. The work of the OIP is directed at increasing personal data protections for public servants who put their lives on the line each day to carry out the State's business. The OIP is honored to lead this undertaking and looks forward to continuing this work in the future. For more information go to: www.danielslaw.nj.gov.
The mission of the Office of Information Privacy is to carry out the mandate of Daniel's Law: to work with State, county, and local government agencies to shield the protected information of Covered Persons as the law defines them from disclosure on those agencies' websites, so that consistent and effective privacy protections are provided to these Persons, who serve the people of the State of New Jersey every day.
With respect to Internet postings
other than those
on New Jersey state, county, and municipal government websites, an authorized person, as defined by law, seeking to prohibit the disclosure of the home address or unpublished home telephone number of any covered person shall provide written notice to the entity or person advising that they are an authorized person and that they are requesting that the entity or person cease the disclosure of the information and remove the protected information from the Internet or where it is otherwise made available. See, N.J.S.A. 2C:20-31.1(c) and N.J.S.A. 56:8-166.1(a)(2).
Click the button below to access the Daniel's Law Portal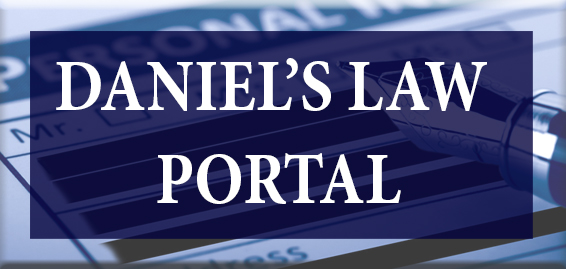 Judge Esther Salas announces the Daniel's Law online Portal.
Contact Us
Related Links
Title Search Business Entities
DISCLAIMER
Please be advised that the Department of Community Affairs (DCA) and its Office of Information Privacy (OIP) cannot provide legal advice and recommend that a person or entity seeking same consult with an attorney.

The information presented on this site is only general in nature and is not intended to be, nor should it be construed as, legal advice. No user of this site should act or refrain from acting on the basis of information contained on this site without contacting an attorney for legal advice. The DCA and OIP expressly disclaim all liability with respect to actions taken or not taken based on the contents of this site.