Industry-Valued Credentials List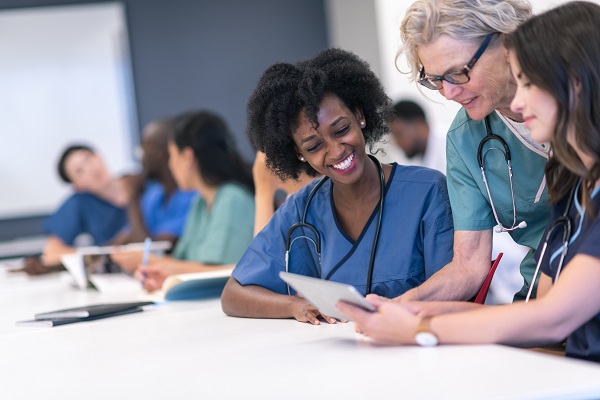 If current trends continue, by 2025, American employers will have 62 million high-quality job openings to fill—but only 39 million US workers will have the degrees and credentials to qualify for those jobs.

To help you identify what education and training you need for the jobs of tomorrow, we gathered and analyzed detailed feedback from employers in all industries throughout New Jersey. Use this list of industry-valued credentials to help you chart a path to a rewarding career.
| | | |
| --- | --- | --- |
| Credential | | Issuing agency |
| Certified Automation Professional (CAP) | | International Society of Automation (ISA) |
| Certified Hazard Analysis Critical Control Point (HACCP) Auditor | | American Society for Quality (ASQ) |
| Certified Internal Auditor | | Institute of Internal Auditors |
| Certified Production Technician (CPT) | | Manufacturing Skill Standards Council (MSSC) |
| Certified Quality Inspector | | American Society for Quality (ASQ) |
| Certified Welder | | American Welding Society (AWS) |
| CNC Operator | | Various |
| Destination Innovation Management System (DIMS) | | New Jersey Manufacturing Extension Program (NJMEP) |
| Geometric Dimensioning & Tolerancing (GD&T) Professional | | American Society of Mechanical Engineers (ASME) |
| Lean Bronze Certification | | ASQ - AME - Shingo Institute - SME |
| Lean Silver Certification | | ASQ - AME - Shingo Institute - SME |
| Lean Gold Certification | | ASQ - AME - Shingo Institute - SME |
| Machine Maintenance, Service & Repair Level II | | National Institute for Metalworking Skills (NIMS) |
| Machining Level I | | National Institute for Metalworking Skills (NIMS) |
| Mechatronics: Fluid Power 1 | | Packaging Machinery Manufacturing Institute (PMMI) |
| National Aerospace Defense Contractors Accreditation Program (NAD-CAP) Certification | | National Aerospace Defense Contractors Accreditation Program (NAD-CAP) |
| OSHA Fork Lift | | Occupational Safety & Health Administration (OSHA) |
| OSHA Safety - 10 Hour | | Occupational Safety & Health Administration (OSHA) |
| OSHA Safety - 30 Hour | | Occupational Safety & Health Administration (OSHA) |
| PMMI Mechanics: Industrial Electricity 1 | | Packaging Machinery Manufacturing Institute (PMMI) |
| PMMI Mechatronics: Mechanical Components 1 | | Packaging Machinery Manufacturing Institute (PMMI) |
| PMMI Mechatronics: Programmable Logic Controls (PLCs) 1 | | Packaging Machinery Manufacturing Institute (PMMI) |
| Sales & Marketing Plan | | National Institute of Standards and Technology (NIST) |
| Siemens Certified Mechatronic Systems Level I: Assistant | | Siemens Mechatronic Systems Certification Program |
| Siemens Mechatronics (SMSCP & SCMMS) | | Siemens |
| Six Sigma Black Belt | | International Association of Six Sigma Certification |
| Six Sigma Green Belt | | International Association of Six Sigma Certification |
| Six Sigma Master Black Belt | | International Association of Six Sigma Certification |
| Six Sigma Yellow Belt | | International Association of Six Sigma Certification |
| Supply Chain Operations Reference Professional (SCOR-P) | | American Production and Inventory Control Society (APICS) |
| Technical Sales-Basics | | National Institute of Standards and Technology (NIST) |
| Technical Sales-Operations Level 1 | | National Institute of Standards and Technology (NIST) |
| Technical Sales-Operations Level 2 | | National Institute of Standards and Technology (NIST) |
| | | |
| --- | --- | --- |
| Credential | | Issuing agency |
| Air Conditioning and Heat Pump Professional Certification | | Building Performance Institute |
| Building Analyst Professional | | Building Performance Institute |
| EPA Lead-Safe Certification | | United States Environmental Protection Agency |
| EPA Section 608 Certification | | Air Conditioning Contractors of America |
| Heating Professional | | Building Performance Institute |
| Indoor Air Quality Manager Certification | | National Registry of Environmental Professionals |
| Instructor Autodesk Revit Architecture Certification | | Autodesk, Inc. |
| Personal Protective Equipment (PPE) | | CareerSafe OSHA |
| Photovoltaic (PV) Installer Certification | | North American Board of Certified Energy Professionals (NABCEP) |
| Pipeline Certification | | National Center for Construction, Education, and Research |
| PV Technical Sales Certification | | North American Board of Certified Energy Professionals (NABCEP) |
| R410A Refrigerant Safety Certification | | United States Environmental Protection Agency |
| Residential Building Envelope Whole House Air Leakage Control Installer Professional | | Building Performance Institute |
| | | |
| --- | --- | --- |
| Credential | | Issuing agency |
| Child Development Associate (CDA) | | Council for Professional Recognition |
| Substitute Teacher Certification by New Jersey School District | | New Jersey Department of Education |
| | | |
| --- | --- | --- |
| Credential | | Issuing agency |
| Certified Application Professional | | SAP America, Inc. |
| Quickbooks Certification | | National Bookkeepers Association |
Credential

Issuing agency

Academy of Certified Social Workers (ACSW)

National Association of Social Workers

Advanced Cardiac Life Support (ACLS)

American Heart Association (AHA)

Alzheimer's and Dementia Certification

National Certification Board for Alzheimer Care

Behavior Management, Safe Crisis Management, Crisis Avoidance and Management

Various

BloodBorne Pathogens Certification

American Heart Association (AHA)

Certificate in Social Worker Health Care (C-SWHC)

National Association of Social Workers

Certified Alcohol and Drug Counselor

International Certification and Reprocity Consortium

Certified Brain Injury Specialist/Trainer

The Academy of Certified Brain Injury Specialists (ACBIS)

Certified Clinical Documentation Specialist (CCDS)

Various

Certified Clinical Hemodialysis Technician

Nephrology Nursing Certification Commission (NNCC)

Certified Clinical Medical Assistant

National Healthcareer Association

Certified Coding Specialist (CCS)

American Health Information Management Association (AHIMA)

Certified Coding Specialist-Physician based (CCS-P)

American Health Information Management Association (AHIMA)

Certified Dental Assistant

Dental Assisting National Board

Certified Dialysis Nurse

Nephrology Nursing Certification Commission (NNCC)

Certified Documentation Improvement Practitioner (CDIP)

American Health Information Management Association (AHIMA)

Certified EKG/Monitor Technician

National Healthcareer Association

Certified Electronic Health Records Specialist (CEHRS)

National Healthcareer Association

Certified Employment Support Professional

Association of People Supporting EmploymentFirst (ASPE)

Certified Health Data Analyst (CHDA)

American Health Information Management Association (AHIMA)

Certified Healthcare Technology Specialist (CHTS)

American Health Information Management Association (AHIMA)

Certified Home Health Aide

New Jersey Board of Nursing

Certified in Healthcare Privacy and Security (CHPS)

American Health Information Management Association (AHIMA)

Certified Intravenous (IV) Therapist

National Association for Practical Nurse Education and Service, Inc.

Certified Laboratory Consultant (CLC)

American Medical Technologists

Certified Medical Administrative Assistant (CMAA)

National Healthcareer Association

Certified Medical Assistant

American Association of Medical Assistants
American Medical Certification Association

Certified Medical Laboratory Technician

American Medical Technologists

Certified Nursing Assistant (CNA)

New Jersey Department of Health

Certified Patient Care Technician

National Center for Competency Testing

Certified Pharmacy Technician (CPHT)

Pharmacy Technician Certification Board (PTCB); Institute for the Certification of Pharmacy Technicians (ICPT)

Certified Phlebotomy Technician (CPT)

American Society of Phlebotomy Technicians

Certified Professional Biller (CPB)

American Academy of Professional Coders

Certified Professional Coder (CPC)

American Academy of Professional Coders

Certified Registered Central Service Technician (CRCST)

International Association of Healthcare Central Service Materials Management (IAHCSMM)

Certified Rehabilitation Counselors

Commission on Rehabilitation Counselor Certification (CRCC)

Child Development Association Certificate (CDA)

Council for Professional Recognition

CPR/BLS Certification

American Red Cross

Crisis Prevention and Intervention Certification

Crisis Prevention Institute

Direct Support Professional Certification

National Alliance for Direct Support Professionals

Emergency Medical Technician

National Registry of Emergency Medical Technicians

Federal Emergency Management Agency (FEMA) Certification

Federal Emergency Management Agency (FEMA)

Heart Saver CPR AED

American Heart Association (AHA)

IV Certification

National Pharmacy Technician Association

Certified Medical Laboratory Assistant (CMLA)

American Phlebotomy Association

Medical Laboratory Technician (MLT)

American Society for Clinical Pathology

Medical Records Coder ICD 10

American Academy of Professional Coders

Medical Technologists (MT)

American Association of Bioanalysts

Mental Health First Aid

National Council for Behavioral Health

Nationally Certified Counselors

National Board of Certified Counselors (NBCC)

Nationally Certified Peer Recovery Support Specialist (NCPRSS)

Association for Addiction Professionals (NAADAC)

Occupational Therapy Assistants

National Board for Certification in Occupational Therapy, Inc.

Personal Care Assistant

Various

Registered Health Information Administrator (RHIA): For ICD-10 Coders Certification

American Health Information Management Association (AHIMA)

Registered Health Information Technician (RHIT)

American Health Information Management Association (AHIMA)

Registered Medical Assistant (RMA)

American Medical Technologists

Sterile Processing Technician

Certification Board for Sterile Processing and Distribution
| | | |
| --- | --- | --- |
| Credential | | Issuing agency |
| Associate Professional in Human Resources (APHR) | | Human Resources Certification Institute (HRCI) |
| Fundamental Payroll Certification | | American Payroll Association |
| Global Professional in Human Resources (GPHR) | | Human Resources Certification Institute (HRCI) |
| Human Resources Management Professional Certification | | Human Resources Certification Institute (HRCI) |
| Professional in Human Resources (PHR) | | Human Resources Certification Institute (HRCI) |
| Senior Professional in Human Resources (SPHR) | | Human Resources Certification Institute (HRCI) |
| Society for Human Resource Management Senior Certified Professional (SHRM-SCP) | | Society for Human Resource Management |
| | | |
| --- | --- | --- |
| Credential | | Issuing agency |
| 911 Dispatcher Certification | | National Emergency Communications Institute (NECI) |
| ARC Professional Rescuer Certification | | American Red Cross |
| Emergency Medical Dispatcher Certification | | International Academied of Emergency Dispatch |
| Fireman Black Seal | | Various |
| First Aid Core Knowledge | | American Red Cross |
| Special Law Enforcement Officer, Class One | | County Police Academy Certificate |
| | | |
| --- | --- | --- |
| Credential | | Issuing agency |
| Certified Clinical Project Manager (CCPM) | | Clinical Research Society |
| Certified Clinical Research Associate (CCRA) | | Association of Clinical Research Professionals |
| Certified Clinical Research Coordinator (CCRC) | | Association of Clinical Research Professionals |
| Certified Principal Investigator (CPI) | | Association of Clinical Research Professionals |
| Regulatory Affairs Certification (RAC) | | Regulatory Affairs Professionals Society |
| | | |
| --- | --- | --- |
| Credential | | Issuing agency |
| Certified Protection Officer | | International Foundation of Protection Officers |
| Cleaning Industry Training Standards–CITS Advanced | | International Sanitary Supply Association (ISSA) |
| | | |
| --- | --- | --- |
| Credential | | Issuing agency |
| AHLEI Convention Management Certification | | American Hotel & Lodging Educational Institute (AHLEI) |
| Certified Food and Beverage Executive | | American Hotel & Lodging Educational Institute (AHLEI) |
| Certified Foodservice Management Professional (CFMP) | | National Restaurant Association Educational Foundation |
| Certified Front Desk Representative | | American Hotel & Lodging Educational Institute (AHLEI) |
| Certified Global Meeting Planners | | Connected International Meeting Professionals Association |
| Certified Hospitality Supervisor | | American Hotel & Lodging Educational Institute (AHLEI) |
| Certified Hotel Administrator | | American Hotel & Lodging Educational Institute (AHLEI) |
| Certified Personal Trainer | | Various |
| ManageFirst Certificate | | National Restaurant Association Educational Foundation |
| National Professional Certification in Customer Service/Sales | | National Retail Federation Foundation |
| ProStart Certification | | National Restaurant Association |
| Retail Management | Operations Certification | | National Retail Federation Foundation |
| ServSafe - Alcohol Certificate | | National Restaurant Association Educational Foundation |
| ServSafe Food Protection Manager Certification | | National Restaurant Association Educational Foundation |
| Training for Intervention ProcedureS (TIPS) | | Health Communications, Inc. |
| | | |
| --- | --- | --- |
| Credential | | Issuing agency |
| Adobe Certified Associate PhotoShop | | Adobe Systems, Inc. |
| Adobe Certified Associate Premiere | | Adobe Systems, Inc. |
| Amazon Web Services-Certified Solutions Architect (AWS-CSA) | | Linux Academy, Amazon Web Services |
| Android Certified Application Developer | | Android |
| AutoDesk Certified Professional | | AutoDesk, Inc. |
| Autodesk Certified Specialist | | AutoDesk, Inc. |
| AutoDesk Certified User | | AutoDesk, Inc. |
| CAP - Certified Authorization Professional | | International Information Systems Security Certification Consortium, Inc. (ISC)² |
| Capture and Image Certification | | Association for Information and Image Management (AIIM) |
| CCFP - Certified Cyber Forensics Professional | | International Information Systems Security Certification Consortium, Inc. (ISC)² |
| CCSP - Certified Cloud Security Professional | | International Information Systems Security Certification Consortium, Inc. (ISC)² |
| Certified Document Imaging Architect (CDIA+) | | Computer Technology Industry Association (CompTIA) |
| Certified Microsoft Office Specialist | | Microsoft Corporation |
| Certified Ruby Programmer | | Ruby Association |
| Certified ScrumMaster® (CSM) | | Scrum Alliance |
| Certified System Architect | | Pegasystems |
| Cisco Certified Entry Networking Technician (CCENT) | | Cisco Systems, Inc. |
| Cisco Certified Internetwork Expert (CCIE) | | Cisco Systems, Inc. |
| Cisco Certified Network Associate (CCNA ) | | Cisco Systems, Inc. |
| Cisco Certified Network Professional (CCNP) | | Cisco Systems, Inc. |
| CISSP® - Certified Information Systems Security Professional | | International Information Systems Security Certification Consortium, Inc. (ISC)² |
| Cloudera Certified Developer for Hadoop | | Cloudera, Inc |
| Cloudera Data Scientist | | Cloudera, Inc |
| CompTIA A+ Certification | | Computer Technology Industry Association (CompTIA) |
| CompTIA Cloud+ | | Computing Technology Industry Association (CompTIA) |
| CompTIA Network+ Certified Professional | | Computer Technology Industry Association (CompTIA) |
| CompTIA Security+ | | Computer Technology Industry Association (CompTIA) |
| CSSLP - Certified Secure Software Lifecycle Professional | | International Information Systems Security Certification Consortium, Inc. (ISC)² |
| EMC Cloud Architect (EMCCA) | | EMC Corporation |
| EMC Data Science Associate (EMCDSA) | | EMC Corporation |
| GIAC Mobile Device Security Analyst (GMOB) | | Global Information Assurance Certification (GIAC) |
| GIAC Secure Software Programmer- .NET (GSSP-.NET) | | Global Information Assurance Certification (GIAC) |
| HCISPP® - HealthCare Information Security and Privacy Practitioner | | International Information Systems Security Certification Consortium, Inc. (ISC)² |
| IC3 Digitial Literacy Certification | | Certiport® |
| Microsoft Certified Solutions Developer (MCSD): Windows Store Apps | | Microsoft Corporation |
| Microsoft Certified Solutions Expert (MCSE): Private Cloud | | Microsoft Corporation |
| Microsoft Certified Solutions Expert (MCSE): Business Intelligence | | Microsoft Corporation |
| Microsoft Office Specialist (MOS) Certification | | Microsoft Corporation |
| Microsoft Technology Associate (MTA) | | Microsoft Corporation |
| Oracle Business Intelligence | | Oracle Corporation |
| Oracle Certified Professional (OCP) | | Oracle Corporation |
| Oracle Java ME Mobile Application Developer | | Oracle Corporation |
| Oracle Java Programmer | | Oracle Corporation |
| SAP Certified Applications Associate | | SAP America, Inc. |
| SAS Certified Predictive Modeler | | SAS Institute, Inc. |
| SAS Certified Statistical Business Analyst | | SAS Institute, Inc. |
| SSCP® - Systems Security Certified Practitioner | | International Information Systems Security Certification Consortium, Inc. (ISC)² |
| | | |
| --- | --- | --- |
| Credential | | Issuing agency |
| Automotive Service Excellence (ASE) | | National Automotive Technicians Education Foundation (NATEF) |
| Certificate in Production and Inventory Management (CPIM) | | American Production and Inventory Control Society (APICS) |
| Certified in Transportation and Logistics (CTL) | | American Society of Transportation and Logistics |
| Certified Logistics Associate (CLA) | | Manufacturing Skill Standards Council (MSSC) |
| Certified Logistics Technician (CLT) | | Manufacturing Skill Standards Council (MSSC) |
| Certified Supply Chain Professional (CSCP) | | American Production and Inventory Control Society (APICS) |
| Global Logistics Associate (GLA) | | American Society of Transportation and Logistics (APICS) |
| SCPro Fundamentals Supply Chain Management Principles | | Council for Supply Chain Management Professionals (CSCMP) |
| SCPro Fundamentals Warehousing Operations | | Council for Supply Chain Management Professionals (CSCMP) |
| SCPro Fundamentals Customer Service Operations | | Council for Supply Chain Management Professionals (CSCMP) |
| SCPro Fundamentals Transportation Operations | | Council for Supply Chain Management Professionals (CSCMP) |
| SCPro Fundamentals Demand Planning | | Council for Supply Chain Management Professionals (CSCMP) |
| SCPro Fundamentals Inventory Management | | Council for Supply Chain Management Professionals (CSCMP) |
| SCPro Fundamentals Manufacturing and Service Operations | | Council for Supply Chain Management Professionals (CSCMP) |
| SCPro Fundamentals Supply Management and Procurement | | Council for Supply Chain Management Professionals (CSCMP) |
| Supply Chain Professional (ScPRO) Certificate | | American Production and Inventory Control Society (APICS) |
| | | |
| --- | --- | --- |
| Credential | | Issuing agency |
| Certified Associate in Project Management (CAPM) | | Project Management Institute |
| Project Management Professional (PMP) | | Project Management Institute |
Related topics
Reference material