About Industry Partnerships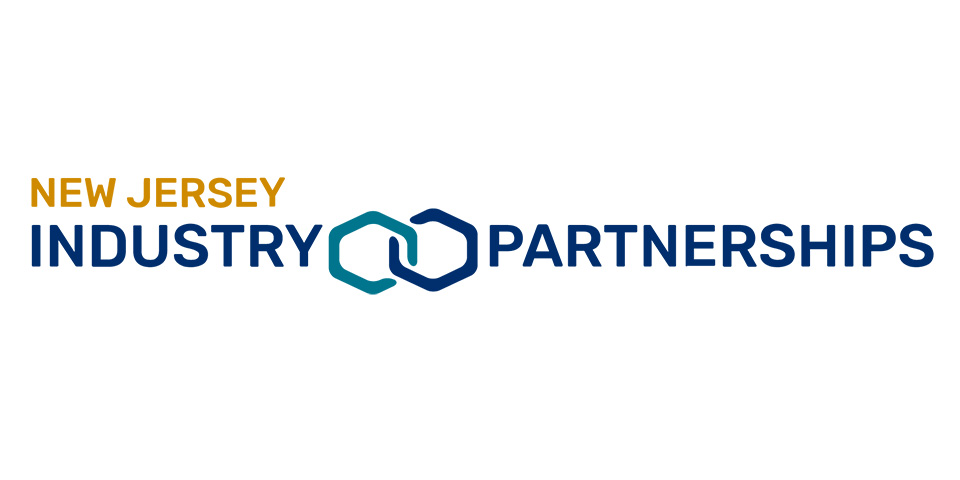 Industry Partnerships are a vehicle for mobilizing business leaders from specific regions to collaborate with public partners in resolving workforce, economic and education challenges impacting New Jersey industries.
Led by business leaders to ensure the system is truly demand-driven and yields better outcomes
Organized to align resources at one shared table with education, workforce and economic development partners and others to collaboratively design responsive solutions to meet the needs of manufacturers
Focused on a single industry to allow business leaders to engage directly with industry peers across traditional boundaries
Driven by business leader priorities that go beyond basic workplace skill needs to building a sustainable talent pipeline, connecting to millennials and diving deeply into technical or supply chain needs
Established regionally to address the dynamics of local economies and identify common issues, challenges and opportunities across employers
New Jersey has embraced the nationally recognized Next Generation Sector Partnership model to build industry-driven partnerships across the state. Key roles in the partnerships are:
BUSINESS CHAMPIONS: business leaders who champion the idea of collaborating with peers and public partners to tackle industry issues.
BUSINESS LEADERS: business decision-makers (i.e. CEOs, owners, etc.) who seek to address industry challenges in collaboration with industry peers and public partners.
CONVENER: a public partner who provides project management and facilitation support to help the partnership accomplish its goals.
COMMUNITY OF PUBLIC PARTNERS: a nexus of public partners from workforce development, economic development, education, and other key areas who work collaboratively to address the expressed needs of industry leaders. Public partners refrain from pushing public programs to solve business concerns and instead attend partnership meetings in listen-only mode to hear challenges faced by businesses and support industry priorities.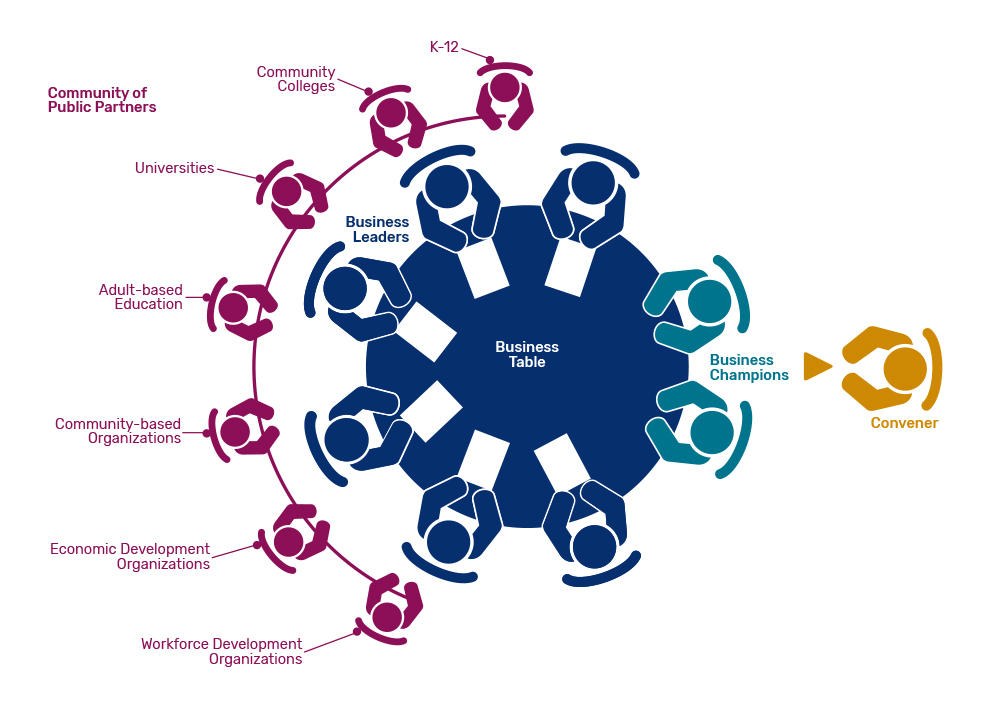 Construction & Energy
Finance
Health Care
Leisure & Hospitality
Life Sciences
Manufacturing
Retail Trade
Technology
Transportation, Distribution & Logistics
The Calumet Manufacturing Industry Sector Partnership is strengthening the foundation of the manufacturing economy in Chicago's Southland. The Partnership's networking activities have resulted in new business and supply chain connections for manufacturers. At the same time, the partnership is actively involved in preparing the region's future workforce. Several high school districts have made changes to existing curriculum or adopted new curriculum to better prepare students with the work-ready skills manufacturers need. Learn more about the partnership on their website at www.CalumetMfg.com.
Launched in 2015, the Lane County Tech Collaborative has become one the most successful Next Gen information technology industry partnerships in the country. The Collaborative has effectively improved local air service and broadband internet capacity and worked with the University of Oregon's Department of Computer and Information Sciences to identify needed skills and make curriculum improvements (including a much stronger coding element). The group has also expanded paid industry internships for students, and 16 local school districts have agreed to use the Collaborative as a shared advisory board. Currently, this partnership is helping to pilot the first IT registered apprenticeship program in the state.
The Hawai'i Island Agricultural Partnership is focused on increasing value-added and higher-skill jobs in their sector, including growing the number of certified processing facilities available to producers, creating a community college-based food innovation center, and increasing agricultural mentorship opportunities for new, entrepreneurial farmers. The Partnership is expanding internships for agricultural careers with local schools, as well as developing a "Made on Hawai'i Island" brand and festival to promote local products.
The East Texas Manufacturing Alliance is a collaboration of diverse manufacturers in a 12-county region in the Texas Forest Country, mobilizing to strengthen and revitalize the region as a hub for manufacturing. The Alliance focuses on building a stronger talent pipeline starting at the K-12 level, developing new post-secondary education programs in manufacturing, improving connections among manufacturers to facilitate local sourcing and sharing best practices. Learn more on their website at www.easttexasmanufacturingalliance.org.
The Cumberland Health Care Sector Partnership is a collaboration of health care organizations and public partners working together to improve health outcomes by strengthening the health care sector in Greater Cumberland County, North Carolina. After launching in June 2018, the partnership mobilized health care leaders and education partners to work together to implement the first evidence-based obesity prevention program in every Cumberland County middle school. They have also worked to address the nursing shortage in the region by identifying major bottlenecks and gaps in the talent pipeline and working across K-12, community colleges, and universities. The partnership is also developing an app to connect patients to same-day care in the community, reducing unnecessary emergency department visits and increasing access to care.
Q: We've been building sector-led partnerships for a long time. How are New Jersey Industry Partnerships different?
A: The transition to Industry Partnerships from traditional sector partnerships was motivated by three lessons learned:
Work collaboratively. Bringing a critical mass of businesses to the table and tackling the big issues that impact the overall success and competitiveness of the sector requires a team approach. Education, workforce development, and economic development partners need to be on the same page.
Regional engagement is key. Effective Industry Partnerships are regional. Building sustainable industry-led partnerships requires strong engagement and buy-in from regional partners, with support from the state—not a top-down push.
Build deeper and more sustainable partnerships with employers. We need employers to step up as full partners in building stronger education and training systems and working together to strengthen their industries, moving beyond providing arms-length input and feedback into existing programs.
Q: What are Next Generation Sector Partnerships and what do they have to do with New Jersey Industry Partnerships?
A: Next Generation Sector Partnerships are a national model for building sustained and authentic partnerships with business and industry. Over seventy-five Next Gen Sector Partnerships exist in a dozen states across the country. New Jersey Industry Partnerships are informed by the Next Gen Sector Partnerships model.
Q: What are the roles of public partners in forming Industry Partnerships?
A: Public partners from workforce development, economic development and education will convene to review which Industry Partnerships are most equipped to launch in their region. Decisions will be based on current labor market information and connections with business leaders. Once the Industry Partnerships for each region are chosen, public partners will recruit business "champions" to lead Industry Partnership meetings. Public partners will work with business "champions" and other partners to recruit businesses from an industry to participate. At the launch meeting, public partners will attend in "listen-only mode" to give businesses the opportunity to define their agenda. After the launch, public partners will work together to respond to industry needs while encouraging business leaders to stay in the driver's seat.
Q: Isn't industry input via survey and a focus group enough? We don't want to waste businesses' time.
A: If all you're looking for is input on specific questions (for example, what kind of equipment to invest in for a new training program), a survey or focus group will suffice. But if you're looking for sustained partnership from business leaders, not just one-time input, a focus group or survey isn't enough. In order to be committed and engaged for the long haul, it's critical that business leaders define their own agenda on their own terms. As long as public partners are only engaging business people around their agendas (i.e. "What are your entry-level training needs?" "What will it take for you to hire ex-offenders?"), business participation will be limited. And public partners may miss the big opportunities to spur growth and competitiveness if they don't engage in broader, industry-driven conversations about what the industry needs to grow and thrive.
Q: WIOA explicitly mandates a stronger focus on target populations. Doesn't this contradict with an "industry-driven" approach?
A: The best way to serve target populations and ensure they succeed in jobs and careers is to stay finely attuned and responsive to the needs of the labor market. While target populations will require different kinds of training and support services, those programs can only be effective if they are based on a highly accurate understanding of the needs of the local economy. Therefore, WIOA's emphasis on serving target populations and in engaging more deeply with business and industry go hand in hand.
Q: Why economic development partners? Isn't this about workforce issues?
A: Workforce development and economic development are two sides of the same coin. New Jersey Industry Partnerships are all about ensuring that industry has what it needs to grow and thrive. That might mean infrastructure needs or supply chain coordination or regulatory issues or workforce development. It all depends on what business leaders agree is most critical. However, it is often all of the above! That's why it's so important to have a broad base of public partners actively support sector partnerships and respond to the wide range of priorities that emerge.
NORTHERN NEW JERSEY

(Counties of focus: Bergen, Essex, Hudson, Hunterdon, Morris, Passaic, Somerset, Sussex, Union, and Warren)

North Jersey Health Care Partnership
North Jersey Manufacturing Partnership
---
CENTRAL NEW JERSEY

(Counties of focus: Mercer, Middlesex, Monmouth, and Ocean)

Central Jersey Life Sciences Industry Partnership
Central New Jersey Manufacturing Industry Partnership
Transportation, Distribution, and Logistics Industry Partnership
---
SOUTHERN NEW JERSEY

(Counties of focus: Atlantic, Burlington, Camden, Cape May, Cumberland, Gloucester, and Salem)

South Jersey Energy Industry Partnership
Manufacturing Alliance of South Jersey
---
CHIEF, INDUSTRY PARTNERSHIPS