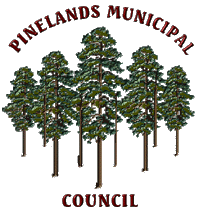 Pinelands Municipal Council Home Page
Pinelands Municipal Council Home Page
The Pinelands Municipal Council serves as a sounding board among the 53 municipalities within the State-designated Pinelands Area and the Pinelands Commission. They work on cooperative programs with the Pinelands Commission. They support legislation that affects their communities, and try to find issues of common concern to the various towns in the group. The communities are both big and small, and the needs vary. Through better communication between residents and the various layers of government, a better understanding and appreciation can be found to respect the environment and provide for progress. To view the Pinelands Municipal Council's By-laws, please click here.
If you would like to contact the Pinelands Municipal Council, please correspond with us c/o of Pinelands Municipal Council Chairperson, William Pikolycky, 501 Washington Avenue, Woodbine, NJ 08270 or directly contact one of the Officers.
The Pinelands Municipal Council was created by the Pinelands Protection Act (N.J.S.A. 13:18A-1 et seq) and is made up of the mayors of the 53 municipalities in the Pinelands Area or their designees. The Council is empowered to review and comment upon changes proposed by the Pinelands Commission in the New Jersey Pinelands Comprehensive Management Plan. The Council also advises the Commission on matters of interest regarding the Pinelands and takes positions on issues affecting the region. The Council meets periodically to conduct business. The meetings are located in various municipalities throughout the year. A quorum of 15 members of the Council is necessary to take any action. All meetings of the Council are open to the public and interested citizens are encouraged to attend.
For more information about the Pinelands Municipal Council, please contact:


Karen H. Vaccaro, Secretary
Pinelands Municipal Council
20 Anjou Court
Manchester, NJ 08759-6269
(732) 941-4191
kvaccarotrustee@comcast.net
---
2020 MEETINGS (All meetings begin at 7:30 p.m. unless otherwise noted)
Wednesday, January 29 - Bass River Township Municipal Building, 3 North Maple Avenue, New Gretna, NJ - Agenda
Tuesday, March 10 - Buena Vista Township Municipal Building, 890 Harding Highway, Buena, NJ - Agenda
Tuesday, May 5 - Stafford Township Municipal Building, 260 East Bay Avenue, Manahawkin, NJ - CANCELED

Tuesday, July 28 - 4:00 p.m., Pinelands Orientation for Newly Elected Officials - Pinelands Commission Headquarters, 15C Springfield Road, New Lisbon, NJ -CANCELED

Tuesday, October 27 - (rescheduled from 9/29/20) - Shamong Township Municipal Building, 105 Willow Grove Road, Shamong, NJ

Tuesday, November 24- Estell Manor City Municipal Building, 148 Cumberland Avenue, Estell Manor, NJ

---
The Pinelands Municipal Council strongly encourages and welcomes mayors or their representatives from every municipality in the Pinelands to participate in the Council and share their views and concerns.
Please check back regularly for bulletins on the activities of the Pinelands Municipal Council.
This site is sponsored by the New Jersey Pinelands Commission.
^

Top