Home
/
Pinelands National Reserve
/
The Pinelands National Reserve
Our country's first National Reserve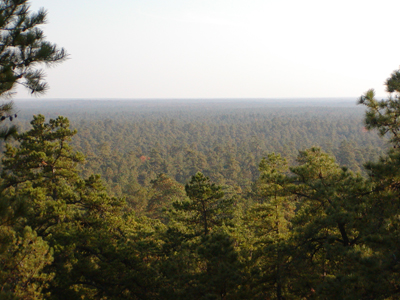 Congress created the Pinelands National Reserve (PNR) through the passage of the National Parks and Recreation Act of 1978. The PNR is the first National Reserve in the United States.

The PNR is approximately 1.1 million acres and spans portions of seven counties and all or part of 56 municipalities. The reserve occupies 22% of New Jersey's land area and it is the largest body of open space on the Mid-Atlantic seaboard between Richmond and Boston.

The reserve is home to dozens of rare plant and animal species and the Kirkwood-Cohansey aquifer system, which contains an estimated 17 trillion gallons of water.
In 1979, New Jersey formed a partnership with the federal government to preserve, protect and enhance the natural and cultural resources of this special place.

Through its implementation of the Pinelands Comprehensive Management Plan, the New Jersey Pinelands Commission protects the Pinelands in a manner that maintains the region's unique ecology while permitting compatible development.

To explore the Pinelands further, please log on to our Visiting and Recreation page. You may also wish to obtain the official Pinelands National Reserve brochure. For a hard copy of the brochure, please send a self addressed stamped letter size envelope to:
Pinelands Commission
Attention: PNR brochure
PO Box 359
New Lisbon, NJ 08064