Transactions: New PDC Certificates, Sales & Redemptions
Recent Sales Activity
Reports, Forms & Documents
Contact the PDC Bank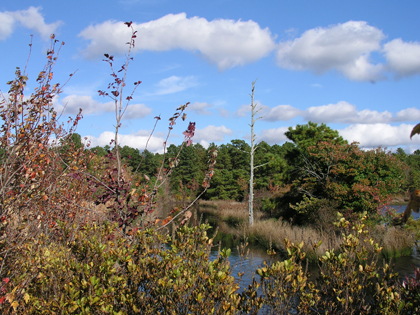 The Pinelands Development Credit (PDC) Bank is the processing agency for the Pinelands Development Credit Program, one of the oldest and most successful transfer of development rights (TDR) programs in the world. The PDC Bank plays a key role in helping to protect environmentally-sensitive land, while working with landowners to promote appropriate economic development.
Since its inception in 1985, the Bank has helped Pinelands property owners who wish to sell (or "sever") the credits for their land and preserve it in perpetuity. Developers buy and use Pinelands Development Credits, or PDCs, to increase building densities in designated regional growth areas, thereby promoting efficient use of land and preventing sprawl.
The PDC Bank is governed by a nine-member Board of Directors. Among its responsibilities, the Bank:
issues PDC certificates that enable transferable development rights to be bought and sold;
tracks the sale and purchase of PDCs to ensure that accurate records of all transactions are maintained;
provides information to people about opportunities to buy and sell PDCs;
purchases PDCs itself in certain cases; and
periodically sells PDCs which it has purchased.
Please click here for the Board's meeting dates, locations, agendas and minutes.
^

Top
Transactions: New PDC Certificates, Sales & Redemptions
^

Top
Recent Sales Activity
^

Top
Reports, Forms & Documents
^

Top
Contact the PDC Bank
If you have any questions or comments, please contact Susan R. Grogan, Executive Director, at:

Pinelands Development Credit Bank
P.O. Box 359
New Lisbon, NJ 08064
(609) 894-7300
E-mail: PDCBank@pinelands.nj.gov
^

Top