Action plan to mitigate fire hazards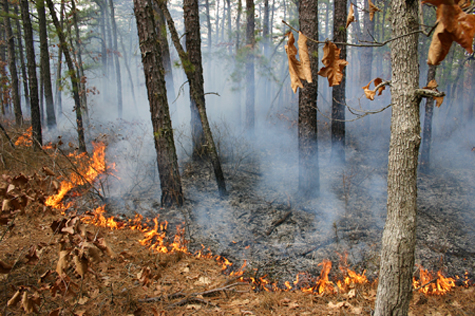 In 2008, the Pinelands Commission and New Jersey Forest Fire Service joined forces to undertake a new initiative to identify and help implement specific measures to mitigate wildfire hazards and risks in Barnegat and Stafford Townships in Ocean County. Barnegat and Stafford townships have an extensive history of wildfires, and have high-risk "wildland urban interfaces," defined as areas or zones where structures and development meet undeveloped wildland or vegetative fuels. In addition, the two municipalities are located within close proximity to the Warren Grove Gunnery Range, which was the site of a 2007 wildfire that burned 15,550 acres and prompted thousands of evacuations. As part of the project, a working committee appointed by both municipalities held numerous meetings with representatives of the Commission and Forest Fire Service to assess known wildfire hazards and risks in their communities and to identify specific measures to mitigate those hazards and risks.

The measures identified by the committee were outlined in a Fire Safety Initiative Action Plan. The Plan recommends the creation and maintenance of fuel breaks, development of model zoning and subdivision regulations based on wildfire hazard management practices, appointment of Firewise Committees for each municipality, development of comprehensive wildfire protection plans for each municipality and various education and outreach initiatives, including homeowner education programs, local officials training sessions and updated elementary school fire safety curricula.

In October 2008, officials in Barnegat and Stafford townships unanimously passed resolutions endorsing the measures. Staff from the Commission and Forest Fire Service then met regularly with members of a group of local officials to implement many of the strategies, including carrying out education and outreach programs and appointing Firewise committees in both municipalities. It is the Commission's hope that the project will serve as a model for improving forest fire management and fire safety in communities throughout the Pinelands.
Resources and Related links
New Jersey Forest Fire Service - web site

Protecting Your Home From Wildfire (pdf.doc)

Regrowth after Pinelands Wildfire

Firewise Communities Program